Padres' Yangervis Solarte redefines what it means to be a dad this Father's Day following his wife's death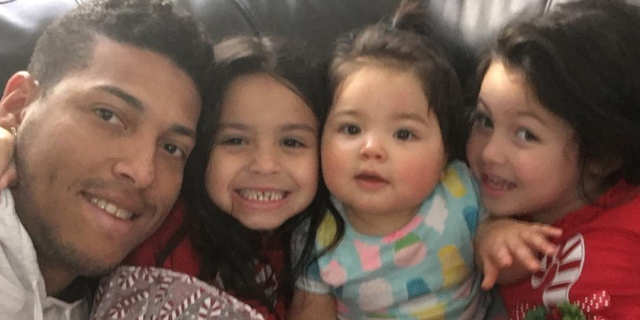 NEWYou can now listen to Fox News articles!
When Yangervis Solarte left the San Diego Padres in September to care for his wife, Yuliett, in the final days before her death from cancer at the age of 31, the then-third-year infielder was hitting .284 with 15 home runs and 68 RBIs, all career highs.
Ordinarily, such stats would be afterthoughts in the wake of a devastating loss, but for Solarte, the latter number in particular kept returning the forefront of his mind as he and his three daughters, Yanliett, Yuliett and Yulianna, mourned mother Yulietts passing.
She always liked the number seven, for the seven days that God created, Solarte told FOX Sports by phone during a recent Padres homestand. So we always set this goal of 70 RBIs in a season. Thats something I was always striving for, pushing for. So I decided come back (to try to get to 70).
It wasnt for me, Solarte continued, speaking through Padres team translator David Longley. I was destroyed at the time. I was really torn up. But I wanted to do it for her.
Brokenhearted, Solarte returned to the Padres after an eight-game absence on Sept. 24, one week after Yulietts death, and ripped a pinch-hit single to left field in his first at-bat back. The following day, the one-time New York Yankee was in the starting lineup against the San Francisco Giants and had an RBI single in the fifth inning of a 4-3 Padres win.
Three games later, in a loss to the L.A. Dodgers, Solarte reached his magic number of 70 with a ninth-inning RBI double. And then in the teams penultimate game, the 29-year-old drove in one more, bringing his RBI total to 71 an empty accomplishment in the eyes of some, but one of immense importance to Solarte as he tried to make sense of life without his best friend.
Everything was for her, Solarte said. She always told me that whether she dies or doesnt die, I cant stop playing. Because all the goals I set for myself, they were for our daughters, and I had to be able to assure their future. So no matter what happens, (she said) I need to continue to play.
I know how cathartic baseball is for him and how much being on a field means to him and meant to his wife, Padres manager Andy Green added during a recent phone conversation. They talked about goals they had, and he went out and accomplished those goals. And I think the joy of playing the game hes loved since he was a little kid helps in the healing as well.
*****
The first sign of bad news came late in the 2015 season, Solartes first full campaign in San Diego after a 2014 trade saw him switch coasts and join his first National League club shortly after the All-Star break.
Yangervis and Yulietts youngest daughter, Yulianna, had been born more than two months before her expected due date. Soon after, doctors determined the cause of Yulietts early labor: cancerous tumors in Yulietts liver.
During the subsequent offseason, Solarte did his best to balance the responsibilities of caring for his wife and each of his daughters, often relying on his mother, Yanmili, for assistance. (Yangervis name is a combination of the names of his mother and his father, Gervis.) But as spring training neared, Yuliett was insistent that Yangervis pack up and leave for Arizona.
I didnt really have a choice, Solarte said. I had to keep going.
Initially, the Padres did not publicize Yulietts condition, but privately, Green, then in his first year with the team, was surprised and impressed by Solartes dedication amid such turmoil to say nothing of his production on the field.
To see the maturity with which he handled it was mind boggling, said Green, a former major leaguer and a father of three girls. I know, myself, if I was in that situation, I wouldnt have been able to come to the park and compete. I wouldnt have been able to come to the park and produce the way he did last year.
He was playing with so much more on his shoulders than any other man in baseball last year, Green added. And he handled it with class and with excellence.
If you ask Solarte, however, overcoming obstacles was par for the course.
An unheralded prospect out of Venezuela, Solarte spent eight years in the minors, shuffling between farm systems with the Twins, Rangers and Yankees before making his big league debut. At one point, struggling to just pay rent, Solarte had to rely on the help of his uncle, 11-year major leaguer Roger Cedeno, to buy a car, as injuries kept him off the field for almost the entire 2009 season.
Eventually, after reaching the majors, Solarte was able to buy a house. And before the start of the 2015 season, with his life finally stable, he and Yuliett got married in a ceremony near their South Florida home. At the time, they never could have anticipated the challenges ahead, but throughout Solartes career, the goal remained the same: Securing a future for their daughters.
With that in mind, Solarte signed an agreement last summer with Fantex, a sort of athlete stock exchange, whichpaid Solarte $3.15 million up front in exchange for 11 percent of his future earnings. In some ways, the deal was a gamble particularly if Solarte becomes a superstar but it was one Yuliett, knowing her time was limited, urged him to make for the sake of their daughters.
I got the contract so she could be calm and know that we had some security, said Solarte, who wanted Yuliett to focus instead on enjoying what time she had left and savoring moments with their kids. So to know that we could feel good about our daughters and set them up for the future, that was the motivation, and she supported that.
Meanwhile, the stoic Solarte was raking on the field amid the most unthinkable of circumstances.
Baseball was a reprieve for him, Green said. It was his escape from what he was going through, and it was an opportunity to be around guys that loved him. So he could show that raw emotion on the baseball field that he wanted to show in life.
As much as he was hurting, he still brought a smile to the clubhouse every day, and there were days Id look at him and just be blown away by it, Green said. There would be days when you could tell he just needed a slow moment, but 99 percent of the time he was the same person hes always been, and I think people were really blessed by that.
Then in January, Solartes persistence in the face of unthinkable tragedy paid off in the form of a two-year extension with the Padres that included club options for the 2019 and 2020 seasons. If he plays out the entire deal, it could be worth a reported $20 million.
He went out, year after year, and fought through the minors until his opportunity came, and even with all he was enduring last year, he secured a future for his family, Green said. So its very gratifying, as a manager, to see good people succeed, and hes at the top of the list of good people.
*****
Solartes first full season without Yuliett by his side got off to an inauspicious start. A May slump left his batting average at .226 through 45 games before a recent hot streak hes posted a .325/.417/.494 slash line with four homers and 15 RBIs over his past 22 games through Friday brought his numbers more in line with his output from previous seasons.
It is perhaps not a coincidence that Solartes turnaround lined up with the end of the school year and the arrival of his daughters in San Diego after spending the early part of the season in Florida with their grandmother a surge you could say his manager saw coming.
I cant imagine being away from my girls for as long as hes had to be away from his, Green said in late May, prior to the girls arrival. There will be moments when he walks through the clubhouse and hes FaceTiming his oldest daughter and hes talking to her and doing whatever he can to stay connected to his girls. So I know when they show up here its going to be a shot of life to him.
Similarly, Solarte has remained a shot of life in the Padres clubhouse, where his infectious personality has always rubbed off on his teammates.
He doesnt know what quiet is, Green said of Solarte. Hes life, hes energy, and when he brings his energy to the ballpark it rubs off on other people and makes it a happier place.
He brings joy with him and people feed off that, Green continued. If anybody is our heart and soul from an energy perspective, its him, and its been him for the past couple of years, even with all that hes been through. And Im sure that he brings that life, that heart and that soul to his daughters, as well.
Of course, theres nothing that can replace a mothers bond with her kids, but as Fathers Day approaches, Solarte says hes more focused on redefining what it means to be a dad and being the best inspiration he can be for his girls.
Its been really hard, Solarte said. And I think for the two older girls, especially, they are 6 and 5 years old and they always ask for their mom. They see a picture of her or something that reminds them of her, and I have to navigate that. And I find myself thinking, What if she was here? What would she do?
Ive learned a lot in terms of trying to keep them upbeat and energetic, distracting them in a positive way, continued Solarte, whose recent activities with his daughters include visits to Dave and Busters and a trip to the Milwaukee Zoo while the team was in town visiting the Brewers. And I think them being that age helps in a way. I think if they were 10 years old it would have been a bigger blow but I still try to fill their days so they dont have down time to question things or have the possibility of feeling sad.
And while its not perfect, and its certainly not the life Solarte envisioned for himself and his family, hell continue to persevere, just as he always has.
Hes the kind of guy that doesnt think about whats missing, Green said. I think he always thinks about who there is to love and what there is to do. As hard as it is and as much as his heart hurts, and as much as it hurts for his three girls to be raised without their mom, I think hes inclined to talk about his mom being a part of their life and his mother-in-law and sister-in-law being a part and helping out with the family and whatever it takes to move forward. And I think thats how Yuliett would have wanted it.
You can follow Sam Gardner on Twitter (http://www.twitter.com/sam_gardner) or email him at samgardnerfox@gmail.com.