Padres spoil Black's return, top Rockies 6-2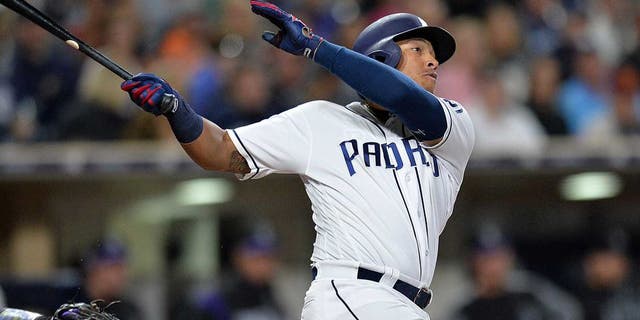 SAN DIEGO (AP) -- It's probably a surprise to most baseball fans that the rebuilding San Diego Padres are among the top 10 teams in the majors in home runs this season.
The Padres showed their pop Tuesday night when Yangervis Solarte and Ryan Schimpf hit back-to-back home runs off Tyler Chatwood in the sixth inning of a 6-2 victory against the Colorado Rockies that spoiled Bud Black's return to Petco Park.
Speedy little Manuel Margot might have had an inside-the-park home run in the same inning but had to hold up with a triple because pitcher Trevor Cahill was still lumbering home ahead of him.
Chatwood (2-4) held the Padres hitless through five innings before they jumped on him. Cahill drew a leadoff walk and scored on Margot's triple, which bounced past the glove of diving center fielder Charlie Blackmon. Wil Myers hit a one-out RBI double and was aboard for Solarte's shot to right. Schimpf followed with a moonshot estimated at 431 feet to right-center.
Chatwood "had really good stuff but we were helping him out getting outside the zone," Padres manager Andy Green said. "Then we shrunk the zone down, got some walks and got in position to score some runs. I think patience leads to power."
It was Solarte's third and Schimpf's seventh. It was the second time this season the Padres went back-to-back. They also did it April 15 at Atlanta.
The Padres have 37 homers.
"I love it, honestly, especially since we may not be that big size wise, but we're showing people that we have some power," Solarte said through a translator. "I think that's the fun of it because people might not necessarily believe it, but we're showing that they should believe it and that nothing's impossible.
"We don't necessarily have the big-name stars that other teams have, by any means, but I think what we're showing is as a group we're able to show we can do these things," he added. "We do have that power and it really speaks to the chemistry we have here and is something we can build on for years to come."
Black managed the Padres from 2007 until he was fired on June 15, 2015. The Rockies came in leading the NL West by a half game over Arizona.
"I thought Tyler pitched great through the first five innings," Black said. "I think the third time through the lineup they got onto the fastball. I think Tyler learned a valuable lesson today about the ability to change speeds as the game goes on. Solarte jumped on a fastball. Myers jumped on that 3-2 fastball, Schimpf jumped on a fastball. Major league hitters will make adjustments as the game goes on."
Said Chatwood: "It was 1-0, I hadn't given up a run yet so I thought I was in complete control. A couple balls didn't go my way, and then like I said the walks and the home runs are the things that are killing me."
Cahill (2-2), who grew up in Vista in northern San Diego County, won his second straight home game. He allowed an unearned run and three hits in six innings, struck out seven and walked none.
Chatwood allowed five runs and four hits in 5 1/3 innings, struck out four and walked four.
San Diego's Cory Spangenberg hit an RBI single in the seventh and Colorado's Nolan Arenado had a bases-loaded, infield single in the eighth.
Colorado's Ian Desmond scored in the second when he stole second and Austin Hedges' throw ended up in center field for a two-base error. Desmond had reached on a leadoff single.
QUOTABLE
Cahill scored from first on Margot's triple. Margot came charging around third but saw that Cahill hadn't scored yet and held up.
"He looked like an offensive lineman who had recovered a fumble and was trying to get to the end zone," Green said of Cahill, "and no disrespect to offensive lineman anywhere."
TRAINER'S ROOM
Rockies: C Tony Wolters suffered a concussion in the seventh when he was hit in the helmet on pinch-hitter Hector Sanchez's backswing. Wolters left a few pitches later.
UP NEXT
Rockies: Rookie RHP Antonio Senzatela (3-1, 2.81) looks for his second win against San Diego. He earned his first big league win against the Padres on April 11.
Padres: RHP Jered Weaver (0-2, 4.71) has allowed 10 homers in five starts, including two in a 3-2 loss at Colorado on April 11.