Padres face Phillies for 3-game series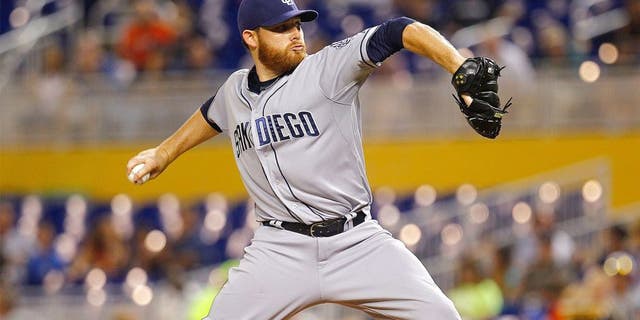 Aaron Nola approaches each start for the Philadelphia Phillies as another opportunity to learn more about being a successful major league pitcher.
Coming off the best outing of his young career, Nola looks to help the Phillies avoid a fifth consecutive defeat and continue their success against the visiting San Diego Padres on Friday night.
Since making his major league debut July 21, Nola (4-1, 3.59 ERA) has been one of the few bright spots amid a third straight dismal season for Philadelphia (50-78). The Phillies' first-round pick in 2014 was at his most dominant Sunday when he allowed three hits and struck out six in eight innings of a 2-0 victory at Miami.
It was also another lesson learned for the talented right-hander.
"You just want to pound the zone and stay ahead," he said. "Getting behind big-league hitters, it's tough to come back and then you have to make that perfect pitch. That's one thing I've learned - once you start getting yourself in jams and walking guys like that ... bad things will happen."
Hitters seem to be noticing that aggressive mentality. They're 11 for 23 when swinging at Nola's first pitch, with four of the five homers he's allowed coming in those situations.
With Nola and fellow prospects Adam Morgan and Jerad Eickhoff all debuting this season, the Phillies have reason to be optimistic about the future of their rotation.
"It's been fun," Nola told MLB's official website. "I feel like there definitely is competition between us, but on the other side, we're still rooting for each other, trying to learn from each other."
For the first time Nola will face a repeat opponent after allowing three runs and striking out six in six innings of a 4-3, 12-inning win at San Diego (62-65) on Aug. 7.
Though Philadelphia swept the Padres in that three-game series and has won the last five meetings at Citizens Bank Park, its pitchers have posted a 7.11 ERA and allowed 20 home runs while losing seven of their last eight at home. The Phillies were swept in four by the New York Mets after blowing a 5-0 lead in Thursday's 9-5, 13-inning defeat.
Outfield prospect Aaron Altherr had two hits with an RBI in his seventh career game, and could see more action in these final weeks of the season.
"We like what we see," manager Pete Mackanin said of Altherr, whose six hits in 24 at-bats have all gone for extra bases (two homers and four doubles) while plating six runs. "We think Altherr deserves an opportunity."
Altherr could get his first look at Ian Kennedy (8-11, 4.01), who is 4-2 with a 2.27 ERA in seven starts since the All-Star break. He'll try to build on perhaps his most impressive effort of 2015, when he gave up seven hits but struck out 10 and walked one in six-plus innings of Saturday's 8-0 rout of St. Louis.
"It was as good a performance as I've seen all year from anybody," Padres manager Pat Murphy said.
San Diego has totaled 14 runs while dropping three of four following a five-game winning streak in which it averaged 6.8. The Padres were held to three hits in Thursday's 4-2 loss at Washington.
Melvin Upton Jr. tripled for San Diego's lone extra-base hit but is batting .222 with 13 strikeouts in his last 16 games.