Packers Snap Count: Nelson on field a lot in return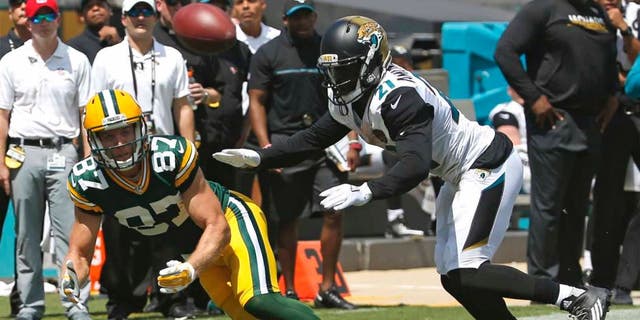 The Green Bay Packers opened the season with a back-and-forth 27-23 victory in Jacksonville over the Jaguars.
The game marked the return to action of wide receiver Jordy Nelson, who hadn't seen the field since tearing his ACL in last year's preseason. Nevertheless, even without taking part in the 2016 preseason, Nelson was on the field for 54 of the Packers' 64 offensive plays, although that was only third-most among Green Bay wide receivers.
Some other notes from Sunday's snap counts:
-- Speaking of wide receivers, beyond the big three of Nelson, Randall Cobb and Davante Adams, there wasn't much on-field time for the other wideouts. Jared Abbrederis was in on 14 plays and Ty Montgomery 11. Jeff Janis was active but didn't play on offense. Rookie Trevor Davis was inactive.
-- The other receivers, the tight ends, nearly split their snaps, with Jared Cook getting eight more plays than Richard Rodgers.
-- New fullback Aaron Ripkowski had only eight offensive snaps. However, in last season's Week 1 game, John Kuhn had just seven (12 percent).
-- First-round pick Kenny Clark was believed to be lined up to see decent time at defensive tackle while fourth-round pick Dean Lowry was listed as a starter at defensive end. Clark ended up playing nine snaps and Lowry seven (the same amount as third-string rookie linebacker Kyler Fackrell), and each recorded just one tackle.
-- Joe Thomas was in for only 25 snaps on defense, but he had two of the more impactful plays: An interception that led to Green Bay's first touchdown and helping make the tackle on the final Jacksonville play of the game.
-- The entire offensive line and Aaron Rodgers played every snap, which is expected. On defense, only two players were on the field for every play: both safeties, Ha Ha Clinton-Dix and Morgan Burnett.
-- The heat or something to keep an eye on? Julius Peppers was in on only 40 percent of the defensive plays.
Here's the complete breakdown of offensive and defensive snaps for the Packers at Jacksonville:
WEEK 1: JAGUARS (OFFENSE)
| | | |
| --- | --- | --- |
| PLAYER | Plays (64) | % |
| Taylor | 64 | 100% |
| Bulaga | 64 | 100% |
| Lang | 64 | 100% |
| Bakhtiari | 64 | 100% |
| Tretter | 64 | 100% |
| A. Rodgers | 64 | 100% |
| Cobb | 62 | 97% |
| Adams | 59 | 92% |
| Nelson | 54 | 84% |
| Lacy | 36 | 56% |
| Cook | 33 | 52% |
| R. Rodgers | 25 | 39% |
| Starks | 18 | 28% |
| Abbrederis | 14 | 22% |
| Montgomery | 11 | 17% |
| Ripkowski | 8 | 12% |
WEEK 1: JAGUARS (DEFENSE)
| | | |
| --- | --- | --- |
| PLAYER | Plays (72) | % |
| Clinton-Dix | 72 | 100% |
| Burnett | 72 | 100% |
| Randall | 68 | 94% |
| Shields | 62 | 86% |
| Matthews | 53 | 74% |
| Perry | 52 | 72% |
| Martinez | 47 | 65% |
| Rollins | 47 | 65% |
| Ryan | 43 | 60% |
| Daniels | 43 | 60% |
| Jones | 40 | 56% |
| Guion | 39 | 54% |
| Hyde | 32 | 44% |
| Peppers | 29 | 40% |
| Thomas | 25 | 35% |
| Gunter | 24 | 33% |
| Ringo | 12 | 17% |
| Brice | 9 | 12% |
| Clark | 9 | 12% |
| Fackrell | 7 | 10% |
| Lowry | 7 | 10% |