Packers receivers impressed with velocity of Rodgers' passes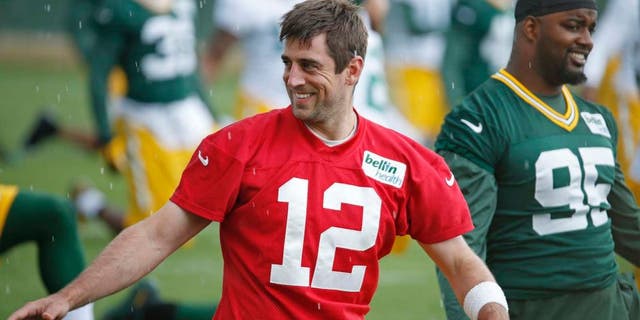 NEWYou can now listen to Fox News articles!
Free agent tight end Jared Cook talked with Aaron Rodgers on the phone before signing with Green Bay in March, but didn't need much convincing to sign with the team.
That appeared to be in large part because of the quarterback's reputation for making the throws most others can't.
"Now that I'm here to see it in person and see it in person in practice, it's even more incredible," Cook told reporters last month. "I find myself sometimes still in awe of some of the things that he does."
The 32-year-old Rodgers continues to wow teammates new and old as he enters his 12th NFL season and ninth as the Packers' starting quarterback. He said last month that he feels like he's in good shape after undergoing a minor knee surgery in the offseason.
The procedure came after one of Rodgers' least productive regular seasons statically speaking. He compared well to previous seasons in passing yards (3,821), touchdowns (31) and interceptions (8), but posted a career-low 92.7 quarterback rating.
The subpar season came after top receiver Jordy Nelson sustained a torn ACL in August. Rodgers started the regular season strong without him, throwing 15 touchdowns and two interceptions as the team went 6-0. But he and the rest of the offense struggled in the final 10 regular-season games, and the team went 4-6.
Coach Mike McCarthy told Packers.com earlier this offseason that the team wouldn't repeat its offensive struggles this year. He said he believes Rodgers is in his prime and sees no reason he can't return to his top form.
It will likely help Rodgers to have a healthy Nelson in addition to a new tight end target in Cook. Rodgers has also praised the team's young receivers, including the Hail Mary hero of the playoffs, Jeff Janis.
Rodgers said veterans have to be intentional about spending time with the younger players, noting that they are more apt to ask questions if they are more comfortable. He said he's liked the energy so far of the team's offseason activities but cautioned about assessing the offense this early.
"You can't make definitive statements about anybody without pads on," he said. "Guys are different speeds in pads."
Rodgers does still have confidence in his arm, however, and said he will sometimes test the young receivers early on to give them a feel for how fast he throws it.
His more veteran receivers don't appear to have any questions about his arm strength.
"Aaron's going to throw the ball probably a lot harder than they've ever experienced, but he'll also put it in the spot that you've never caught it before," Nelson said. "They'll have to get used to how quick his ball comes out and how fast it is." Randall Cobb said he can hear the sound Rodgers' passes make, noting that they have a 'different velocity' than passes from other quarterbacks.
"Once you're used to it, it's not difficult," he said. "It's just kind of getting back used to it."
It's not just a transition for the receivers, however. Rodgers said it takes him time to get used to their body movements and routes.
"That's what's fun about this time of the year," he said.
Follow Nate Gotlieb on Twitter