Oscar Boniek Garcia Feels at Home in MLS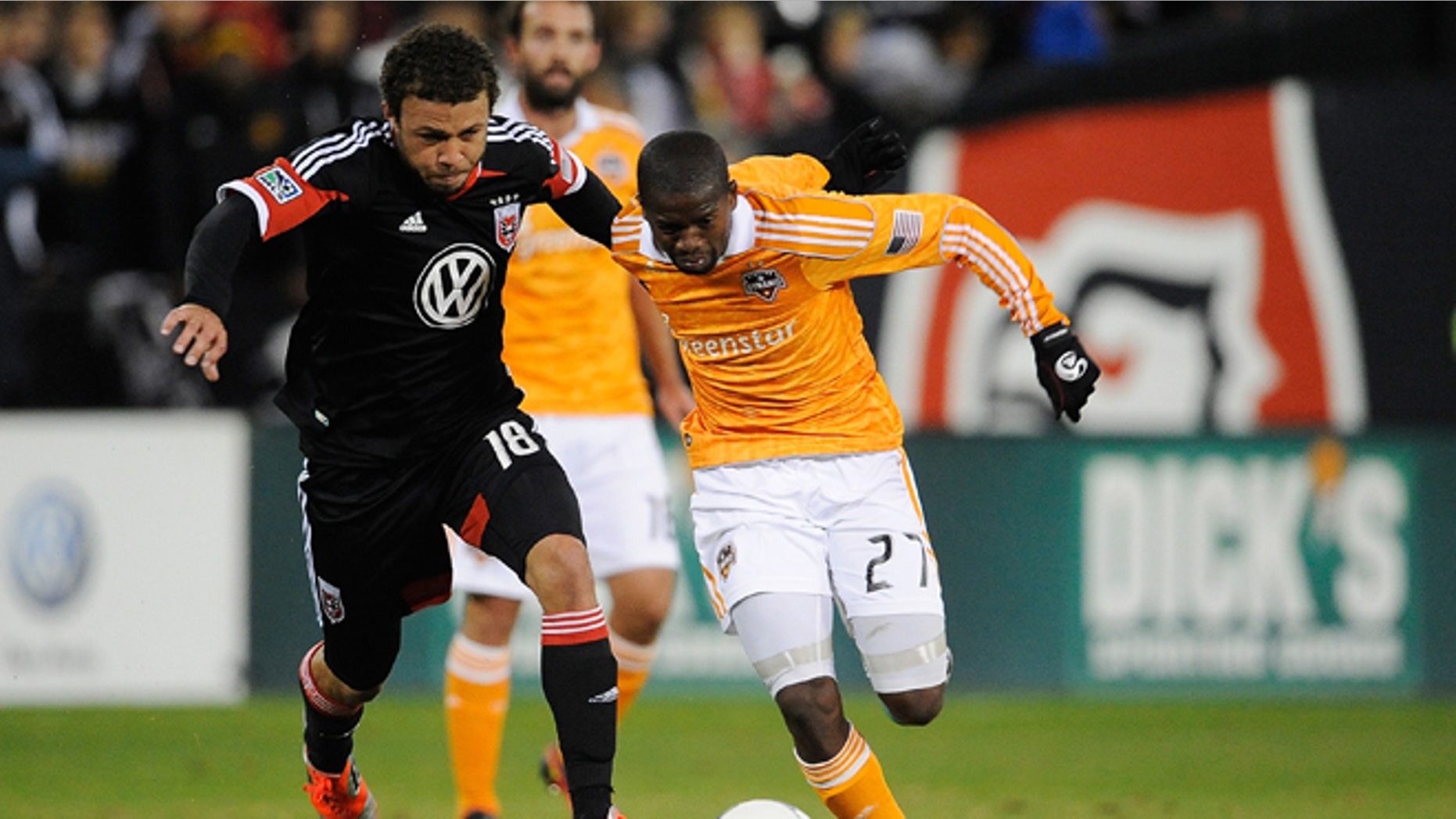 Some foreign players take weeks, sometimes months to acclimate themselves to their new Major League Soccer League. Some never feel comfortable.
Then there's Oscar Boniek García, who fit into the Houston Dynamo like an old glove when he joined the team in July.
He is one of the reasons why the Dynamo finds itself in MLS Cup for the second consecutive season as it takes on the LA Galaxy at The Home Depot Center here on Saturday (ESPN, 4:30 p.m. ET).
The fact that Boniek García made an impact from Day One was not lost on Houston coach Dominic Kinnear, calling the Honduran international "a great pickup for us. The team overall is better because of his addition."
"The one thing that does stand out for me, is in the past, and it happens all around the world, internationals come to new leagues and it takes a while to adjust to the league, the pace of play, the difference with the language barrier, referees," Kinnear added. "He had no adjustment period. He came in for two practices and we played three games in a week.  He fit in not really knowing the team or the players. That just shows you the type of player he is.  His adjustment period was two days of practice.  I don't think he's had a bad game for us, and hopefully he continues to have good games for us in the near future, and beyond."
When you say that he came in halfway through the year, this point it hits me as a surprise because I feel like he's been on the team the entire year.
Dynamo goalkeeper Tally Hall agreed, noting that Boniek García became "one of the boys" quite quickly. "When you say that he came in halfway through the year, this point it hits me as a surprise because I feel like he's been on the team the entire year," he said.  "He comes right in and fits right into the puzzle."
A humble Boniek García, however, refused to take all of the credit for his quick transition.
"It was two things," he said through a translator. "Number one, the team pretty much gave me a very, very warm reception. They made me feel like I was part of the team right from the get-go. It was also the fact that I wanted to show myself here in Major League Soccer. It was an opportunity of a lifetime for me. I was very willing and very eager to come in to show what I had to offer and luckily for me things played out the way they did."
For the record, the 28-year-old García has scored four goals and assisted on six others in 17 games – essentially a half a season -- since joining the club in mid-July.
Boniek García is just one of several big-time Honduran internationals who have taken advantage of MLS.
The San Jose Earthquakes, the Supporters Shield winner as the best regular-season record, boast two of his Houduran teammates -- Victor Bernardez, an MLS Best XI selection and finalist for defender of the year, and midfielder Marvin Chávez. Sporting Kansas City midfielder Roger Espinoza, off an outstanding Olympics at the 2012 London Summer Games, is expected to join Wigan Athletic in England when the winter transfer window opens up in January. Striker Jerry Bengtson has made his mark with the New England Revolution after joining the team earlier this year. And Andy Najar has shown his versatility as a left-sided defender or midfielder with D.C. United.
"I attribute it to the fact that all of them, just like me, want to come out of Honduras and they want to really put the name of their country up high," Boniek García said. "They really want to show what they are made of. The quality of the players in my country, which right now is suffering in terms of soccer, things are not the way they used to be, at least not in recent years."
Boniek García has given the Dynamo a unique one-two punch on the midfield wings. The venerable Brad Davis, a superb passer and playmaker and lethal free-kick taker, patrols the left side. On the right flank is Boniek García, whose all-around two-way play makes it difficult for opposing defenses to worry about only Davis.
"They are more dangerous," Galaxy coach Bruce Arena said. "In Brad an outstanding passer who has great service on set pieces. In García you have a player that's different. He's creative and dynamic with the ball at his feet. He's a threat to both score goals and set up goals. Those are two very good attacking players."
Boniek García isn't California dreaming when he talks about winning MLS Cup against the likes of David Beckham, Landon Donovan and Robbie Keane. He likes the Dynamo's chances, citing that Houston was a wildcard team and stunned Eastern Conference regular-season champions Sporting Kansas City in the conference semifinals and second-place D.C. United in the final.
"We can give the Galaxy a good battle for the championship," he said. "We took care of the two strongest teams in our conference and one of the strongest teams in Major League soccer in Kansas City. We did really well at home and we also played competitively outside of BBVA Compass Stadium. Both teams have equal chances of winning it. Right now we are as good as anyone in this league so, just feeling very confident about our opportunities."
Opportunities to win championships at any level don't come around very often and Boniek García realized how great it would be to parade around the HDC with the Philip F. Anschutz trophy on Saturday.
"It would mean a lot," he said. "It would be extremely special for me to be able to play my first final in my first season. It would be special not only for me but for also for my teammates and my family, who have been there from the beginning and all the fans from Houston who have welcomed me with open arms from the beginning."
After MLS Cup Boniek García will take a little time off to catch his breath, but he will be prepared to play for the Honduran national team if he is called in for Copa Centroamericana, the qualifying tournament for the 2013 CONCACAF Gold Cup, in January.
"I would like to accept the call-up. Particularly if I don't, I will spend a considerable amount of time not doing much," he said. "I want to go ahead and arrive in good shape physically and mentality, etc. to the World Cup qualifiers at the beginning which begin February."
Los Catrachos host the United States in their first qualifier on Feb. 6. Needless to say, Boniek García likes his side's chances of making it two consecutive trips to the World Cup.
"I think we have very good possibilities of qualifying because we have a great talent pool of players, not only based in Honduras domestically, but also players who play all around the world," he said. "That level of talent will increase our chances in this very complicated region. We closed the last qualifying stage on a very consistent and a very high note. We're playing very well at home. We're also playing very well on the road. If we continue to do things consistently, I think we have a very good chance."
But first things first for Boniek García -- a chance for a championship and for some MLS glory on Saturday.