Oregon strength coach suspended after football players were hospitalized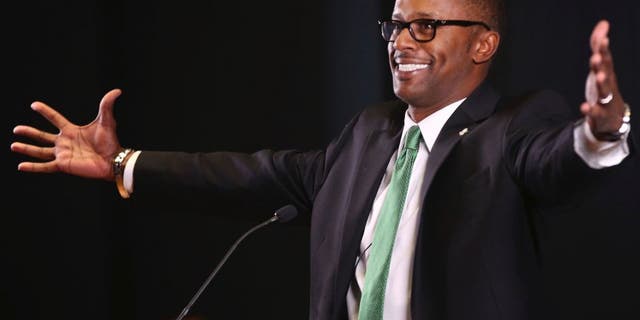 NEWYou can now listen to Fox News articles!
Oregon football came under fire Monday night after reports surfaced that intense off-season workouts led to the hospitalization of three players. After the reports were confirmed Tuesday night, the school took action, suspending the team's head strength coach.
Irele Oderinde, the coach who conducted the strenuous workouts, has been suspended one month without pay. Once he returns to the program, Oderinde will report to Andrew Murray, Oregon's director of performance and sports science, instead of first-year head coach Willie Taggart.
"I have visited with the three young men involved in the incidents the last few days and I have been in constant contact with their families, offering my sincere apologies," Taggart said in a statement.
"As the head football coach, I hold myself responsible for all of our football-related activities and the safety of our students must come first. I have addressed the issue with our strength and conditioning staff, and I fully support the actions taken today by the university. I want to thank our medical staff and doctors for caring for all of our young men, and I want to apologize to the university, our students, alumni and fans."
According to school officials, all player workouts have been modified.
"The university holds the health, safety and well-being of all of our students in high regard," Oregon athletic director Rob Mullens said in a statement.
"We are confident that these athletes will soon return to full health, and we will continue to support them and their families in their recoveries."
The changes come after three Oregon players - offensive linemen Doug Brenner and Sam Poutasi and tight end Cam McCormick - were hospitalized with muscle soreness and other symptoms of "potential exercise-related injury," according to the school. Poutasi's mother told The Oregonian that her son displayed signs of rhabdomyolysis -- a syndrome in which muscle tissue breaks down and is released into the bloodstream, potentially leading to kidney damage or even failure.
All three are expected to make a recovery and no other football players displayed similar symptoms.
Oderinde recently came to Eugene with Taggart from South Florida.