One Atlanta Falcon knew big Super Bowl lead wasn't safe: 'It's Tom Brady, though'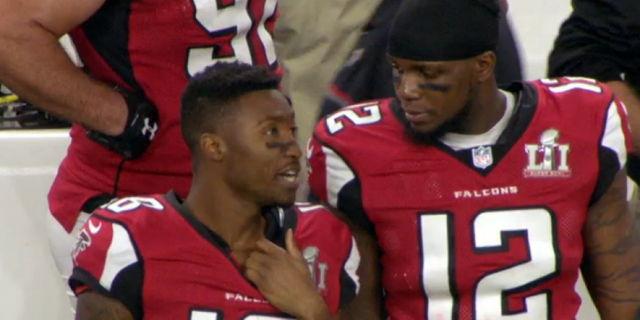 When one Atlanta Falcon appeared to start thinking about the parade before the game was over, another one warned him who stood on the other sideline.
NFL Network had Falcons wideout Mohamed Sanu mic'd up during the epic Super Bowl LI and the network caught some great sound. Sanu's exchange with teammate Taylor Gabriel occurred shortly after Robert Alford picked off a Tom Brady pass and took it 82 yards the other way to give Atlanta a commanding 21-0 lead late in the second quarter.
Watch the SoundFX video here. Here's the exchange that begins just after the 1:30 mark.
Sanu: "They ain't ever met nothing like this."
Gabriel: "It's Tom Brady, though."
Sanu: "I know. I know. I'm never comfortable. We about to put up 40-something on their a**. What I'm saying is, they ain't never seen anything like this."
And of course the lead grew even wider as the game progressed while Brady implored his troops to empty their tanks and believe in the unimaginable:
Then on the crucial Donta' Hightower strip-sack that marked the most crucial of several plays vital to the Patriots' comeback, another Falcons wideout, Aldrick Robinson, broke open for Matt Ryan when Hightower pummeled the QB.
And then Brady and the Patriots offense did what Gabriel feared they could.