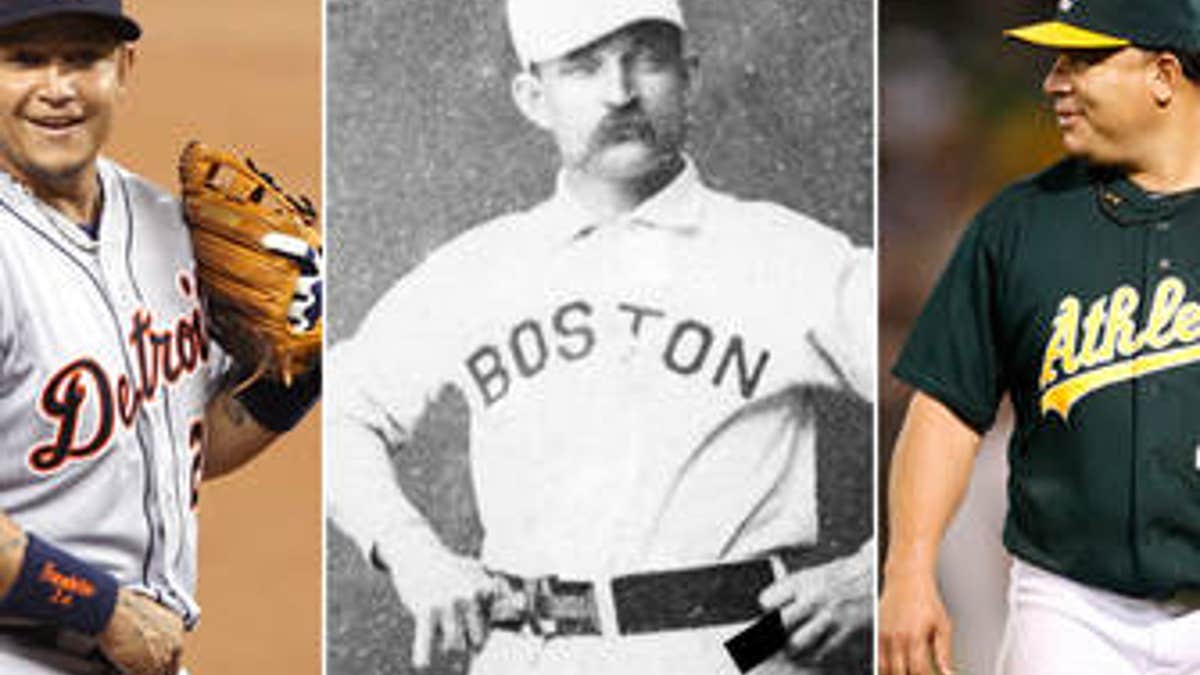 Editor's note: Old Hoss Radbourn might be the best pitcher in baseball history that you have never heard of.
And rightfully so, since he pitched in the late 1800s .
The Hall of Famer put up legendary numbers in his 11-year career, with his best season coming in 1884 when he pitched the last 27 games for the Providence Grays. He won 26 of those outings and then picked up three straight wins in the World Series.
Old Hoss, who won 59 games in 1884 alone, finished his career with an amazing 309-194 record.
Now he's putting up big numbers on Twitter where he weighs in on anything from baseball to the recent government shutdown using the vernacular of his era.
Old Hoss will be breaking down every divisional playoff series for us this October.
Here's his take on the Tigers-A's ALDS.
Offense:
Detroit: An offense suffering from the injury to Miguel Cabrera, who tweaked his groin while carrying underperforming louts like Prince Fielder on his back. Torii Hunter has defied aging and the foot lodged in his mouth to put up another Torii Hunter season.
Hitter that scares me: N/A
Oakland: Josh Donaldson and Brandon Moss are really, really good. I have never heard of them until I started writing this piece. The hope in Oakland is that Detroit pitchers have not either. Yoenis Cespedes remains an enigma. I would not be surprised if he went 0-6 with 7 K's, 2 grand slams, and donned a mask and helped deliver a baby in left field all in one game. I approve.
Hitter that scares me: N/A
Defense:
Detroit: They are not so good at this. This is not surprising, given that at first and third base they have placed commemorative statues of Fielder and Cabrera.
Oakland: They are very good at this.
Pitching:
Detroit: An excellent rotation diminished by Justin Verlander's plummet from Mt. Olympus. Completing those six games last year seem to have taken a toll. Sentiment is a lovely thing and will win you the heart of many a lass. It has no place on the mound. Kudos to Jim Leyland for starting Max Scherzer in Game 1.
Hurler who could outpitch me: N/A
Oakland: A rotation led by Bart Colon means one of two things: you're either the 2005 Los Angeles Angels of Anaheim or screwed. It is nice to have a powerhouse bull-pen. It's even better to have pitchers worthy of throwing the first 6-7 innings.
Hurler who could outpitch me: N/A
Key matchup:
Miguel Cabrera versus Mike Trout versus shutting up for the love of God already. "Miggy, powerful batsman and former Triple Crown divinity, is the MVP!" cries the old guard, who I already savaged enough in Wednesday's NL previews. "Mike Trout is the MVP, you blackguards! Voting for Miggy is tantamount to setting a child on fire!" retort their statistically-minded counterparts, eyes rolled and grins smug. The rest of the base ball-enjoying world sits back, eyes this awful war with a bemused smirk and enjoys watching two titans play the game at the peak of their ability.
Fun ballpark facts:
Detroit: Comerica Park is a lovely shiny monument named after a corporation no-one has ever heard of and, in a touching nod to Detroit's plight, for many years sat alongside the decaying hulk of the formerly majestic Tiger Stadium until its eventual demolition.
Oakland: Bud Selig wants it destroyed. That it is now named "O.co Coliseum" is reason alone to move this team to Malebolge, and I already regret wasting the "corporation no-one has ever heard of" line on the Tigers. And yet I find it hard to agree with almost any initiative sponsored by Selig, and thus I deem this to be one of the nicest parks in all of base ball and hope that the team does not leave its home. The Coliseum usually offers a decided home-field advantage for the Athletics, but its collapsing, fetid locker room and the rabid, insane people in the stands may well remind the Tigers players of a stroll through Detroit.
Useful managerial facts:
Detroit: Leyland has inhaled enough tobacco smoke that for the past 30 years he has been frozen at the magical age of 75, showing simultaneously the good and the bad of nicotine abuse. Unfortunately, he is 68.
Oakland: Bob Melvin seems like a nice guy.
Why Detroit could win:
Although he looks as if he has on more than one occasion accidentally locked himself inside his vintage Ford Pinto, Selig is in fact a cagey, powerful man, capable of destroying entire teams and even seasons despite looking slightly confused, as if he can't reconcile the pain of losing his beloved Milwaukee Braves with his role in helping destroy base ball in cities like Montreal. Having Oakland advance a round will thoroughly displease him and the members of his Milwaukee-based Bratwurst Mafia.
Why Oakland could win:
Miguel Cabrera could get hit by a truck. Or, hell, I don't know, their collection of mostly mediocre starters, outstanding bull-pen, and good offense may well overcome the Tigers' superior rotation. Why would you ask me? I'm the guy who used the word "afterbirth" in a column earlier this week.
Trivia:
The Athletics have been to the ALDS 6 times and have lost 5. Each time they lost the series in the fifth game. Should this go to 5 games, someone will tell you that this history means something. If this happens, please punch that person in the mouth. It does not.
Prediction:
I originally believed the Tigers would take this one, but given that the Athletics advancing would bother Selig I must pick them. A's in 5.
For more from Old Hoss Radbourn, be sure to follow him on Twitter . You won't be disappointed.