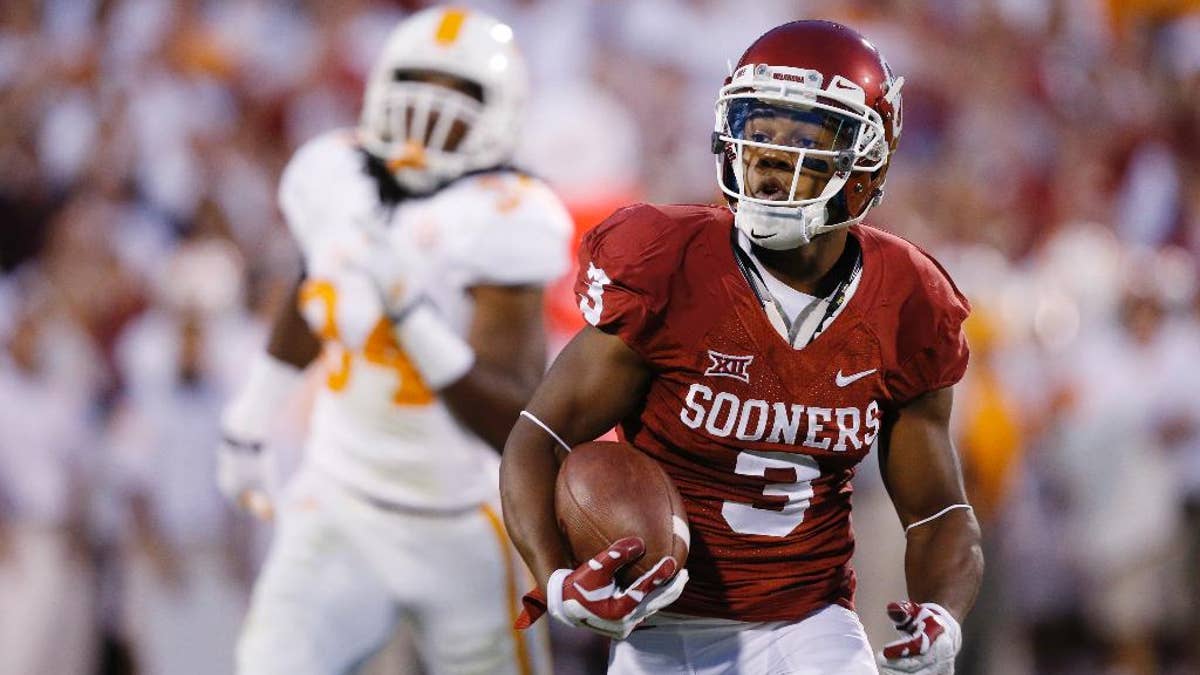 NORMAN, Okla. – Oklahoma receivers coach Jay Norvell believes Sterling Shepard is in an elite category.
That doesn't mean his star is above some prodding. When Shepard slows down a bit in practice, Norvell sometimes brings up the name of a former Sooner great — Ryan Broyles, the all-time FBS leader in receptions.
"I grabbed him (Shepard) a few weeks ago — he was kind of dragging in practice — and I said, 'Wait a minute now, you want all this action, you've got a lot of work to do.'" Norvell said recently. "I said, 'Ryan never came out. Ryan was in there every snap.'"
Shepard recognizes the compliment — that he's being pushed to be the kind of impact player Broyles was.
"I'm my own person, but definitely one of the guys I look up to is Ryan Broyles," Shepard said. "He holds the record here for most balls caught. That's something that everyone is gunning for."
Shepard won't reach Broyles' career numbers, but so far this season, Shepard has lived up to Norvell's expectations by ranking 16th nationally with 109 yards receiving per game. Shepard had eight catches for a career-high 177 yards and a touchdown against Tulsa, five catches for 109 yards against Tennessee and six catches for 101 yards against West Virginia. He has put up those numbers on a team that runs the ball more than it passes.
Shepard currently ranks 11th in Oklahoma history in yards receiving (1,660 yards) and is tied for 13th in receptions (119). To reach Oklahoma's top 10 lists, he needs 16 catches and 29 yards.
"Sterling is a great talent," coach Bob Stoops said. "He's explosive. He's a great route runner. He's got great hands. He can make competitive catches. He's playing great."
Shepard has primarily been an outside receiver this season after playing last season in the slot.
"I just think he's added more tools in his tool kit," Norvell said. "He's doing different things — he's playing in the slot, he's playing outside, he's returning punts. He's just doing more, and you know as you become a bigger part of the offense, there's more responsibility, and he's taken that on."
Shepard said he has built a special chemistry with quarterback Trevor Knight. Knight has been willing to throw the ball up and let Shepard make a play.
"He trusts that if it is a bad ball, I'll try to make it right and I'll help him out any way possible," Shepard said. "I showed him over the summer that I was capable of doing those things, and he knows my ability."
Shepard said his fellow outside receiver and roommate, Durron Neal, has become a solid weapon. Neal has 17 catches for 211 yards this season.
"That's just Trevor getting the ball around and coach (co-offensive coordinator Josh) Heupel dialing up some plays, getting every receiver involved. Durron's doing a great job of getting open and catching the ball and making something happen after the catch."
Shepard understands that the young receivers view him the same way he views Broyles, so he needs to be careful how he carries himself.
"I'm just trying to do what the guys did for me when I was a youngster," Shepard said. "I'm trying to show them the ropes and show them the way to do things, to be a leader. You have to do everything on point because you have young guys looking at you every day."
___
Follow Cliff Brunt on Twitter: www.twitter.com/CliffBruntAP