Ohio State coach Urban Meyer apologizes to Courtney Smith, ex-wife of fired assistant coach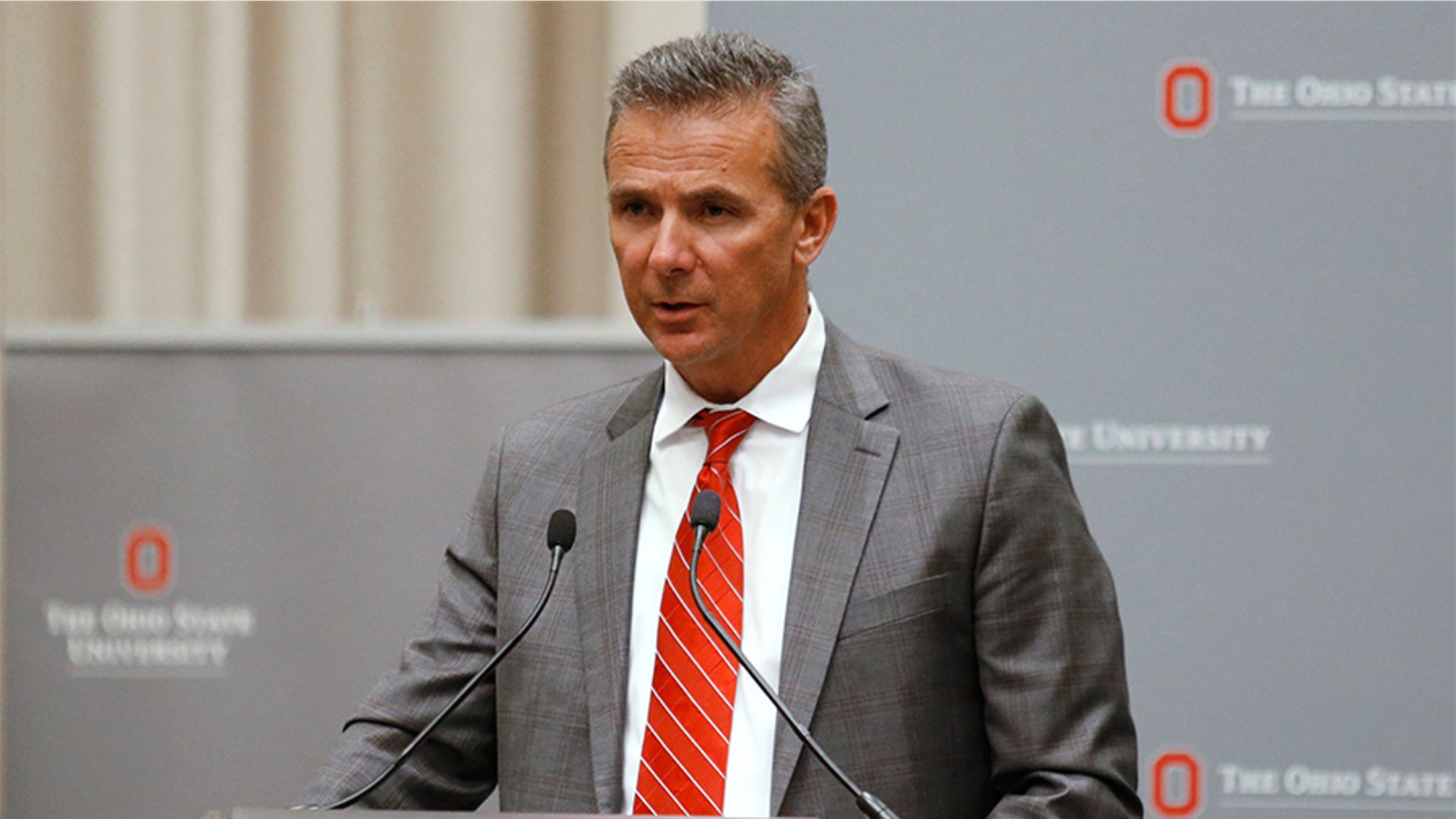 Days after the announcement of his three-game suspension, Ohio State University head football coach Urban Meyer apologized Friday to Courtney Smith — the ex-wife of his fired assistant coach — for his "lack of more action" regarding his handling of domestic abuse allegations against his former colleague.
In a statement released on Twitter, Meyer said his "words and demeanor" during Wednesday's news conference, in which the decision to temporarily suspend him without pay was announced, "did not show how seriously [he takes] relationship violence."
"I sincerely apologize," he added.
Meyer faced criticism after the news conference for failing to directly address Courtney Smith, who went public with claims she had told Meyer's wife her ex-husband, Zach, had shoved her against a wall and put his hands around her neck in 2015.
Meyer addressed her directly in Friday's statement.
OHIO STATE SUSPENDS URBAN MEYER FOR THREE GAMES AFTER INVESTIGATION
"Let me say here and now what I should have said on Wednesday: I sincerely apologize to Courtney Smith and her children for what they have gone through," Meyer said.
The suspension decision came weeks after Meyer was placed on paid administrative leave while the university investigated what he knew about the claims against Zach, who was fired on July 23.
Days later, Meyer claimed to reporters he "was never told about anything" and knew "nothing about" the alleged 2015 incident between the ex-couple.
He admitted Wednesday his previous comments were "not as complete and as accurate as [he] should have been," but denied intentionally trying to deceive anyone. Meyer said he was not aware of the text messages Courtney Smith sent his wife.
When asked if he had a message for Courtney Smith, Meyer said: "I have a message for everyone involved in this: I'm sorry we're in this situation."
EX-OHIO STATE COACH ZACH SMITH TOOK LEWD PHOTOS AT WHITE HOUSE, ORDERED NUMEMROUS EROTIC TOYS: REPORT
The head coach in his Friday statement said from an early age, he was taught it was unacceptable to "hit a woman" and if he did, he'd get "kicked out of the house and never welcomed back." That thought process was one he carried into the university's football program and his own home, he said.
"Over the years, we have worked hard to educate and remind our coaches and players of the seriousness of relationship violence," he said. "I understand my lack of more action in this situation has raised concerns about this commitment."
He went on to offer another apology and said the situation has been "a real learning experience."
Fox News' Samuel Chamberlain and The Associated Press contributed to this report.