Offseason knee injury hits another Jaguars first-round pick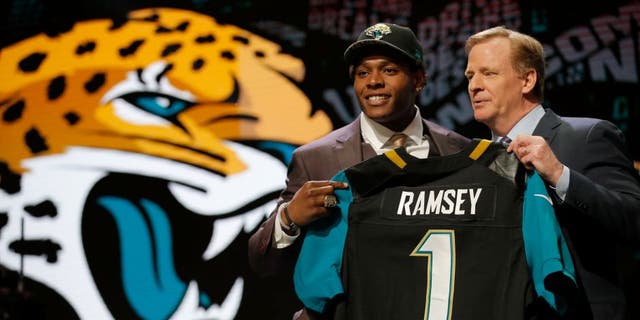 NEWYou can now listen to Fox News articles!
Cornerback Jalen Ramsey, the Jacksonville Jaguars' first-round draft pick, has suffered a right knee injury, according to a team release. It's being called a small meniscus tear, and a second opinion is on the way.
While the severity of Ramsey's injury is not yet known, this is the second consecutive offseason that the Jaguars have had their top pick sidelined. Defensive end Dante Fowler, who was selected by Jacksonville with the third overall pick in the 2015 NFL Draft, missed his entire rookie season after suffering a torn ACL injury on the first day of rookie minicamp last May.
Ramsey was the fifth overall pick in the 2016 NFL Draft. He had microfracture surgery on the same right knee before his sophomore season in high school.