Odorizzi solid, but Rays baffled by Royals' Vargas in loss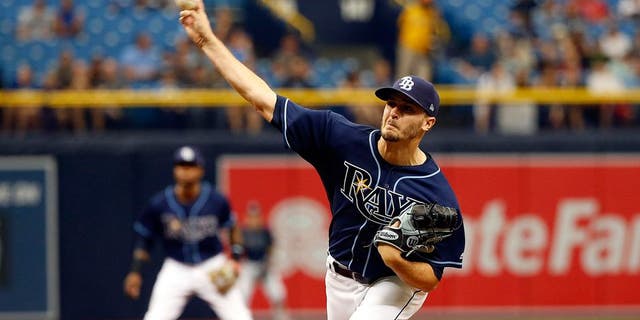 ST. PETERSBURG, Fla. (AP) -- Major league ERA leader Jason Vargas went seven more scoreless innings, Salvador Perez had a two-run double during a five-run eighth inning and the Kansas City Royals beat the Tampa Bay Rays 6-0 on Thursday.
Vargas (5-1) scattered three hits and dropped his ERA from 1.19 to 1.01.
Jorge Bonifacio hit an RBI single off Diego Moreno in the decisive eighth before Whit Merrifield had a run-scoring single and then circled the bases when center fielder Kevin Kiermaier misplayed the hit for a three-base error.
Merrifield also homered for the Royals, who won three of four against the Rays. Kansas City had lost 13 of 16 entering the series.
Jake Odorizzi (2-2) gave up one run and four hits in six innings for the Rays. He had allowed three hits or fewer in each of his previous four starts.
Tampa Bay went 3-6 during a nine-game homestand against Miami, Toronto and the Royals. All three opponents are well under .500.
Merrifield put the Royals up 1-0 on a solo shot in the fourth.
Vargas made two nifty defensive plays during the fifth. He fielded Kiermaier's slow grounder down the first-base line and tagged out the speedy outfielder and also caught Derek Norris' liner.
Rays left fielder Corey Dickerson took a home run away from Eric Hosmer in the first by reaching over the short wall by the 315-foot mark near the line and catching the drive.
Kansas City center Alex Gordon took an extra-base hit away from Tim Beckham with a diving catch in the sixth. It was Gordon's first start in center this season.
There was no carry over one day after Perez was hit by a Chris Archer pitch in the seventh inning of the Rays' 12-1 win Wednesday night. Perez felt Archer was throwing at him, while Archer said there was no intent.
TRAINER'S ROOM
Royals: CF Lorenzo Cain got a day off after playing three games on the artificial turf at Tropicana Field.
Rays: RF Steven Souza Jr. (sore right thumb) had a cortisone shot Wednesday and missed his third consecutive game. … RHP Jose De Leon (right flexor mass) is scheduled to join Class-A Charlotte.
UP NEXT
Royals: LHP Danny Duffy (2-3) and Baltimore RHP Chris Tillman (1-0) are Friday night's starters as Kansas City opens a six-game homestand. Tillman, sidelined since March by right shoulder bursitis, went five scoreless innings against the Chicago White Sox in his season debut last Sunday.
Rays: RHP Alex Cobb (2-3) goes against Boston and reigning AL Cy Young Award winner Rick Porcello (2-4) Friday night at Fenway Park. The Red Sox right-hander had only four losses (22-4) all of last season.