Oakland rookie quarterback Derek Carr sees progress in Raiders' 0-6 start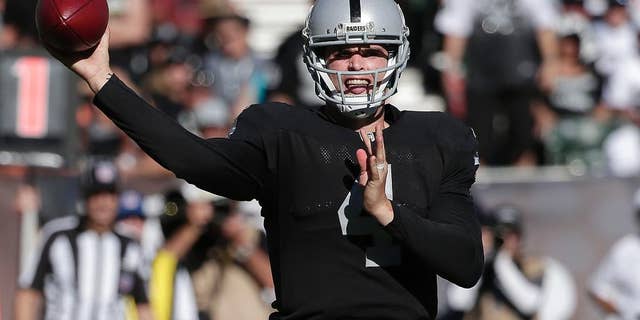 ALAMEDA, Calif. – A winless beginning to his NFL career certainly wasn't what Raiders rookie quarterback Derek Carr anticipated coming out of training camp.
Yet if Carr is feeling any strain or pressure coming from Oakland's 0-6 start, he's not showing it.
The 36th overall pick in this year's draft, Carr is as upbeat and confident as he was when he beat out veteran Matt Schaub for the starting job nearly two months ago.
He flashes a boyish-like grin when talking to reporters, talks steadfastly of his religious faith, and almost always jokes and pokes fun at his teammates while strolling through the Raiders' locker room.
"Carr's a rookie but he's like a veteran in his head," Oakland running back Darren McFadden said.
McFadden was a recent target of Carr's teasing.
During the bye week as players finished practice and prepared to get out of town for a few days off, Carr walked up to the veteran running back on his way to the showers and remarked how he remembered McFadden being on the cover of a college football video game.
"That was when I had a PlayStation 1," Carr cracked, as McFadden broke out laughing.
It helps that Carr is playing well, too. He set an NFL rookie record with eight touchdown passes in his first five games — one more than Indianapolis' Andrew Luck had in 2012.
Carolina's Cam Newton (2011) and Geno Smith of the New York Jets (2013) also had seven touchdowns in five games during their rookie seasons.
Carr also has a 63.2 completion rate and has been sacked just four times.
More importantly, Carr has at least temporarily suspended the Raiders seemingly endless search for a potential franchise quarterback.
Carr is on pace to throw for nearly 3,200 yards despite getting minimal support from the running game and playing with a receiving group missing one of its most consistent players.
He needs just one touchdown to become the most prolific rookie quarterback in franchise history and has done something that no Oakland quarterback has done consistently since Rich Gannon retired in 2003 — drawn cheers from the crowd at the Coliseum.
"I think it's really positive when a young guy walks out to the field and goes out there with the intention to get better, whether it's young, it's veteran, and has fun doing it as well," Raiders interim coach Tony Sparano said Wednesday.
"It just shows the competitive side of him. There's something to be said for that, whether you're 6-0 or 0-6."
Despite being the fourth quarterback taken in the draft, Carr leads all NFL rookies in touchdown passes and yards passing (1,189).
While Jacksonville's Blake Bortles and Minnesota's Teddy Bridgewater (32nd) play to mixed reviews, and while Johnny Manziel (22nd) sits as a backup in Cleveland, Carr has quickly become a fan favorite in Oakland.
There is no sense of false bravado when he speaks. On a team that hasn't had a winning season since 2002, Carr is the eternal optimist.
"That's just how I was raised, the kind of person that I am," Carr said. "It's very easy when things are hard to point a finger or to get down. I'm not trying to live my life that way. I know that when this thing turns around, it's going to be great and I can't wait to be a part of it."
Cleveland coach Mike Pettine, whose team hosts the Raiders on Sunday, said he's not surprised by how well Carr has played so far.
Carr was one of the players the Browns were considering before they settled on Manziel, who has attempted just one pass this season.
"He looks very much well ahead of the curve, very mature," Pettine said. "It was something that we knew when we evaluated him. We said it back during the draft that he had the best arm talent of anybody in his class. It's not a surprise to anybody here how well he's playing."
Notes: DE LaMarr Woodley suffered a biceps injury and did not practice. When asked if Woodley's injury is serious, Sparano replied "It could be, yes." ... The team is also awaiting word on injured TE David Ausberry, who is out with a foot injury. "I don't think it's going to be great," Sparano said.
___
AP NFL website: www.pro32.ap.org and www.twitter.com/AP_NFL