Oakland Raiders preview (No. 29): Cooper, Crabtree give Carr new targets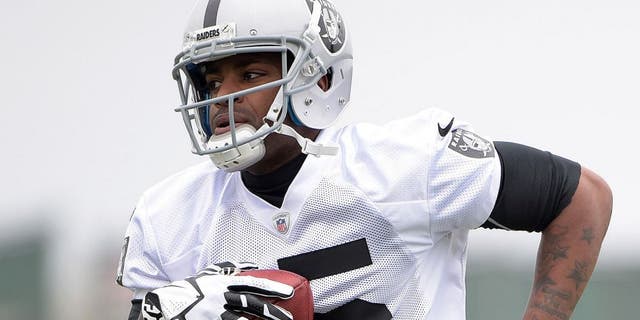 Our 2015 NFL preview series ranks every team, from worst to first. Today: the No. 29 Raiders.
2014 record: 3-13
Head coach: Jack Del Rio
Key arrivals: Rodney Hudson (center), Dan Williams (defensive tackle), Michael Crabtree (wide receiver), Roy Helu (running back), Malcolm Smith (linebacker), Curtis Lofton (linebacker), Nate Allen (safety), Kris Durham (wide receiver), Christian Ponder (quarterback), Trindon Holliday (wide receiver), Trent Richardson (running back), Lee Smith (tight end), J'Marcus Webb (offensive tackle), *Amari Cooper (wide receiver)
(*denotes rookie)
Key departures: Stefen Wisniewski (center), LaMarr Woodley (defensive end), Pat Sims (defensive tackle), Antonio Smith (defensive tackle) Darren McFadden (running back), Tyvon Branch (safety), Matt Schaub (quarterback), Vincent Brown (wide receiver), Denarius Moore (wide receiver)
2015 schedule
Sept. 13: Cincinnati, 4:25 p.m.
Sept. 20: Baltimore, 4:05 p.m.
Sept. 27: at Cleveland, 1 p.m.
Oct. 4: at Chicago, 1 p.m.
Oct. 11: Denver, 4:25 p.m.
Oct. 18: BYE
Oct. 25: at San Diego, 4:05 p.m.
Nov. 1: New York Jets, 1:05 p.m.
Nov. 8: at Pittsburgh, 1 p.m.
Nov. 15: Minnesota, 4:05 p.m.

Nov. 22: at Detroit, 1 p.m.
Nov. 29: at Tennessee, 1 p.m.
Dec. 6: Kansas City, 4:05 p.m.
Dec. 13: at Denver, 4 p.m.
Dec. 20: Green Bay, 4:05 p.m.
Dec. 24: San Diego, 8:25 p.m.
Jan. 3: at Kansas City, 1 p.m.
TRAINING CAMP QUESTION: Can D.J. Hayden become a true No. 1 cornerback?
The Raiders aren't waiting any longer for Hayden to justify his 2013 first-round draft status. The oft-injured Hayden will be battling Keith McGill for the starting spot opposite T.J. Carrie. Regardless of who emerges from that battle, Oakland will need all three cornerbacks to stay healthy with the Raiders having suspect depth in their secondary.
IF EVERYTHING GOES RIGHT:
New coach Jack Del Rio's first season isn't starting with high expectations, but don't tell him that. The former Jaguars coach has some quality pieces, including outside linebacker Khalil Mack. Mack, who was the league's best at setting the edge last season, should be utilized as more of a pass rusher. If quarterback Derek Carr can take advantage of his weapons and administer a downhill running game, the Raiders could be hovering around the .500 mark.
IF EVERYTHING GOES WRONG:
Oakland has a nice blend of youth and veteran free agents. If the talent that was acquired on the open market flops, the Raiders could be looking at another disaster. General manager Reggie McKenzie has been in Oakland since 2012 and during his tenure the Silver and Black has gone a dismal 11-37.
BREAKOUT PLAYER: Outside linebacker Khalil Mack
Mack needed 10 games last season to register his first NFL sack. The wait surely won't be as long in 2015. Mack's pass-rush numbers should improve as he continues developing into one of the league's top all-around outside linebackers.
CIRCLE THE DATE GAME: vs. Green Bay in Week 15 (4:05 p.m. ET/Dec. 20)
The last time Green Bay traveled to Oakland was in 2003, when quarterback Brett Favre butchered the Raiders pass defense following the death of his father. This game has added significance to Packers quarterback Aaron Rodgers, who will be playing in the backyard of alma mater Cal-Berkley for the first time in his NFL career.
ALEX MARVEZ'S PREDICTION: 5-11, fourth place
The Raiders have gone 12 years without posting a winning record. Get ready for the streak to reach 13, although the long-term future is brighter with Del Rio as head coach. Though his tenure in Jacksonville didn't end well, Del Rio has a track record of fielding strong defenses and rushing attacks. He is inheriting cornerstone players in Carr and Mack. Both were bright spots as rookies during Oakland's tumultuous 2014 campaign.
The Raiders gave Carr the top-flight wide receiver he sorely needed by selecting Alabama's Amari Cooper with the No. 4 overall pick in this year's draft. Running back Latavius Murray will have the chance to become a full-time starter after big-play flashes in 2014. Already stout against the run, Mack is a bona fide double-digit sack candidate this season.
So why am I not more bullish on the Raiders? It will probably take some time for the new coaches and a slew of free-agent acquisitions to completely mesh, Carr is still an unfinished product, and the depth is sorely lacking at a number of spots largely because of poor drafts between 2011 and 2013.