Notre Dame's Corey Robinson done with football due to multiple concussions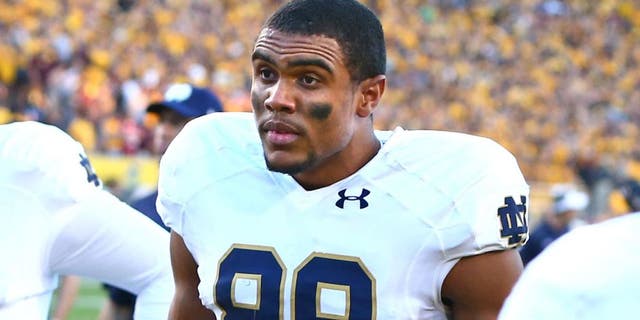 NEWYou can now listen to Fox News articles!
Corey Robinson, son of NBA great David Robinson, is done playing football.
The rangy Notre Dame wideout said Wednesday that he has decided not to continue playing football due to multiple concussions.
"I couldn't have come to this decision without the incredible support from so many within the Notre Dame football program," Robinson said in a statement. "I am extremely thankful to Coach Kelly and his staff for the life-changing opportunity to play football at the greatest University in the world. I will continue to help our team as a student assistant and look forward to a great senior year."
In 2015, the 6-4, 215-pound Robinson battled an assortment of nagging injuries in addition to the concussions and managed just 16 catches for 200 yards. A year earlier, Robinson looked like a budding star, snagging 40 receptions for 539 yards and five touchdowns, including a big night at Florida State, where he made eight catches for 99 yards and two TDs. He also had what would've been the game-winning touchdown grab, but it was called back due to an offensive pass interference penalty.

Off the field, the younger Robinson was even more impressive, drawing consideration for the Rhodes Scholarship. In addition, he earned first-team Academic All-American in 2014. He also was elected student body president, becoming what is thought to be the first Notre Dame football player to ever achieve such an honor.