No underdogs or weak links among Championship 4 contenders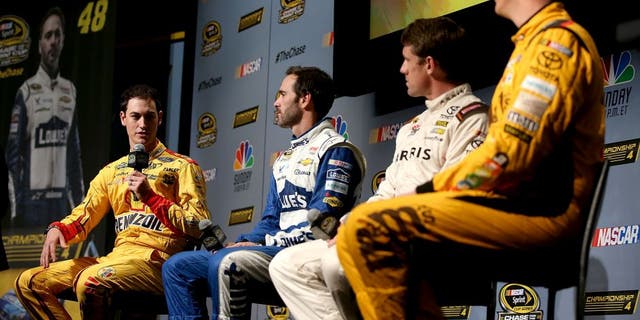 The difference between this year's Chase for the NASCAR Sprint Cup Championship 4 and those of the past two seasons were strikingly on display during Thursday's Chase Media Day in Miami Beach.
And there is no question whatsoever that the 2016 Championship 4 is the best and deepest since the current winner-take-all Chase format was adopted in 2014.
Two years ago, Ryan Newman made it all the way to the Championship 4 without winning a race and Denny Hamlin made it in with just a single victory in the 26-race regular season.
Last year, Martin Truex Jr. was a huge underdog who somehow advanced to the championship race at Homestead-Miami Speedway.
This year, there are no underdogs.
Sunday at Homestead will be all about the big dogs. And they are hungry and eager to hunt.
This year's finalists -- Kyle Busch, Carl Edwards, Jimmie Johnson and Joey Logano -- have combined to win 14 of the 35 points races run so far this season, along with posting 51 top-five and 82 top-10 finishes.
There are no weak links in this year's Final 4. There just aren't.
Johnson said all the drivers here have already risen up in earlier Chase races and are now battle tested and ready, as he put it, to go to war.
"I think we're all kind of in that mode," said Johnson. "We were able to win two rounds in the Chase and advance. The 19 (Edwards) won in Texas, Kyle virtually had to win at Phoenix. I think we've all had that exposure, plus past experiences with championships."
That's going to make Sunday's race almost impossible to handicap.
"I've sat on this stage, a race stage like this before where guys were kind of going for their first opportunity under these lights, maybe not their first time at a championship, and I don't have that luxury this year," Johnson said. "Everybody here has been in this moment."
"Everyone is here for a reason," added Logano. "These are the four best teams this year. It's been proven that they've either been consistent or can win when they have to. … There's a lot of pressure that's been put on these race teams, and these are the race teams that were able to handle it."
Busch, who won last year's Ford EcoBoost 400 at Homestead and with his first Cup championship, said he expects a close fight to the very end. And he doesn't believe that traditional metrics like qualifying spots and practice speeds will mean a whole lot.
"I don't think you can count on qualifying," said Busch. "I don't think you can count on practices or the beginning part of the race because as the race goes on, track changes, shade comes on. I think we're going to end right at dusk, dark, so it's going to be all the way to the end."
And there will be some turbulent moments along the way.
Asked what he thought it would take to win the championship that eluded him in 2011 when tied Tony Stewart on points but lost on a tiebreaker, Edwards said to expect the unexpected.
"Just being ready, ready for anything that happens, having all parts of your team working well and using all the experience that you have to minimize those mistakes or to correct those things that go wrong," he said.
And whoever can do just that on Sunday might just walk away with he 2016 NASCAR Sprint Cup Series trophy.