No. 5 Duke women's star Chelsea Gray done for season with dislocated right kneecap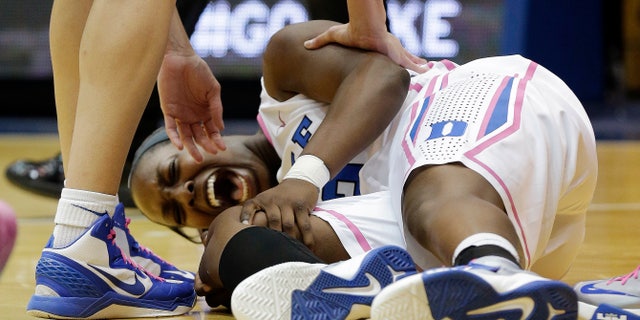 NEWYou can now listen to Fox News articles!
DURHAM, N.C. – Duke women's star Chelsea Gray will miss the rest of the season with a dislocated right kneecap.
Coach Joanne P. McCallie disclosed the severity of Gray's injury Tuesday.
The fifth-ranked Blue Devils' point guard was hurt with 8:07 left in the first half of Sunday's game against Wake Forest. She landed awkwardly on her knee while going for a rebound and was fouled by Dearica Hamby.
Gray collapsed to the court, grabbing her right knee, and her screams filled a hushed Cameron Indoor Stadium.
McCallie had said Gray could have returned for the postseason if there were no ligament tears, but an MRI indicated season-ending surgery is necessary.
Gray averages 12.6 points for Duke (24-1, 14-0) and leads the Atlantic Coast Conference with averages of 5.4 assists and 3.6 steals.