No. 15 New Mexico too much for Air Force with 81-58 victory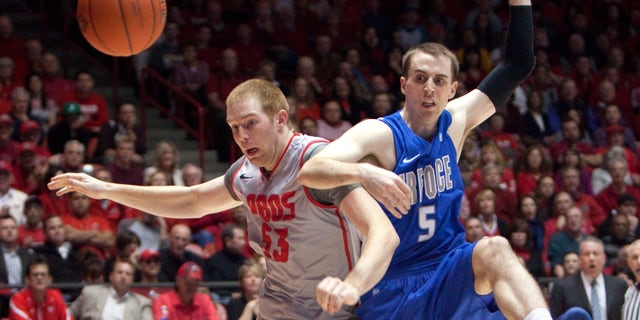 ALBUQUERQUE, N.M. – Jamal Fenton scored all five of his points in a late surge for No. 15 New Mexico to help the Lobos beat Air Force 81-58 on Wednesday.
With New Mexico (20-3, 7-1 Mountain West) leading 57-51, Fenton started a 14-1 run with a time-clock beating, turnaround floater from the lane.
All five Lobos' starters finished in double figures, with Tony Snell, Cameron Bairstow and Alex Kirk all scoring 14 points.
Bairstow added nine rebounds and Kirk had eight to help the Lobos control the boards with a 39-24 advantage, including 13-4 on the offensive side.
Those two players also helped New Mexico to a 30-16 scoring edge in the paint and a 14-2 edge on second-chance points.
Mike Fitzgerald and Michael Lyons each scored 16 points for the Falcons (14-7, 5-3).
Air Force used a 9-3 run, capped by a 3-pointer from Kyle Green with 9:15 remaining before New Mexico took off on its big run.
The Lobos held a 42-29 lead at halftime after closing with an 11-3 run that included 3-pointers from Kendall Williams and Hugh Greenwood.
But New Mexico opened the second half by missing its first six shots before Greenwood made a 3-pointer from the baseline nearly six minutes in.
Air Force was unable to capitalize as the Lobos scored six points from the foul line.
Williams had 11 points, seven assists, six rebounds and four steals for New Mexico. Fenton added six assists in just 17 minutes.