NNS: Sadler Rebuilding Foundation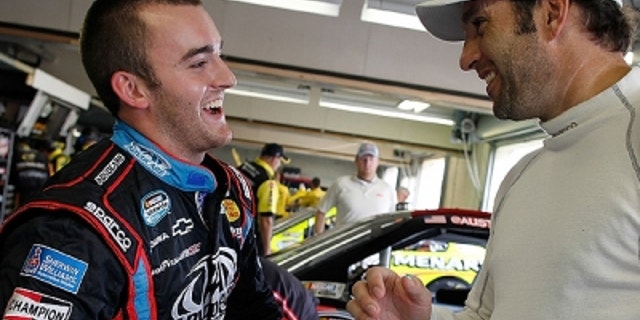 Elliott Sadler has raced at the top and wants to race there again. He has Chased and wants to Chase again. He has won at stock car racing's highest level and wants to do so again.
For the moment, however, the Virginia driver rides atop a smaller world, leading the Nationwide Series in points entering Saturday's inaugural Indiana 250 at Indianapolis Motor Speedway.
Eighteen races into the season, Sadler owns three Nationwide victories (no series regular has more) and leads the points by 11 over Richard Childress Racing teammate Austin Dillon.
For a driver who once roamed the high ground of the Sprint Cup Series, Sadler has rebuilt the once-crumbling foundation of his career one step down.
"Am I trying to rebuild something?" Sadler repeated a question. "Yes, damn right. I'm trying to rebuild what was taken away from me and what was torn apart a few years ago. I'm trying to build a reputation as a good race car driver back.
"I want to get back to that level. I've been a part of the Chase. I've won races."
Sadler scored a pair of wins in Sprint Cup in 2004 and made the Chase that season, but he stumbled the following year and went winless, starting a series of negatives that ultimately left him on the ropes and wondering about his future.
Then along came Childress and the chance to trade mediocre Cup cars for top-flight Nationwide cars. Sadler jumped at the deal, finished second in Nationwide last season and now is leading the way toward what would be his first major national championship.
Sadler showed the true grit expected of series leaders by gutting out a win at Chicagoland Speedway last week despite battling a wicked stomach virus that had sapped his energy.
Now it's on to Indy, where, unlike many of the other Nationwide regulars entered in Saturday's first series race at the 2.5-mile track, Sadler has previous experience in Cup cars.
Although Sadler says he will miss competing at the Lucas Oil Raceway short track, the Indy area's traditional venue for the Nationwide Series, he's juiced to be running at IMS.
"This means a lot as a competitor," he said. "I remember the first time I came in 1997 to test a Cup car here. When you come through the tunnel to this place, it's a different atmosphere. There's so much history here.
"I think it's fortunate for the Nationwide Series to be able to be here at the big track. It's a cool weekend – a big weekend for us. It's just a great atmosphere for racing, whether you're an open-wheel fan or NASCAR fan. It's a great atmosphere when you come here to Indy."
Mike Hembree is NASCAR Editor for SPEED.com and has been covering motorsports for 30 years. He is a six-time winner of the National Motorsports Press Association Writer of the Year Award.