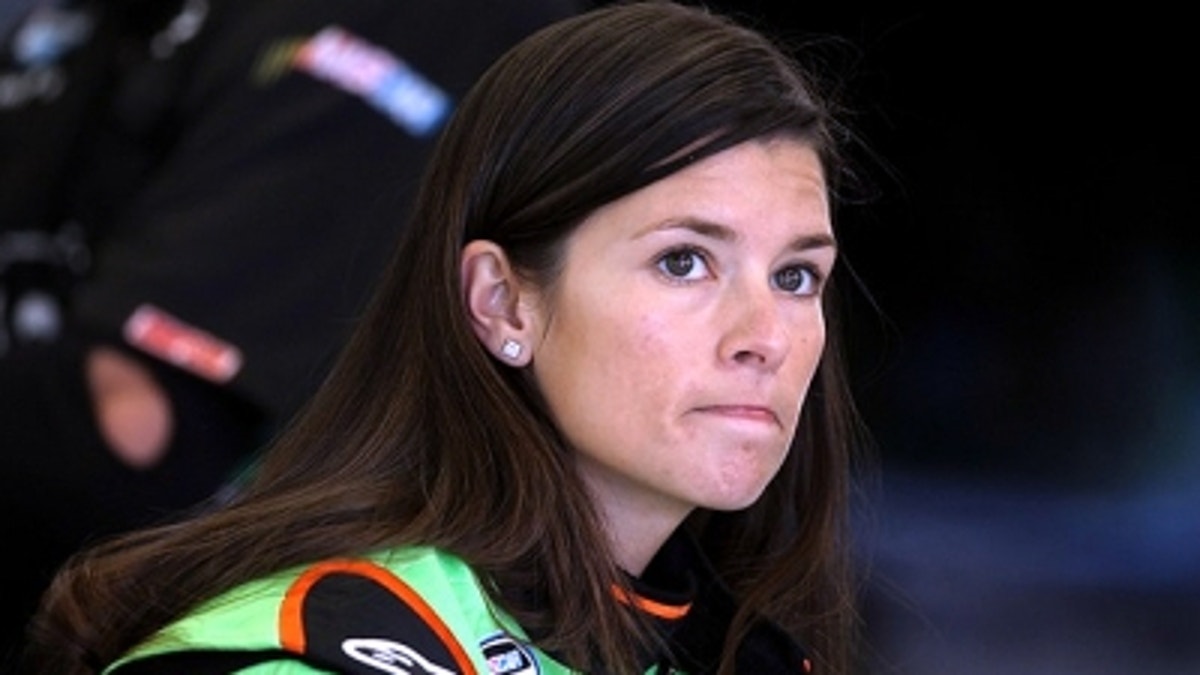 A decidedly subdued Danica Patrick said Friday that she is reassessing her own goals and expectations after a disappointing start to her first full season in the NASCAR Nationwide Series.
Patrick got wrecked by her JR Motorsports teammate Cole Whitt in the season-opening Nationwide race at Daytona and finished 21st, three laps off the lead last week in Phoenix. Afterwards, she declined comment.
Friday at Las Vegas Motor Speedway, Patrick said she needs to throttle back on her original goals now that she's a couple of races into the season.
"I think that I gave myself maybe a little bit of false expectation about running this year for the championship and probably using those words 'for the championship,'" Patrick said. "It's my first full year and what I've done still doesn't add up to one year, and I didn't have anything before that at all in stock cars. So I think I need to remind myself every now and again of really where the expectation level should be and where mine should be.
"And I can't let all of the exposure and hype and hope — I'm serious when I say 'hope' — to do well. I can't let that be something that makes me feel like I have to do well. And I think that got to me a little bit, and especially coming from Daytona and having such disappointing results. Whatever happened or didn't happen on the track, it was just I get attached to the results, for sure. Part of that is my job, to get good results. Sometimes I dwell on that too much."
Patrick said Daytona overwhelmed her somewhat and last week's performance at Phoenix frustrated her.
"The length of Daytona and the demands, both in the car and especially outside of the car, I think got me wore down," said Patrick. "And then it also got to me that, you know, everybody wants to see me do well and I want to do well for them. I want the people in the stands that are holding my flags and wearing my t-shirts and hats to have a good reason to cheer. And I think I let that get to me a little bit.
"I just feel like I spread myself too thin at Daytona and it was two weeks of physical and emotional drain. And everything from the media to the trips that I took to do media to the on-track stuff to the performance to the extended trip to the late night.
Phoenix just exacerbated those problems.
"I mean I just think the whole thing got to me and then I came home and dealt with other issues that took conversations and emotional energy as well," said Patrick. "And I didn't give myself time off and I think usually when I get tapped out and exhausted, I do whatever I want to do," said Patrick. "And getting mad is one of those things. And when I get mad, I don't get mad at anyone, I'm just mad at myself. I wasn't mad at the team. I wasn't mad at Tony (Eury Jr., crew chief) or anybody. I was just mad at myself. I guess ... well, it doesn't matter, it just looks like I was mad."
Tom Jensen is the Editor in Chief of SPEED.com, Senior NASCAR Editor at RACER and a contributing Editor for TruckSeries.com. You can follow him online at twitter.com/tomjensen100.