NNS: Long Odds For Series Regulars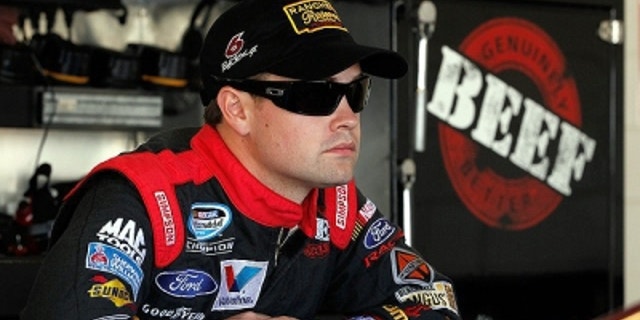 In 18 NASCAR Nationwide Series races so far this season, only seven have been won by series regulars.
Unless NNS points leader Elliott Sadler can pull off a victory, do not expect that to change in Saturday's inaugural running of the Indy 250 at Indianapolis Motor Speedway. The field is heavy with NASCAR Sprint Cup regulars, almost all of who have loads of experience at the historic 2.5-mile oval and therefore a huge competitive advantage.
Aside from Sadler, who has 12 Brickyard 400 starts at IMS to his credit, most of the top NNS regulars — Austin Dillon, Ricky Stenhouse Jr., Justin Allgaier and Michael Annett, among others — are competing at the Brickyard for the first time, which puts them way behind the Cup drivers.
That much was obvious on Thursday, when the top three drivers in NNS Happy Hour were Cup regulars: Kyle and Kurt Busch, with Kasey Kahne third. Fourth-place Sam Hornish Jr. races both series, while Cup stars Denny Hamlin (fifth), Paul Menard (sixth) and Brad Keselowski (eighth) were all top eight.
The only interloper who is a true NNS-only racer was Allgaier, who was seventh. And Thursday's practice was an eye-opening experience for him.
"I don't think you'll ever be able to run wide open completely around here," said Allgaier, who drives for Turner Motorsports. "A lot of the guys were taken aback by just how hard you could drive it here. Still, it would be a pretty hairy ride if you tried to do one (lap) wide open."
"It's a great experience to be out there on the track at speed," added Brian Scott of Joe Gibbs Racing. "This place makes you in awe of it. The big challenge for the Nationwide Series is that we've never been here. Some of us have Cup teammates; there are differences in the (Nationwide and Cup) cars. It's hard to find a baseline to get around here."
Stenhouse, the reigning series champion, said he, too, got an education in practice.
"I learned a lot and got up to speed fairly quickly," Stenhouse said. "We know where we need to be, just got to get it there … It's a track you have to focus on and hit your marks. The line is so narrow. If you miss it by just a little bit, you are in trouble."
James Buescher, Allgaier's teammate, said he was still trying to get his arms around the track, one of the most difficult in NASCAR.
"I've never been here before," said Buescher. "The first time I made a lap around here was in a van (Thursday). … You have to take your time getting up to speed, but you have to get up to speed rather quickly. You need to follow somebody who has been here before who knows where to lift, where to enter the corners. You can't go wide open all the way around because you're hard on the brakes in (Turns) 1 and 3. It's completely different from anyplace else we go. … It's narrow like a short track, but you're going a lot faster and it's tougher to complete a pass. If you're side-by-side, you had better clear him quick. The straightaways here are long, and I think it gives you too much time to think about what you're doing."
And so, the Nationwide regulars have quite a challenge on Saturday — one they know only too well.
"It's very smooth, and it's easy to overdrive the car," said Dillon, second in points behind his Richard Childress Racing teammate Sadler. "The Cup drivers definitely have a big advantage over most of the Nationwide guys. After our first run on the track, we're kind of fighting which direction we need to go with adjustments for our race car. They do their first run, and they know, 'OK, we've got to loosen up here and tighten up here for the exit.' To run against these Cup guys, it's going to be tough against their experience."
Tom Jensen is the Editor in Chief of SPEED.com, Senior NASCAR Editor at RACER and a contributing Editor for TruckSeries.com. You can follow him online at twitter.com/tomjensen100.