NHL Playoffs: Ducks vs. Oilers Round 2 schedule, TV info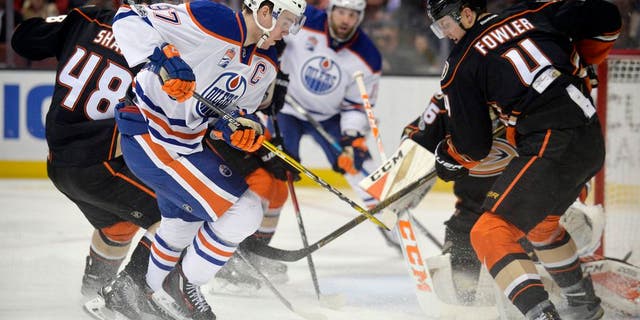 The Ducks made quick work of the Flames with a four-game sweep in the first round of the 2017 Stanley Cup Playoffs.
Following the Oilers' Game 6 victory over the San Jose Sharks on Saturday, Anaheim found out their round two opponent. And now they know when their best-of-seven series with Conor McDavid and the Oilers will begin.
On Wednesday, April 26 at 7:30p in Anaheim, Ryan Getzlaf and co. will host the Oilers, who boast the NHL's regular-season scoring champ in McDavid, in Game 1 of what's sure to be a battle of Pacific Division heavyweights.
FOX Sports West and FOX Sports West Prime Ticket will have postgame coverage immediately following each game.*
*Details will be updated as available
Tickets for Round 2 are available here. Below is the full series schedule (all times PST):
Game 1: Wednesday, April 26, Oilers at Ducks, 7:3op NBCSN
Game 2: Friday, April 28, Oilers at Ducks, 7:30p NBCSN
Game 3: Sunday, April 30, Ducks at Oilers, 4p NBCSN
Game 4: Wednesday, May 3, Ducks at Oilers, 7:0op NBCSN
Game 5: Friday, May 5, Oilers at Ducks, TBDNBCSN*
Game 6: Sunday, May 7, Ducks at Oilers, TBDNBCSN*
Game 7: Wednesday, May 10, Oilers at Ducks, TBDNBCSN*
*If necessary