NFL Hall of Famer Y.A. Tittle dead at 90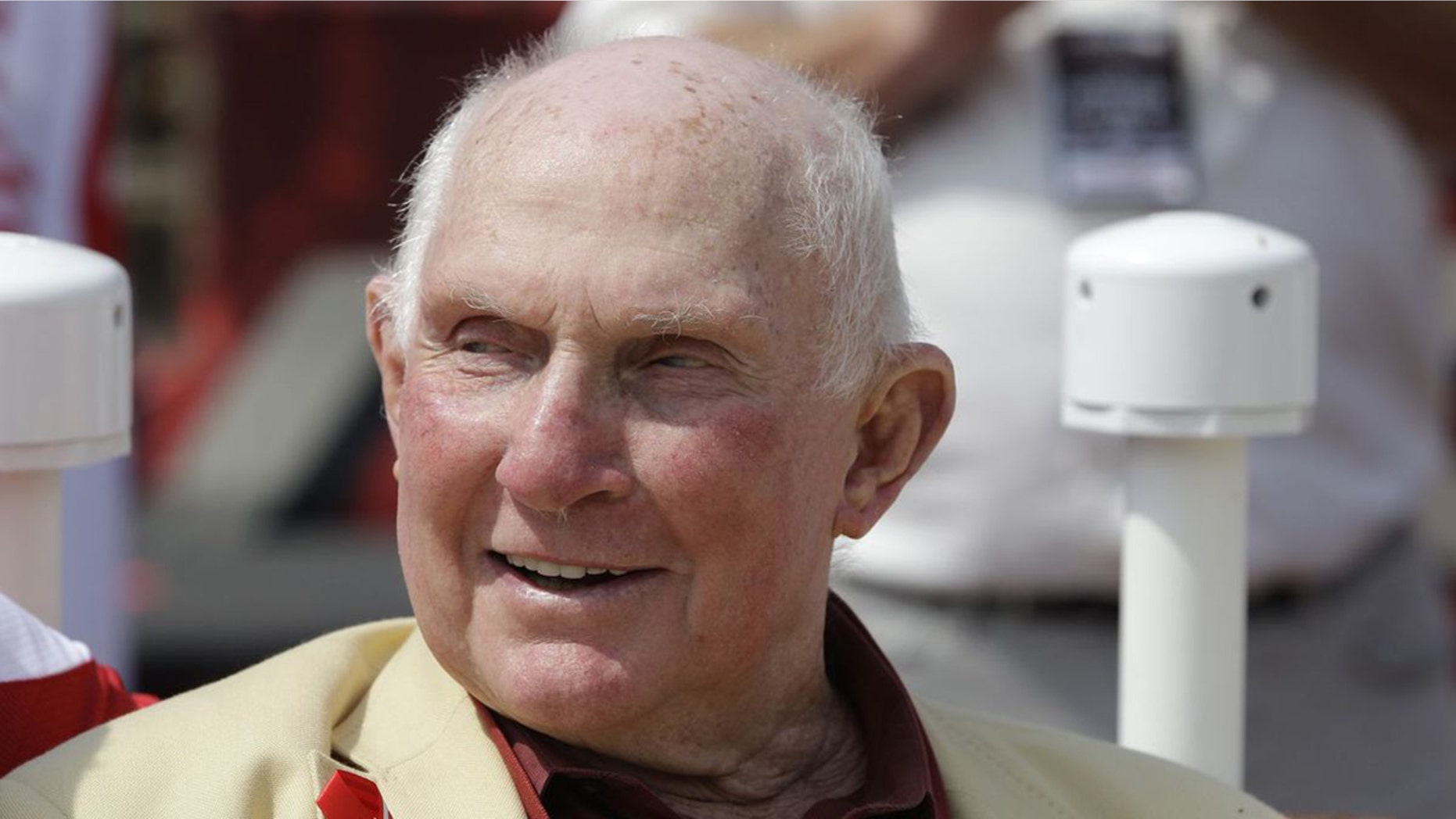 New York Giants and Louisiana State University star quarterback Y.A. Tittle, a two-time NFL MVP who was elected to the Pro Football Hall of Fame, died Sunday night, the school said. He was 90.
Tittle died at Stanford Hospital. The cause of death was not immediately known.
Tittle played for the Baltimore Colts, San Francisco 49ers and New York Giants in a 17-season career from 1948 to 1964 during which he played in seven Pro Bowls. He tossed 242 touchdowns, leading the league three times, in 1955, 1962 and 1963.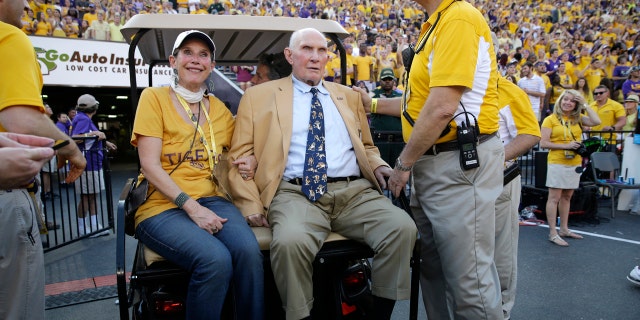 Yelberton Abraham Tittle was born Oct. 24, 1926 in Marshall, Tex. He became a star for LSU before he was selected with the sixth overall pick of the 1948 draft by the Detroit Lions.
Tittle was elected to the Pro Football Hall of Fame in 1971.
Tittle never won a championship, but came to personify the competitive spirit of football, thanks to an iconic photo taken by Dozier Mobley during Tittle's final season in 1964.
The frame caught the then-37-year-old quarterback, who looked older than his years, after throwing an interception returned for a touchdown by Pittsburgh's Chuck Hinton. Tittle is seen kneeling in exhaustion and pain from an injured rib, blood dripping down his face from a head gash.
Tittle, also called "YAT" by his teammates, was elected to the Pro Football Hall of Fame in 1971. He threw 36 touchdown passes while winning the MVP award in '63, and held the NFL record for most TD passes in a season until Dan Marino threw 48 in 1984.
Tittle passed for 33,070 yards and 242 touchdowns in two leagues during his career, including 13 300-yard passing games in an age when the running game dominated the sport. Tittle was the only quarterback of his generation to throw at least 30 touchdown passes in back-to-back seasons when he did it with the Giants.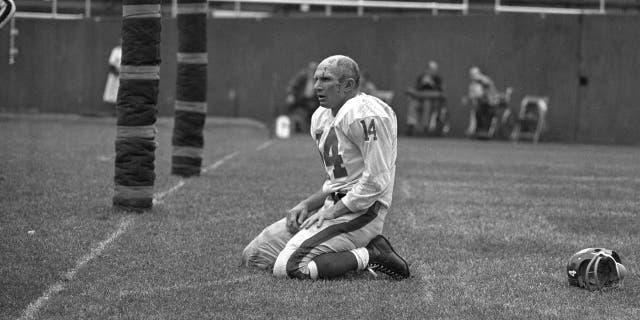 Born Yelberton Abraham Tittle in Marshall, Texas, on Oct. 24, 1926, he led LSU to the Cotton Bowl before he was drafted by the NFL's Detroit Lions in 1948. He joined Baltimore of the AAFC instead, sticking with the Colts when they joined the NFL in 1950 until they temporarily disbanded the following year, when he was redrafted by San Francisco, another former AAFC club.
Tittle then started 78 games and earned four of his seven Pro Bowl selections during a decade with the 49ers. He even became the first pro football player to be featured on the cover of Sports Illustrated in 1954.
For three seasons, he was part of the 49ers' "Million Dollar Backfield" with Hugh McElhenny, Joe "The Jet" Perry and John Henry Johnson — the only full backfield in NFL history with every member in the Hall of Fame.
The group was broken up in 1957, and Tittle lost his job to John Brodie for most of his final three seasons with San Francisco. Tittle still teamed up with receiver R.C. Owens to create another piece of football history with the "alley-oop" pass — a high-arching downfield throw with Owens' exploiting his superior jumping ability against smaller defensive backs.
Tittle's career appeared nearly finished when San Francisco traded him to New York, but the quarterback was an improbable hit in the Big Apple. He became the Giants' starter in 1961, winning over fans and teammates who had favored 40-year-old Charlie Conerly.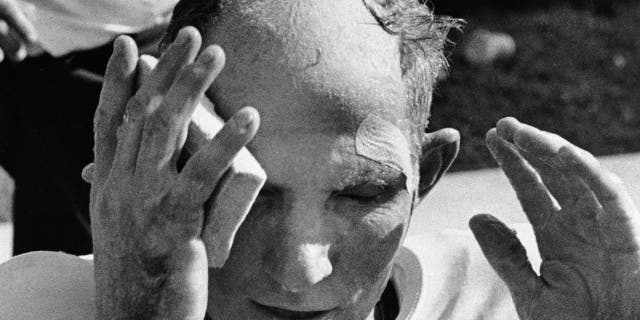 Tittle became one of the NFL's most dependable passers, and New York reached the league's title game from 1961-63, but lost each time, leaving Tittle agonizingly short of his only remaining goal. The Giants plummeted to 2-10-2 in 1964, and Tittle retired after one of his worst pro seasons.
Tittle established Y.A. Tittle & Associates Insurance Services during his playing days, and he ran the business in Palo Alto, California, well past the standard retirement age. He appeared briefly in the 1999 movie "Any Given Sunday," playing a coach, and was a favorite presence at memorabilia shows and NFL alumni functions.
The Associated Press contributed to this report.