NFL Draft prospect D'Onta Foreman reveals he lost a son during final season at Texas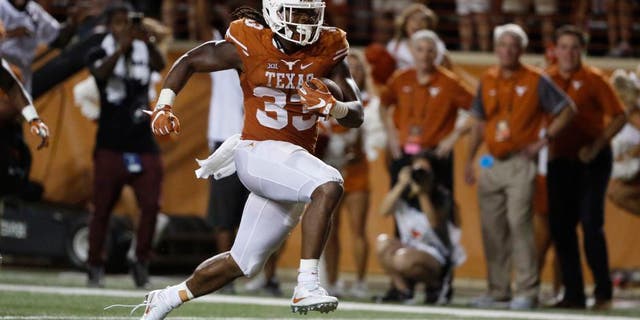 NEWYou can now listen to Fox News articles!
Former Texas Longhorns running back D'Onta Foreman sayshe suffered through the loss of his first sonduringhis final season in college.
Foreman, in an interview with NFL Network's Andrea Kremer, revealed thatD'Onta Foreman Jr. died nearly two months after being born prematurely on Sept. 16.
The baby, delivered at 23 weeks, weighed just 15 ounces at birth and spent 50 days in the neo-natal intensive ward, but doctorsoffered an encouraging outlook.
Then the baby developed an infection in his intestine and died the next day -- the same day Foreman ran for a career-high 341 yards and three TDs against Texas Tech.
"It was just something about that game, it was like, 'I'm doing it for my son. I'm leaving it all out here,'" he recalled of the day, which punctuated a prolific final season.
Michael C. Johnson-USA TODAY Spo
He found out the news from his mother on the drive back to Texas City to be with his family after the game.
"I really didn't know how to feel. I was like numb. I felt like something was taken away from me before I had a chance to experience it."
Now, Foreman is focused on the NFL Draft and finding out where he'll begin his NFL career.
And shortly into his first season, Foreman will have reason to celebrate. He says he and girlfriend Carissa McGaskey are expecting another child,due to be born one year to the day of D'onta Foreman Jr. on Sept. 16.
Brett Rojo-USA TODAY Sports | Brett Rojo