NFL DRAFT 2014: Seattle adds speedy WR drafting Colorado's Paul Richardson in 2nd round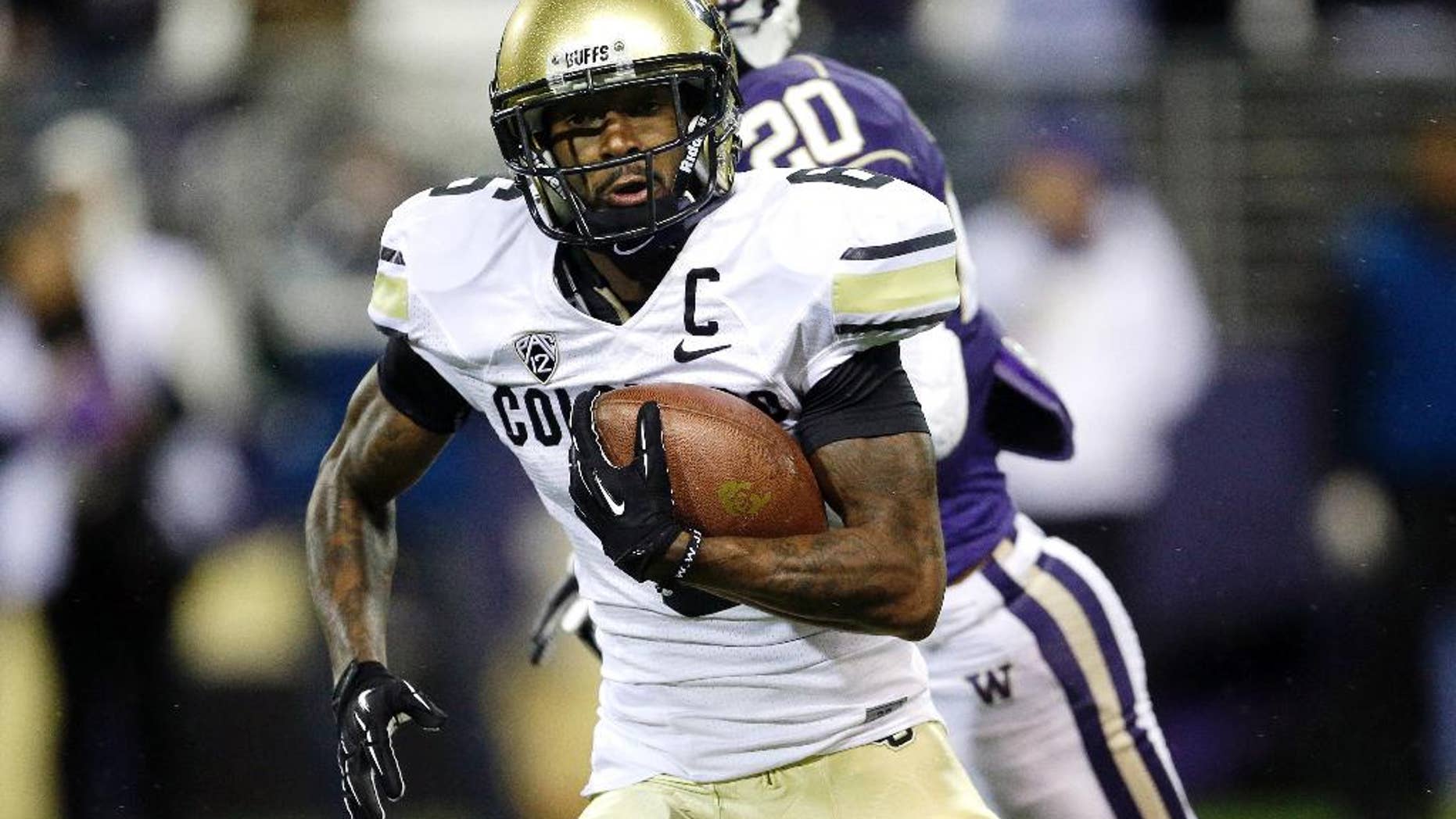 RENTON, Wash. – The belief was that if Seattle decided to address adding a wide receiver in the NFL draft that size and height might outweigh all other factors.
Instead, the Seahawks chose speed over size.
After twice trading down, the Seahawks picked Colorado wide receiver Paul Richardson with the No. 45 overall pick in the second round of the draft on Friday, pairing one of the fastest players in the draft with an offense that will have its first full season with Percy Harvin healthy.
Seattle later added Missouri offensive lineman Justin Britt with the final pick of the second round and immediately threw him in the competition for the Seahawks' open spot at right tackle following the departure of Breno Giacomini in free agency.
Seattle was originally scheduled to pick at No. 40 before making a second draft trade, this time with Detroit. By moving back five spots, the Seahawks were still able to get a speedy receiver to add to their roster and help make up for the loss of Golden Tate in free agency.
"I really think he's the guy with the best quickness in and out of the breaks and the explosive downfield (strike)," Seattle coach Pete Carroll said. "He's an exciting guy to bring to camp to add to our team and I think the guys will take to him."
Richardson was timed at 4.4 in the 40-yard dash at the combine, good for the eighth-fastest time of all participants. Richardson said his fastest 40 time ever was a 4.28 earlier this year and was disappointed with what he ran at the combine.
That speed in college helped to make up for a lack of weight. Richardson said he played collegiately around 160 pounds, but has added about 20 pounds since the end of last season. Despite his lack of weight, Seattle scout Matt Berry said Richardson had no problem separating from physical defensive backs at the line of scrimmage.
"How big is Doug (Baldwin)? How big is Percy? He's just like our guys," Carroll said. "I know there is some concern about that but we love the way our guys play."
Carroll remembered Richardson, a Los Angeles native, being on his radar when he was the coach at Southern California before taking the Seahawks job.
"I think I'm just a playmaker. A guy that likes to stretch the defense and likes to make plays underneath and over the top and do it consistently," Richardson said.
Richardson missed the 2012 season with a knee injury. His rebound in 2013 was outstanding. Despite playing with a young quarterback, Richardson had a standout senior season with 83 catches for 1,343 yards and 10 touchdown catches. Three times he had at least 10 catches in a game, even as the Buffaloes were struggling through a 4-8 season.
"My knee hasn't been an issue since I got my brace off," Richardson said. "I've been blessed to bounce back from my injury fast."
Britt's selection addressed Seattle's need for depth on the offensive line after the departures of Giacomini and Paul McQuistan in free agency. While he played left and right tackle at Missouri, the Seahawks intend on giving him the first look at right tackle competing with Michael Bowie.
Britt was an all-Southeastern Conference first-team selection in 2013. Britt started all 14 games at left tackle last season, but played right tackle in the past for the Tigers. He's also projected to be able to move to guard and versatility has proven important for the Seahawks.
Britt said he was playing shuffleboard with his friends, trying not to worry about the draft, when his phone started buzzing. Seattle assistant head coach Tom Cable said he was left impressed by how Britt played against No. 1 overall pick Jadeveon Clowney.
"I went into the season last season wanting the guys I went against to remember me," Britt said. "It was my last year so I wanted to leave a mark in their mind and have them remember me. If nasty is the word you want to use, then I'm nasty."
Seattle eventually moved down 13 spots before making its first pick of the draft. They were able to add two additional picks through trades with Minnesota and Detroit and go into the final day with six picks, including four in the fourth round.