NFL admits refs blew call, Ravens should have won vs. Jags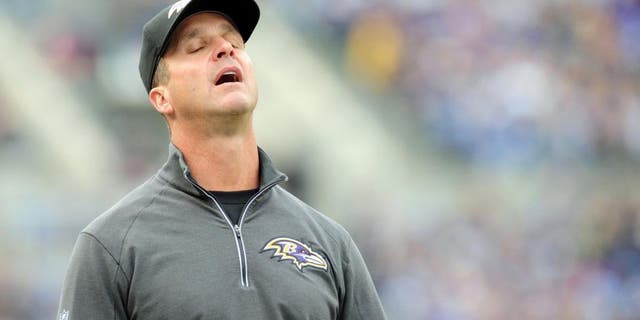 OWINGS MILLS, Md.
The Baltimore Ravens have been losing close games all season. Their latest defeat was the cruelest of them all -- in part because it involved an officiating error.
The NFL acknowledged Monday that Jacksonville should have been penalized on the play that preceded its game-winning field goal Sunday. Although the Jaguars were not set before hurriedly snapping the ball with one second on the lock, the officials allowed the play to be run.
Baltimore linebacker Elvis Dumervil subsequently grabbed quarterback Blake Bortles' facemask while making a tackle, giving Jacksonville one more play with the clock at 0:00.
Jason Myers kicked a 53-yard field goal to deal the Ravens (2-7) a stunning 22-20 loss.
"The correct call in this case would have been to penalize the offense for a false start because all 11 players were not set, and whistle to stop the play," said NFL spokesman Michael Signora. "The ensuing 10-second runoff should have ended the game."
Ravens coach John Harbaugh was obviously disappointed.
"They didn't get the snap off in the sense they didn't get everybody set," Harbaugh said. "There's nothing we can do about it now. It's unfortunate, it's disappointing. It's gut-wrenching."
It's been that type of season for the Ravens. It seems if something can go wrong in the final seconds, it has.
"I've thought about that probably more than any human being on earth," Harbaugh said. "It's been one of those years where you make a mistake, you pay for it. Or a call, or the ball bounces a certain way."
Baltimore's seven losses have come by a total of 32 points. The Ravens have given up big plays in the fourth quarter and thrown interceptions in the final minute. Then there was Sunday's one-of-a-kind defeat.
It has frustrated Harbaugh, who has been to the postseason six of the past seven years.
"This has been a tough process for us. For whatever reason, as a football team this has been a real challenging year," the coach said. "Some things come naturally and easily over the years. It has not been the case for us. But that's OK. We're up for the challenge. We can deal with this. And we will."
Baltimore hasn't been 2-7 since 2005, when Kyle Boller was quarterback and Brian Billick was the coach. Flacco came into the league in 2008, the same year Harbaugh took over, and the duo has enjoyed a very successful run -- until now.
Flacco threw three touchdown passes Sunday, but he also committed three turnovers. The Ravens had plenty of chances to pull away from the Jaguars but couldn't make it happen, setting the stage for the crazy finish.
"We're just leaving room for stuff like this to happen," Flacco said. "At the end of the day, we're not good enough. It shows in your record."
The Ravens still have seven games left, beginning this Sunday at home against St. Louis. If there's one thing Harbaugh can say with certainty, it's that his team won't quit.
"Our players are just of the highest caliber," he insisted. "We still believe we can win every game going forward. We're not going to let that go because we know what kind of football team we can be."
To be sure, the Ravens' resolve has been tested thus far this season. There might be a tendency to surrender to fate after Sunday, but Harbaugh refuses to let them happen.
"No matter what situation might rise up, we're not going to let those things get the best of us," he said. "No way. We're not backing up, we're not backing down. Nobody's going to flinch no matter how long it takes. We thought we'd be through this by now. We're not. OK."