Next stop for redemption of former Badgers RB Clement is NFL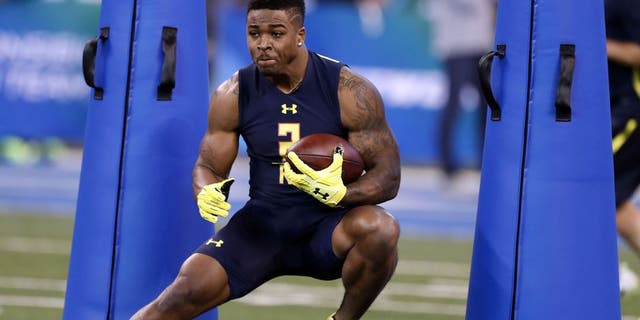 NEWYou can now listen to Fox News articles!
Corey Clement has been trying to redeem himself for so long, what's a few more months?
With the NFL Draft closing in, the former Wisconsin running back will soon find out how well his reclamation project has gone.
But if there's one thing Clement has learned it is don't dwell on the past. And what a past he's had. Clement's time with the Badgers was anything but normal.
A Bret Bielema recruit, Clement, who originally had been committed to Pittsburgh (whose head coach happened to be Paul Chryst) saw Bielema leave for Arkansas with just over a month remaining until National Signing Day.
Despite overtures from other schools, Clement signed with the Badgers under new head coach Gary Andersen and got playing time immediately, serving as a backup to Melvin Gordon and James White as a freshman. After backing up Gordon again in 2014, it was his turn to be Wisconsin's feature back as a junior, now under Chryst, who took over for Andersen, who surprisingly fled to Oregon State.
Things did not go according to plan, to say the least. A sports hernia limited him in the season opener then required surgery, causing him to miss seven games. He returned to rush for 115 yards against Rutgers, but injured his ankle. Another game was missed, and then came an ineffective performance in a loss to Northwestern (10 carries, 24 yards).
The worst of it, though, was when Clement was involved in an off-the-field fight. He not only was cited for disorderly conduct but he lied about the situation. When the truth came out, Clement was suspended for the season finale. While Clement would play in Wisconsin's bowl game, a win over USC, he was now and forever tagged with having a character issue, a red flag in NFL circles.
Needless to say, 2015 was a popular discussion point whenever Clement talked with NFL teams in the past few months.
"I've talked to some coaches and they just wanted to know if I learned from it," Clement said. "That's just basically everyone's outlook; that I learned from it and I matured from it.
"A lot of teams are willing to put it behind me if I can not let it affect my production on the field. Everyone messes up. They all say the same message. Dont dwell on it and at the end of the day move on. Everyone makes mistakes but it's all about how you bounce back from it."
Getting back into the groove on the field was not a problem. Clement was back to full health relatively quickly and knocked off any rust in spring ball and fall camp. Despite playing behind a raw and inconsistent offensive line, and with inexperienced quarterbacks, Clement rushed for 1,375 yards in 2016 and had eight 100-yard rushing games, including in each of the final five regular-season contests.
"(Teams) really saw in 2016 that I regained my step back," Clement said.
Regaining the acceptance of his coaches, though, especially Chryst, didn't come as quickly.
"It took me a while to get his trust back," Clement admitted. "I wanted to do whatever it took to get back in good graces with him."
Player and coach are now tight, Clement redeeming himself in Chryst's eyes. Even after taking his last hand-off for the Badgers on Jan. 2, Clement will call Chryst for advice, whether about football, finances or something personal. In turn, Chryst has tried to waylay the character concerns NFL teams might have about his former star running back.
According to The Sporting News, Chryst sent the following letter to every team in the league:
"Corey was great this year! He was terrific as a player, as a teammate, and as an individual. Corey cared more about this team than he did his future as an individual prospect in the NFL. He was unselfish, a diligent worker, and kept getting better and better as the year progressed. As a staff, we thought Corey was a big factor in the success we had as a team this year. I can highly recommend with confidence Corey Clement."
Clement, though, will need more than the backing of Chryst.
While he was honored to be invited to the NFL Combine -- "(an invite) isn't just handed to anybody," he said -- Clement did not perform well in Indianapolis. His 40 time of 4.68 was among the worst for running backs, as was his 28.5-inch vertical and 115-inch broad jump.
Clement had a chance to win back the scouts a few weeks later in Madison and felt he accomplished that.
"The combine, yeah, it really wasn't what I wanted," Clement said, "but I turned that around on my Pro Day. I ran better numbers, I put up a better 40, a better broad, a good 20, a 10."
When it comes to an NFL prospect, however, numbers aren't everything. Yes, it matters. As does character (which Clement knows all too well). There's also production. Clement knows teams will look at his film, and he certainly hopes they do. There are things he does in games that can't be quantified.
"I think my vison and my patience it's hard to put that on paper," Clement explained. "If you do a lot of film work on me, I really think you'll see a lot of patience. I try to watch other defenders work out their play before I even make my next move. I always try to be ahead of the game before the snap. Pre-snap look is always something I want to take pride in because that's going to make me my money at the end of the day, so I have to be able to be one step ahead of those guys and beat them at their own game."
Clement got to show scouts a bit of his skills in person at the Senior Bowl, where by most accounts he excelled. Other than one play in which he said he whiffed on a block, Clement was happy with his performance.
"At the Senior Bowl I thought I showcased a lot of catching, being able to pick up 1-on-1 blitz pickups and I think they wanted to see how well to a playbook within a three-day span," he said. "That was pretty cool, I loved the challenge. When the pressure's on, I definitely make the better for the moment. I think they wanted to see how much pressure you can take before you crack."
Clement is quick to note that he doesn't let positive comments get to his head. He's tried to remain very even-keel throughout the draft process. And he's certainly not taking anything for granted. Gordon has told Clement he can play in the NFL, although cautioned nothing will be handed to him.
While Clement appreciates the counsel from his former running back mate, he's tried to ignore all outside commentary and projections, such as what teams he might be a good fit with (or not) or where he might go in the draft (he claimed he has no idea).
Clement would love to be an every-down back in the NFL -- he thinks he proved himself by being Wisconsin's bellcow, averaging over 24 carries per game last season including twice having over 30 carries.
"That's why I want the coaches to see it all," Clement said. "Can they rely on me? I can be very reliable especially when it's crunch time. To me, it didn't feel like 30 carries at all, so I think that's a good sign.
"I want the ball every play. But if anything, it's about staying in the league as long as you can. If anything, to minimize the amount of hits on the running back. You know, we don't last very long, so you have to be smart on this type of level. Being able to fit into any system, anybody can do it, it's just how well you can learn that playbook and make the game easier on yourself."
First, though, Clement has to make an NFL roster, and that means waiting to be drafted. He's had workouts with New England and Philadelphia, although those, of course, offer no guarantees. Many draft experts have tabbed Clement a Day 3 pick, due in part to the deep class at running back which could see as many as 10 selected in the first two days (i.e. three rounds).
That's a stark contrast to 2015, when just four running backs were selected in the first three rounds. Clement could have been a part of that draft class, but elected to return to Wisconsin after his tumultuous year.
"I think I would have been drafted, but if I left it would have been a selfish move on me," Clement said of his decision last year to not go pro. "I wouldn't have been ready for the NFL at all. Especially (since) I didn't know how long my injury was going to take to heal. I didn't want to go into a minicamp not feeling well. At the end of the day, I'm able to graduate this year (with a degree in communications and a minor in entrepreneurship) so it put me in a better spot."
He also added, "I'm not worried about this being a deep running back class at all. If anything, once I get my chance, I'll make the most of it."
It's all part of the Corey Clement Redemption Tour, soon coming to an NFL city.