New York Mets-Chicago Cubs NLCS rekindles memories of summer of 1969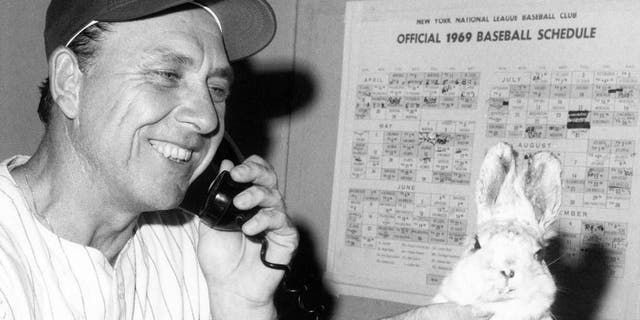 NEWYou can now listen to Fox News articles!
To many, "Summer of '69'' creates memories of a Bryan Adams song. Don't tell that to longtime fans of the New York Mets and Chicago Cubs, who will meet in this year's NLCS.
Forty-six years ago, the Miracle Mets, who started the season as 100-1 shots, added a stinging chapter of misery to the Cubs and their faithful.
The Cubs were led by manager Leo Durocher and boasted a lineup that featured future Hall of Famers Ernie Banks, Ron Santo and Billy Williams.
The Mets, who were an expansion franchise in 1962 and had seen little success, banked on a pitching staff that included future Hall of Famer Tom Seaver, Jerry Koosman and a young righty from Alvin, Texas, named Nolan Ryan. They were managed by former Dodgers great Gil Hodges.
The Cubs had gotten off to a terrific start and were in control of the then-National League East. There was no indication they would have trouble with the long shot Mets. However, a harbinger of what was to come might have occurred on July 9.
Seaver, the Mets' ace, faced the Cubs at Shea Stadium on that evening. He was unhittable. In fact, almost perfect. The only flaw in his 11-strikeout gem came in the ninth inning with one out when Jimmy Qualls, an outfielder who appeared in a grand total of 63 games over three seasons, singled to ruin Seaver's bid for perfection.
Still, the Cubs kept rolling and were 75-44 with a nine-game lead over the Mets on Aug. 16.
What could go wrong?
Well, how about almost everything?
In one game between the teams, a black cat -- considered a bad omen -- walked by Santo on the field at Shea Stadium.
Over the final month-plus of the season, the Mets went on a 25-7 tear while the Cubs were crumbling in their last 25, going 8-17. The Mets wound up running away with the division, winning by eight games and then stunned the Atlanta Braves in the NLCS and startled the Baltimore Orioles in the World Series.
Durocher took heat for the Cubs' collapse as five players saw action in more than 150 games while two others played in 130. Factor in the fact that home games at Wrigley Field were in the daylight then, and historians believe the manager exhausted his players through overuse.