New York Jets Choose Smith To Start Season, Sanchez Worried About Future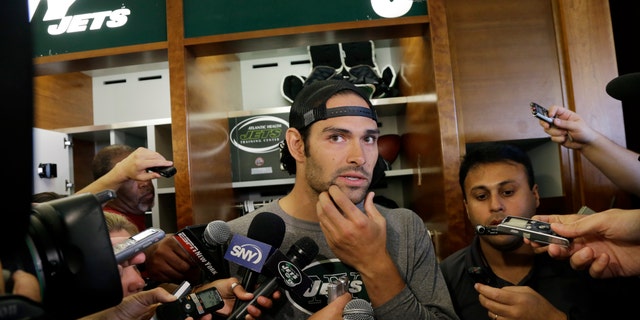 Now that rookie quarterback Geno Smith will start for the New York Jets in the season opener at home Sunday against the Tampa Bay Buccaneers, Mark Sanchez is seriously concerned about his future.
The team announced the decision through its Twitter feed Wednesday, finally confirming what had been expected since Sanchez injured his right shoulder in a preseason game against the Giants on Aug. 24.
However, according to a source close to Sanchez, the ailing quarterback believes the Jets "organization wants to see him placed on (injured reserve) and be done with him."
Speaking with USA Today Sports, the source said Sanchez feels the "organization has turned its back" on him "and is prepared to move on. It is ready to start fresh with Geno."
Smith, who had an up-and-down preseason, was the team's second-round draft pick out West Virginia after he was projected by many to be selected early in the opening round.
"We are excited about that," head coach Rex Ryan said in an interview posted on the team's official website.
Ryan said Smith "really fits" offensive coordinator Marty Mornhinweg's West Coast-style system that he has implemented in his first season with New York.
"The whole team, I think, really is excited," Mornhinweg said in an interview on nyjets.com, "and ready to rally around Geno Smith."
The Jets also have the inexperienced Matt Simms, who had a terrific preseason, and recently signed journeyman Brady Quinn. But with Sanchez not ready to play Sunday, the choice for Ryan, Mornhinweg and general manager John Idzik was easy.
"We'll go through some ups and downs, I guarantee you that," Mornhinweg said. "Knowing Geno, hopefully there will be more ups than there are downs."
After Smith threw three interceptions and took a safety in three-plus quarters against the Giants, it was widely assumed Sanchez had won the job. But Ryan chose to put Sanchez in the game in the fourth quarter — and he suffered the injury that could sideline him several weeks.
Since Sanchez's shoulder is progressing, "it's too early to tell if he will be placed on IR." Even still, Sanchez seems to be thrown by his rookie competition.
With Smith stepping into the starter's role, it makes Sanchez's status with the team unclear. Ryan has still never declared a winner to the competition — and he might not ever do so. If Smith can be solid during Sanchez's absence, he could make it hard for Ryan to pull him. And, by never saying whether Smith or Sanchez had won the job, Ryan could get away with not saying he had benched the starter either way.
"We'll see what the future holds," Ryan said. "But clearly, (Sanchez) is not ready."
Sanchez was once considered the future of the franchise, a terrific talent with GQ looks, and consecutive trips to the AFC title game in his first two years drew natural comparisons to Joe Namath. But Sanchez struggled over the next few seasons, including an NFL-leading 52 turnovers the last two years, and failed to develop into the elite passer the Jets had hoped.
Ryan benched Sanchez for a game last season and it appeared his days in New York were numbered. His contract, however, and the $8.25 million in guarantees for this year made him unmovable. So, it appeared the Jets would let Sanchez compete with veteran David Garrard for the starting job.
During the draft in April, the Jets went for defense with their two first-round picks, selecting cornerback Dee Milliner and defensive lineman Sheldon Richardson. But when their pick came up in the second round and Smith was still available, they jumped at the chance to take him.
In May, knee trouble caused Garrard to retire, leaving the competition between Sanchez and Smith.
A few months later, Smith has the opportunity to try to prove he might be the franchise quarterback the Jets have been looking for — starting Sunday against Tampa Bay.
"We are definitely confident that Geno's out there," Ryan said. "I think all of our guys are looking forward to seeing what he can do."
The Associated Press contributed to this report.
Follow us on twitter.com/foxnewslatino
Like us at facebook.com/foxnewslatino