New York Giants, San Francisco 49ers played in 'very unhealthy' conditions due to California wildfires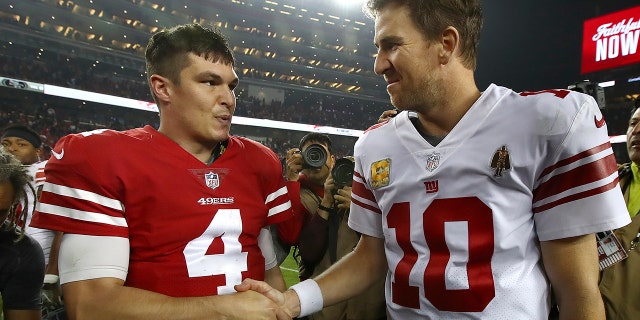 The New York Giants and San Francisco 49ers reportedly played their Monday night game as hazardous air from the deadly wildfires plaguing northern California wafted into Levi's Stadium.
The Air Quality Index at the stadium at kickoff was 156 -- classified as "very unhealthy," according to the Environmental Protection Agency. By halftime, it had risen to 161.
"People with heart or lung disease, older adults, and children should avoid prolonged or heavy exertion," a health message from the agency read. "Everyone else should reduce prolonged or heavy exertion."
Serious health issues don't begin until the Air Quality Index reaches 201, an SNY reporter noted in a tweet prior to the start of the game, which the Giants won, 27-23.
The National Football League said it was monitoring the air situation stemming from the deadly Camp Fire, which has already claimed the lives of 42 people, according to The Sacramento Bee. The NFL said it would have relocated the game if the Air Quality Index surpassed 200.
Monday's football game wasn't the first sporting event to be affected by the wildfires. On Sunday, the Oakland Raiders and the Los Angeles Chargers played in Oakland, where fans were given masks to protect them from the potentially dangerous air while watching the game.
Also Sunday, smoke from the wildfire was seen billowing into the Golden 1 Center in Sacramento during a game between the Sacramento Kings and Los Angeles Lakers. Lakers star LeBron James was one of several players who complained about the air quality after the game.