New York Cosmos to be first U.S. professional team to play in Cuba since diplomatic thaw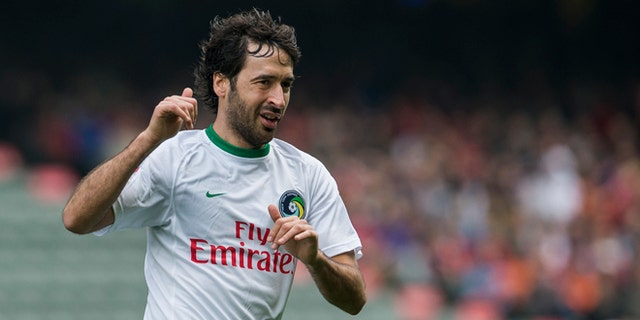 While baseball may be king in both countries, it appears that the first match between a United States professional sports team and a Cuban squad on the communist island in more than 16 years will take place on the pitch instead of the diamond.
The New York Cosmos of the North American Soccer League (NASL) have been granted approval to play the Cuban national soccer team in June, following in the footsteps of the Baltimore Orioles, who visited Havana for an exhibition game in 1999.
"The authorities have approved the game to be played. It's almost certain to happen," an unnamed official with the Football Association of Cuba told Reuters on Monday. The official added that the Cosmos reached out to Havana even before U.S. President Barack Obama announced last December that the two countries would restore diplomatic relations.
The Cosmos did not comment on the upcoming match, saying only that "we have had meaningful dialogue with the Cuban Federation, and will provide further information in due course."
A formal announcement is expected to take place perhaps as early as this week, with the Cosmos traveling to Cuba during a break in their regular schedule.
Among the details that need to be worked out before the team arrives are improvements to the field at Havana's 28,000-seat Pedro Marrero Stadium, the country's main soccer venue, the Cuban official said.
The Cosmos are a good fit to be Cuba's first opponent from the U.S. given their global brand name – although the NASL is now a second-tier league, it wasn't during its first incarnation, when the 1970s Cosmos franchise featured international stars like Pelé and Carlos Alberto of Brazil and West Germany's Franz Beckenbauer.
The team's current squad features former Spanish World Cup stars Raúl and Marcos Senna as well as several players from Central and South America.
The U.S. and Cuban men's national soccer teams regularly meet in international matches, and the last time the two squad's faced off the U.S. won by 4-1 during the 2013 Gold Cup in Sandy, Utah. The U.S. has won all seven games between the teams since 1998, including a World Cup qualifier in 2008.
It was long expected that a Major League Baseball franchise would be the first to send a professional team to Cuba following the thaw in relations between the two Cold War-era foes.