New Wave of Young Guns Excites Roger Federer at Indian Wells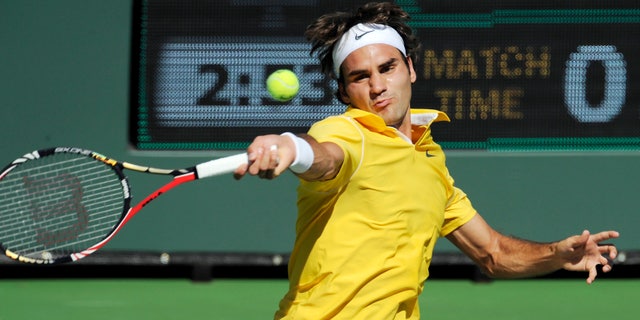 By Mark Lamport-Stokes
INDIAN WELLS, California (Reuters) - Excited by the emergence of a new generation of players this season, Roger Federer said he would savor the prospect of playing one of them at the Indian Wells ATP tournament.
The 16-times grand slam champion takes on 18-year-old American wildcard Ryan Harrison in the fourth round of the elite ATP Masters 1000 event on Wednesday, giving him an early glimpse into the sport's future.
Harrison, ranked 152nd, clawed his way past 20-year-old Canadian Milos Raonic 7-6 4-6 6-4 on Tuesday in a match-up between two of the most exciting prospects in men's tennis.
"I've never played either one of them, and it's going to be an interesting match for me," world number two Federer told reporters after booking his place in the last 16 with a 6-0 6-1 demolition of Argentine Juan Ignacio Chela.
Federer, who spoke a couple of hours before Harrison triumphed over Raonic, felt the two young guns were capable of blazing a trail in the future just as he, Andy Roddick and Lleyton Hewitt had done in the early 2000s.
"I definitely feel like we've been waiting for that generation to come after the strong generation of (Andy) Murray, (Novak) Djokovic and (Rafa) Nadal," the Swiss said.
"That's what I went through as well with Roddick and (Juan Carlos) Ferrero and (David) Nalbandian and Hewitt and (Marat) Safin and so forth.
"You want them to do well at the big tournaments like here now and one of them is going to come through and play me, which is gonna be big news. I'm excited playing against them."
MIRROR MOMENT
Asked to pinpoint a moment early in his own career which perhaps mirrored what Harrison would experience against the Swiss on Wednesday, Federer replied: "The first time I played Carlos Moya in Marseille.
"I got a wildcard, and he was three or four in the world, and later on became world number one here in Indian Wells."
Federer beat Spaniard Moya 7-6 3-6 6-3 in that encounter in 1999.
"I was ranked I think 200 or 300 in the world and it was an amazing feeling," the Swiss recalled. "I always felt on a big court I could do some damage, maybe not in the entire tournament but at least in one given match."
Asked how he would approach the challenge of taking on three-times champion Federer at Indian Wells, Harrison replied: "He's not gonna take any match lightly. Whether it be me or someone who has no ATP points, he will play on his terms.
"I know he's gonna come out and give me his best stuff, just like I'm gonna go out and try to give him my best stuff."
Harrison was elated with his third-round victory over the big-serving Raonic, the world number 37 who has set the tennis world alight this year.
"He's the up-and-comer who has been kind of like a giant-killer right now," Harrison said. "He's taken out a lot of guys in the top 20, and even the top 10 in the world.
(Editing by Ossian Shine)