New coach Butch Davis wants FIU to set sights high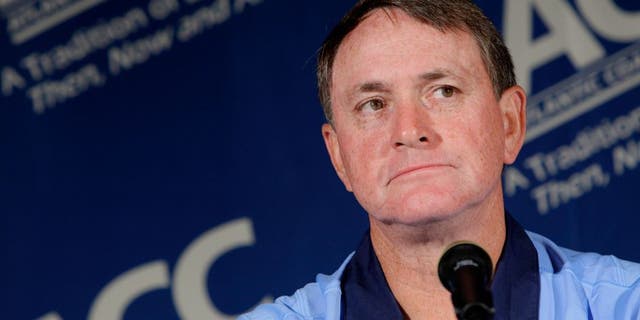 MIAMI (AP) -- Butch Davis kept the message simple when he met with his new FIU football team for the first time Tuesday.
He rattled off a list of schools who aren't in major conferences and still found a way to get into major bowls in recent years, the likes of Boise State and Northern Illinois and Central Florida and Houston.
"If they can get into Jan. 1 bowl games, why not us?" Davis said. "Why not us?"
And with that, Davis' next rebuilding project began.
Davis' five-year contract -- one that's worth about $1 million annually -- was finalized Tuesday, his first day on the job as FIU's newest football coach. He hasn't seen the team play yet and is leaning against going to either of the Panthers' final two games this season, choosing for now to spend the majority of his time getting a staff together and preparing to start culling South Florida's super-fertile recruiting ground once again.
"I love this opportunity," said Davis, who has been an ESPN analyst for the last three years and sought the Miami job -- his old job -- that went to Mark Richt last December. "I am grateful to be here and to be the head football coach at FIU. And I look at this challenge as one that has no limits for the ceiling."
Davis was introduced to the FIU community at the school's stadium, one that hasn't had much to cheer about in the last few years.
This will be the fifth consecutive season that the Panthers miss a bowl game, and now Davis will be the one charged with making sure that streak doesn't last much longer.
"This is a day today that's a gamechanger," said Pete Garcia, FIU's executive director of sports and entertainment -- and someone who worked side-by-side with Davis at Miami and with the Cleveland Browns. "Not just for FIU football, but for FIU athletics."
Davis went 51-20 at Miami from 1995 to 2000, taking over a program decimated by sanctions and scholarship losses and turning it into one that would dominate its way to the 2001 national title. Davis was with the Browns when that title was won, taking them to the playoffs in 2002 -- the last appearance in the postseason for that franchise.
He coached North Carolina from 2007 through 2010, then got fired in 2011 as part of the fallout of an NCAA investigation. Davis was never implicated in that scandal.
Getting let go by the Tar Heels left a bad taste in Davis' mouth, though he said he had a bigger reason for wanting to resume his career on the sideline.
"The motivation to take this job had to do with kids," Davis said. "I love kids. I love coaching. I love the competition. I love the recruiting aspect. I love being in the locker room and the weight room. ... That's why you coach. If you don't coach for the kids, you shouldn't coach at all."
Not long before Davis' first FIU event, Richt said he wished the newest coach in town well. Miami and FIU are scheduled to resume their series in 2018 and 2019.
"I think Butch is a great coach, period," Richt said. "I think he's a great person. I think it already is a home run for FIU. I know he's going to be excited about the challenge and the opportunity there. We'll have to get ready when the time comes. I don't know him well, but I've known him for a while, and I have a lot of respect for him as a coach and a person."
FIU President Dr. Mark Rosenberg said he thinks Tuesday's move will be one that resonates at the school for a long time.
"Butch Davis has fire in the belly for excellence," Rosenberg said. "He has fire in the belly for student-athletes. And he has fire in the belly for American college football."