New center Staal excited to find role with Wild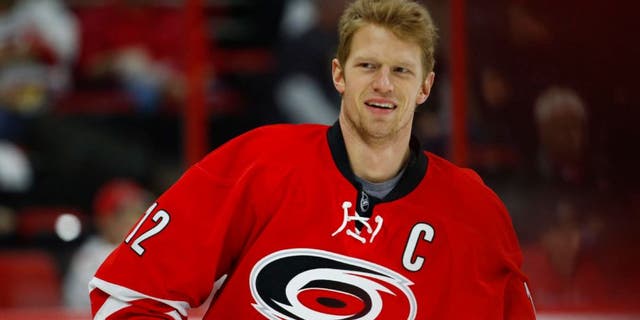 NEWYou can now listen to Fox News articles!
New Minnesota center Eric Staal said he views his signing with the Wild as an opportunity to "hit the refresh button." Staal signed a three-year contract with the Wild on the opening day of free agency, July 1.
The 31-year-old will also look to regain his scoring touch, after notching 13 goals in 83 games last year.
Staal scored 30 or more goals five of his first seven years in the NHL but hasn't hit the 30-goal mark since 2010-11. He was especially quiet after his trade from Carolina to the New York Rangers this past February, scoring only three goals in 20 regular-season and five playoff games.
Drafted No. 2 overall by Carolina in 2003, Staal scored a career-high 45 goals and added 55 assists in his second season, leading the Hurricanes to a Stanley Cup championship. He's a four-time NHL All-Star and won a gold medal with Team Canada in the 2010 Winter Olympics. He's also stayed relatively injury free, having missed no more than 12 games in a single season.
Staal said he's focused on taking advantage of his opportunity with the Wild, wherever new head coach Bruce Boudreau puts him in the lineup. He said he was looking to join a team in position to win, such as the Wild, adding he believes Minnesota has a strong core of players.
"September can't come fast enough," he told Wild.com. "I just look forward to joining this group and these guys and having a great season."
Staal signed his three-year, $10.5 million contract with Minnesota after speaking with Wild winger Zach Parise, whom he tried to lure to Carolina four years ago. Staal said the two had an honest conversation, adding that he wants to play alongside guys like Parise.
"We feel like our games could match up," Staal said. "He's a top player that competes hard nightly, and those are players you want to play with.
"I think their forward core is pretty solid regardless if I end up with Zach (Parise) or Charlie (Coyle)," he added. "There's (Mikael) Granlund and (Nino) Niederreiter and (Jason) Pominville. I mean there's a lot of already great wingers here, so it's going to be good regardless of where I end up in the lineup."
Staal said Boudreau, is an "attack-mentality type coach" who wants to play fast and aggressive. He said his own game is most effective in that style of play. He added that he's excited to play in the Xcel Energy Center, noting the hockey knowledge of Wild fans.
"This is definitely a market where they understand the game," he said. "As a player you can appreciate that."