New and improved Rose Namajunas ready to get back into the title hunt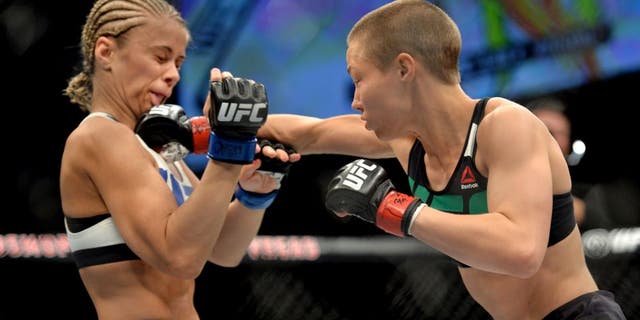 Coming off "The Ultimate Fighter" season 20, Rose Namajunas was thrust into the spotlight and handed nicknames like 'the next Ronda Rousey' but she fell in her attempt to win the title after losing to eventual champion Carla Esparza.
Almost exactly a year later, Namajunas put on a masterpiece as she sliced and diced highly touted prospect Paige VanZant over four rounds before finally putting her away by rear naked choke in the fifth.
Namajunas admits she had to do some soul searching after that loss to Esparza, but eventually she found the keys to returning to the top of the division and it really came down to being a little bit selfish about her own fight career. Considering her performance on Thursday night, it all paid off.
"The list is just endless with the transformation that I went through. I could say the main thing is I'm just focusing on me and that's just a really general statement but that's the only thing that matters," Namajunas told FOX Sports. "I put myself first and help others after that with whatever's leftover and just focusing on not paying too much attention to what's going on around me and people talking.
"I haven't been on my phone not at all. So that's just one huge help. Cause when you start to look at the media and you look at what people are saying, you don't listen to yourself and that's the main person that knows your position. So that's one little thing. I guess I've just also been more honest with myself, self-awareness and soul searching and constantly trying to improve everyday and just be a good person."
Namajunas has now won her last two fights in a row since the loss to Esparza last December and with the victory over VanZant it puts her right back in the crosshairs of the title picture.
Namajunas is currently ranked No. 3 in the world at 115-pounds so there aren't a lot of directions she can go without landing in another championship bout in the near future.
Following this latest win, which was arguably the best of her entire career, Namajunas is ready to make the leap again but she's also happy to fight another opponent in the interim because she knows one way or another, the title bout will happen again in the future.
"There's a lot to think about right now," Namajunas said. "I feel that I'll be ready for the title shot versus whoever's going to have it by the time but I also want to get a little vacation time in and just sit back and enjoy the holidays.
"If there's an opponent for me before that, one more and then the title or just the title right away, it just depends on how things line up. I don't necessarily want to jump on it too fast. There was some things I feel I could have improved in the fight and been more comfortable in certain spots. It was definitely a great performance but I feel like I can always improve. I don't want to be overly excited or anything like that."
UFC strawweight champion Joanna Jedrzejczyk was sitting cage side for the fights on Thursday so she witnessed Namajunas' performance and likely took notes since they may be facing off at some point next year.