NCAA Basketball: Kansas and Kentucky Advance to Championship Game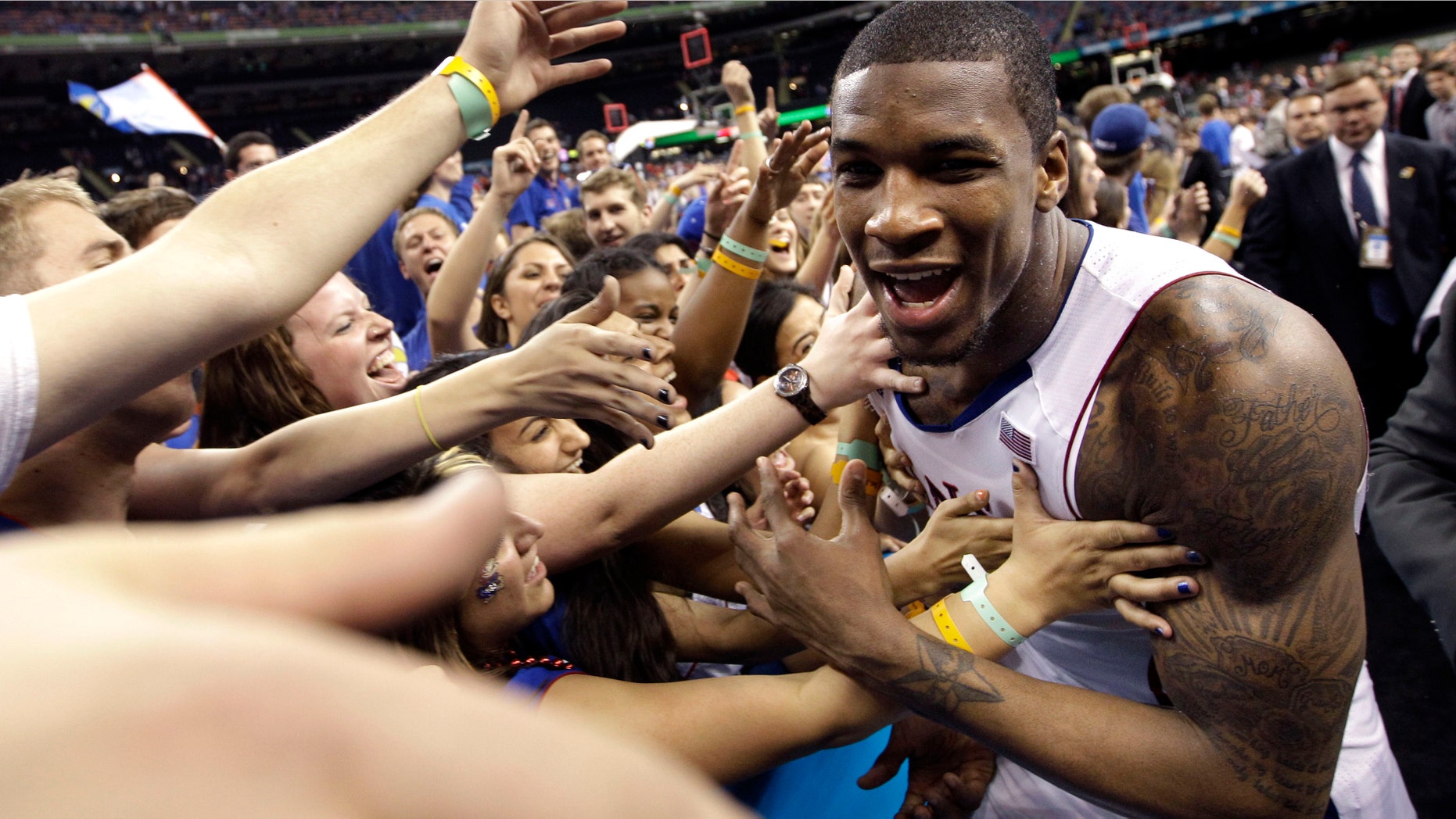 It's not easy to get to the last game of March Madness. Sixty-two teams were not able to overcome the chaos of the first five rounds.
To win five games in a row is a remarkable feat and the teams who are here should be commended to even make it this far.
Kentucky was able to make it by overmatching a pesky Louisville squad. The Wildcats on several occasions seemed primed to blow the game open, but the Cards continued to hang in there until the very end.
UK finally made their clutch shots and defensive plays when it counted, winning the first Final Four game 69-61.
As expected, the nightcap was a better matchup and a more intense game. Ohio State seemingly led throughout the entire game, until Kansas completed a vicious comeback late in the second half.
The Jawhawks used a stingy defense in the latter part of the second half to frustrate OSU and slip past them for the 64-62 victory.
KU and UK will face off on Monday, at 9:23, to determine who is 2012's NCAA Men's Basketball Champion.
Keys to the Game

I'm going to tell you right off the bat that Kentucky should win this game.  First off, their talent is definitely superior to that of the Jayhawks.
Even in their closest tourney contest yet, the Louisville Cards never took hold of the game. They chipped away and hung around, but you never really got the feeling watching the game that Kentucky was going to unravel and lose this game.
Kentucky won each of their first four games by at least 12 and their Saturday game by eight. They have made the right plays down the stretch, when it matters most, and the final scores of their contests reflect that.
However, you can't count Kansas out. The Jayhawks have made comebacks a specialty this March, and tight games do not faze them -- three of KU's victories thus far have been by three points or less.
On Saturday, the Wildcats could not capitalize at key points to overpower Louisville. Despite various points when it looked like Kentucky would pull away, the Cardinals managed to hang in there with pressure defense and pesky play.
Kentucky cannot afford the same mistakes against Kansas. KU continues to hang in games, and make a couple big plays at the end to seal victories.
If Kentucky lets Kansas hang in there till the very end, they could be primed for an upset. I think Kentucky will get the job done, though, likely winning by no less than six points.
Brackets are not dead; despite early heartache; in my pool four people have Kentucky winning it all, although only one person has them beating Kansas.
Through all the upsets and early knockouts (like Mizzou, my championship pick getting dismantled in the first round), it is remarkable that there are still some decently accurate (albeit not even close to perfect) brackets out there.
Some believe Kentucky has always been head and shoulders above the rest. I'm sure the Jayhawks have something to say about that.
Only time will tell. Monday, April 2nd. 9:23 PM. March is over, and soon the Madness will be too -- but not before one hard fought battle to determine who comes out of this thing alive.
E.J. Aguado Jr. is a freelance writer based in New Jersey and Fox News Latino's official March Madness correspondent.
You can reach E.J. Aguado at: aguado91@gmail.com or via Twitter: @Aguado91.
Follow us on twitter.com/foxnewslatino
Like us at facebook.com/foxnewslatino