NBA Summer League recap: Wolves drop opener 97-72 to Raptors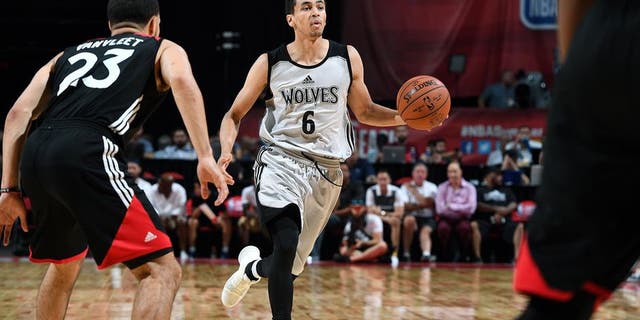 Marcus Paige led the way with 18 points, but the Minnesota Timberwolves lost their opening game of the NBA Summer League in Las Vegas, 97-72 to the Toronto Raptors.
Paige, the former standout guard at North Carolina, shot 3 of 6 from the arc, a perfect 5 for 5 from the charity stripe and 5 of 12 overall in the loss.
He was the only starter to make a big impact in the game, but the Wolves saw solid production from their reserves.
Former Davidson guard Jack Gibbs came off the bench and scored 17 points in just 19 minutes, nailing three 3s. In just 15 minutes, Matt Costello grabbed seven rebounds including four on offense to tie for a team lead. Raphiael Putney also had seven boards to go along with his seven points on 2-of-11 shooting.
Toronto had three playersto score in double figures. The Raptors pair of 2016 first-round picks Pascal Siakam and Jakob Poeltl scored 17 and 16 points, respectively. Kennedy Meeks -- a former teammate of Paige at UNC -- put up 12 points for the Raptors.
V.J. Beachem had a disappointing game for the Wolves, finishing with one point on 0-for-7 shooting. The 6-foot-8 forward is a favorite to contend for a spot on the Wolves roster after a four-year collegiate career at Notre Dame.
The Timberwolves fell to 0-1 in Summer League, while the Raptors improved to 2-0.
Starting five: The Timberwolves started Deonte Burton and Perry Ellis in the front court, and Amile Jefferson, V.J. Beachem and Marcus Paige in the back court.
Stat corner: Toronto shot 50 percent (35 for 70) on the night, while the Wolves had a 32-percent clip on 24-of-75 shooting.
Next: Minnesota returns to the court Sunday at 5:30 p.m. to face the Denver Nuggets.