NBA star unlikely to face charges for dishing out concussion to opponent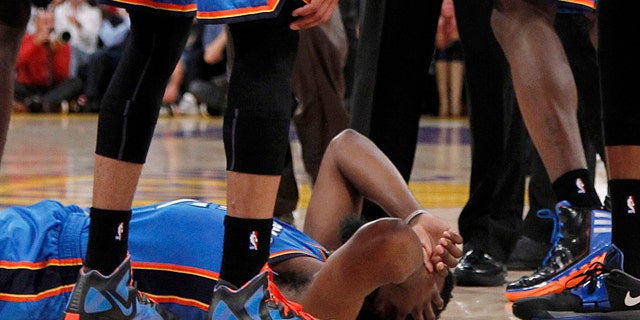 Los Angeles Lakers forward Metta World Peace is no more likely to face criminal charges for a vicious elbow to an opponent's head than the throng of NHL players who have dished out a spate of concussions in the ongoing league playoffs, legal experts told FoxNews.com.
World Peace, formerly known as Ron Artest, staggered Oklahoma City Thunder guard James Harden with an elbow smash to the head Sunday after scoring on a dunk. He was ejected and could face suspension by the league, similar to suspensions meted out to nine NHL players for their actions in the 2012 playoffs, including a 25-game ban for Phoenix Coyotes' Raffi Torres, tied for the third-longest suspension in league history.
Although Sandi Gibbons, spokeswoman for the Los Angeles County District Attorney's Office, did not discount the possibility World Peace could be charged, she told FoxNews.com a referral would likely have to come from local law enforcement.
Legal experts say that is not likely to happen. Police and prosecutors typically don't hesitate to intervene when violent assaults take place in amateur sports, but criminal charges are extremely rare in cases involving the pros. Even though World Peace has a history of violence -- he was suspended for 86 games in 2004 for his role in a brawl between players and fans during a game -- law enforcement authorities usually let the professional leagues police themselves.
"The first step is you'd need to find a prosecutor that's willing to bring the case and I don't know if there's much public appetite for charges to be brought," said Gabriel Feldman, director of Tulane University's Sports Law Program. "And I don't know that law enforcement sees this as a top priority."
"Law enforcement generally defers to the league and believes the leagues can handle these incidents internally through fines and suspensions."
Unless the conduct is "extremely egregious," Feldman said most local prosecutors typically stay outside the lines. "These are potentially violent games and that's part of the bargain that players sign up for."
Eleanor Odom, senior assistant district attorney in Cobb County, Ga., told FoxNews.com that any successful prosecution against World Peace would likely begin with a complaint from Harden. Even then, proving criminal intent on the part of World Peace would be a big hurdle for prosecutors, given that it happened on the hardwood and not on the street..
"It's about intent more than anything else," Odom said. "But if it's seen as part of the game, unfortunately it's not seen as a crime by the athletes."
Harden did not return to the game and will not play again until he passes a rigorous evaluation process under the NBA's newly instituted concussion policy. If World Peace is to face punishment, it will likely come from NBA offices. Tim Frank, senior vice president for NBA communications, told FoxNews.com that the incident remains under review. Pro sports leagues, especially the NFL, have become much more sensitive to violence that leads to head injuries in recent years. NFL Commissioner Roger Goodell has taken a hard line against helmet-to-helmet hits, and the league suspended the New Orleans Saints' entire coaching staff for the upcoming season after learning that coaches instituted a bounty system to reward players for causing injuries to opponents.
The National Hockey League has stepped up its enforcement with a rash of suspensions, including a 25-game ban for Torres, who injured the Chicago Blackhawks' Marian Hossa last week by launching himself into Hossa's head. Other suspensions have been doled for infractions like elbowing, charging, cross-checking and boarding.
Those incidents invoke memories of the 1970 incident between St. Louis Blue Wayne Maki and Boston Bruin Ted Green, who were separately prosecuted for assault in connection to a fight in a 1969 game. Maki, who fractured Green's skull using his stick with a blow to the head, was charged with assault causing bodily harm, but was later acquitted on a self-defense claim. Green, who started the fight but suffered more punishment, was charged with common assault but was also acquitted on an "instinctive action" defense.
The first jail sentence ever imposed on a professional athlete for an in-game incident came 18 years later in 1998, when Dino Ciccarelli of the Minnesota North Stars was sentenced to one day in jail and fined $1,000 for hitting Toronto Maple Leaf Luke Richardson twice in the head with his stick and then punched him in the mouth. The NHL also suspended Ciccarelli for 10 days and fined him $25,000.
In 2000, the Boston Bruins' Marty McSorley was suspended for an entire season -- the harshest penalty ever imposed by the league at the time -- for slashing Vancouver Canuck Donald Brashear and knocking him unconscious. McSorley was found guilty of assault and received 18 months' probation. Part of McSorley's conditional discharge required that he not engage in any sporting event in which Brashear played on the opposing team.
Four years later, Todd Bertuzzi of the Vancouver Canucks sucker-punched Steve Moore of the Colorado Avalanche, leaving Moore hospitalized for several weeks with a concussion and fractured vertebrae. Bertuzzi pleaded guilty and accepted a sentence of one-year conditional discharge, 80 hours of community service and a lifetime ban of playing against Moore. Bertuzzi was suspended for the remainder of the 2004 season, as well as banned from playing for Team Canada in the 2004 World Cup. He was later reinstated for the 2005-06 season.
The NBA, meanwhile, has suspended at least three players this season for on-court altercations, including a two-game suspension for Minnesota's Kevin Love for stepping on the face of Houston's Luis Scola while he was on the court in February. Denver's Arron Affalo was also suspended for one game in March for elbowing the head of Utah Jazz forward Gordon Hayward.
Robert Tuchman, a sports business expert and president of Skylight Entertainment, told FoxNews.com he expects World Peace to be suspended up to 15 games.
"Given Artest's past and the blatant display of violence he perpetrated in this incident, I believe the NBA is going to step in and give him a much more significant suspension than if it was someone else who committed the foul," Tuchman wrote in an email.
The level of violence in the NBA compared to other leagues is "actually pretty tame," Tuchman said, adding that the majority of players do a good job of defusing confrontations.
"It really has been a few select players who are more the cause than the actual league or way the game is played," Tuchman's email continued. "The NBA can eliminate this by eliminating those players from the games rather than needing to change their rules."
The NHL, however, is cracking down on violent hits by meting out more suspensions do to the rash of concussions over the past few seasons, most notably to Pittsburgh Penguins star Sidney Crosby.
"The NHL has always been a violent league, but they are realizing they need to cut out the unnecessary violence such as shots to the head," Tuchman's email continued. "The problem has been they have done a terrible job through these playoffs of determining which hits are illegal and deserve suspension as opposed to hits that are clean. They really have not made a clear distinction or instituted a fully encompassing policy at this point, so you see some players not even draw a penalty for their hit while others are suspended for 25 games."