NBA player J.J. Barea flies to Puerto Rico on Marc Cuban's plane to deliver supplies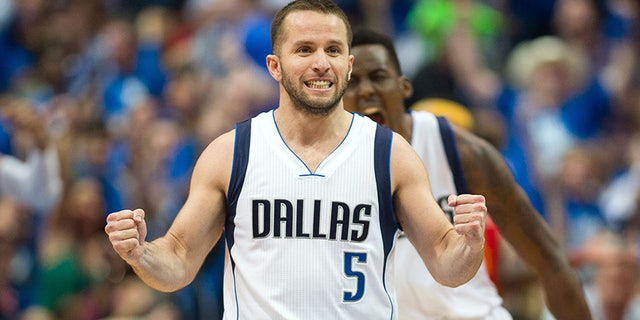 Mavericks point guard J.J. Barea was heartbroken when Hurricane Maria devastated his native homeland of Puerto Rico.
For days after the Category 4 storm, he could not communicate with his parents still on the island.
On Monday, with the help of the NBA team's owner Mark Cuban and the team plane, the 33-year-old was able to fly to the U.S. territory with food, water and other supplies.
CARNIVAL, ROYAL CARIBBEAN SHIPS TO HELP PUERTO RICO AID EFFORTS
"Puerto Rico is everything to me," Barea told Fox 4 News after returning to Dallas on Tuesday. "That's where I'm born and raised. That's where I got all my family."
He said the images from the island are heartbreaking.
"Puerto Rico is completely destroyed," he said. "Worst ever down there. We need everything from gas to water to food to medicine."
Barea, the only native Puerto Rican active in the NBA, said Cuban did not hesitate to loan him the team's plane for the trip.
"I was really proud of J.J. and how quickly he got involved and how hard he worked to make all of this happen," Cuban told ESPN via a test message.
Team coach Rick Carlisle said Barea missed the first day of the Mavs training camp.
"That's a situation that he's got to take care of," Carlisle told ESPN. "Mark gave him our team plane. They loaded up a bunch of stuff, supplies, etc., to take over to Puerto Rico, and they're going to turn around and come back."
Barea said they were able to fill up seven 18-wheelers with toiletries, food and water. He said they hope to go back with more supplies but getting private planes and airport slots is not easy.
"It's really bad down there so we need all the help," he added.
PUERTO RICO STRUGGLES TO RECOVER FROM HURRICANE MARIA, AS TRUMP PLANS VISIT
Hurricane Maria, a Category 4 when it hit, swept through the U.S. territory just a week ago leaving much of the island without adequate food, water and fuel. Flights off the island were infrequent, communications were spotty and roads were clogged with debris. Officials have said electrical power may not be fully restored for more than a month.
The Trump administration ramped up its efforts in the island's recovery, sending a flotilla of ships and thousands more military personnel.
After the storm hit, Barea and his wife, Viviana Ortiz, a Puerto Rican actress and model, started an online fundraiser that has raised more than $118,000.
Barea brought his mother and grandmother back to Dallas. His father stayed on the island to help with recovery efforts.