'NBA 2K16' review: As real as it gets on the virtual hardwood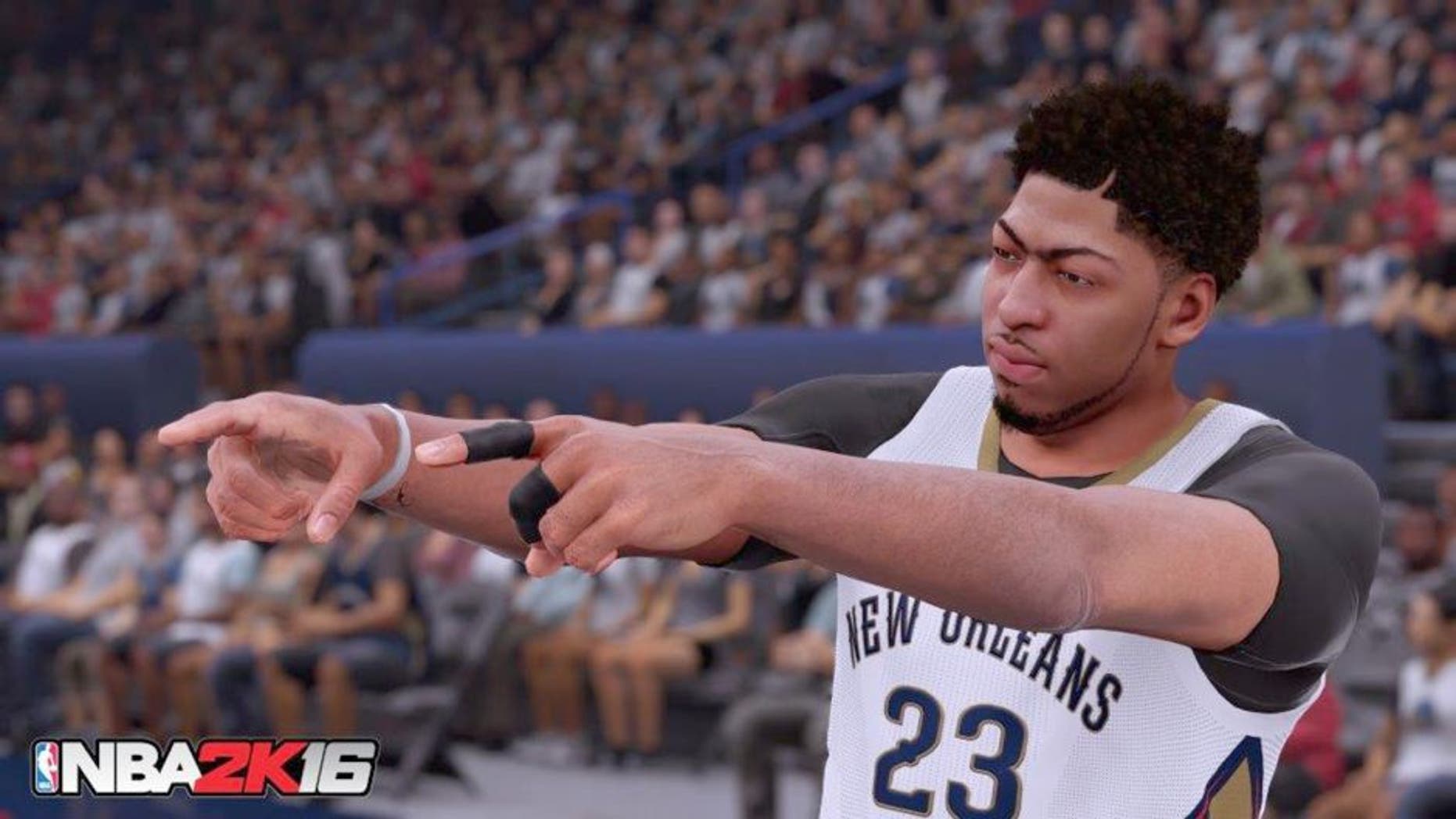 From Chris Bosh video-bombing postgame interviews to Steph Curry fiddling with his mouthpiece before free throws, "NBA 2K16" nails not only the subtle nuances of the on-court action but also the distinctive personalities of the game's brightest stars. Signature celebrations like James Harden's "stirring the pot" or LeBron James' "silencer" are just as present as Harden's patent Euro-step or LeBron's fadeaway, adding a level of authenticity that few sports titles can match.
But probably the most attention has been paid to My Player mode, which has you play from the perspective of one player and watch him grow from a limited rookie to eventual star. This year, 2K hired writer/director Spike Lee to oversee the story, and the result is a mixed bag.
Your created player stars as Frequency Vibrations (Freak for short) in the heavily scripted story, which breaks the immersion from the start if your created character is not African-American since that's the race of your family. It's an odd oversight for a game that nails so many little things on the court to miss something in a mode that's been marketed with the hashtag #BeTheStory. Despite that, the story is something unlike anything in sports games and provides enough of a carrot to see how it unfolds.
The mode starts your career from high school for the first time in the series. As you complete three high school games -- in smaller gymnasiums that replicate the prep atmosphere -- college recruiters come calling. 2K secured the license of 10 college basketball powers -- UCLA, Kansas, Georgetown, Louisville, Arizona, Connecticut, Texas, Villanova, Wisconsin and Michigan -- but it's admittedly odd to hear recruiters call you Freak in their pitches.
Your performance in six collegiate games will dictate your draft position. From there your NBA journey begins, providing you a path to improve your player's attributes by awarding virtual currency, used throughout all the modes to purchase upgrades, depending on your in-game performance. As your player's skills improve, endorsement opportunities become available and your visibility and celebrity grow from there.
You can also take your My Player online to play against other My Players in two modes -- 2K Pro Am and My Park. 2K Pro Am is more of a traditional 5-on-5 mode but it is highly customizable. Everything from your team's logo, court and jerseys can be tweaked to your liking, even giving you the ability to upload your own custom logos.
In My Park, you are asked to pledge your allegiance to one of three clubs -- Old Town Flyers, Rivet City Roughriders or Sunset Beach Ballers -- each of which provide specific attribute boosts. This mode is more of a pick-up game setting -- outdoor courts with fewer fouls and the winner is determined by reaching 21 points before the opposition.
You can play with friends in either of these modes against other players, and your performance can grant you in-game rewards (accessories like headbands, arm sleeves, etc.) and My Park rep, which is doled out depending on your team's success and your individual play.
The off-court presentation has also received an impressive level of detail with TNT-style pregame, halftime and postgame shows, starring Ernie Johnson, Shaquille O'Neal and Kenny Smith. The trio's banter feels just as organic as their critically acclaimed "Inside the NBA" show, as Shaq and Kenny weave humor and insight while Johnson delivers the highlights. The on-court action is called by Kevin Harlan, Clark Kellogg and Greg Anthony with Doris Burke doing sideline interviews at halftime and after the game. And these interviews feature real sound bites from some of the game's biggest stars, adding to the immersion of the broadcast.
Control has always seemed to be somewhat elusive in the 2K series. Pulling off a combination of dribbling moves sometimes felt more like a roll of the dice than an absolute certainty in previous iterations. But "2K16" has all but eliminated any perceived input lag that has dogged the series. Crossovers, between-the-legs and behind-the back dribbling moves feel more responsive. Post-up moves like jump hooks, turnaround fadeaways and shoulder fakes are much easier to pull off because the controls are tighter.
Couple the tight controls with the series' reputation for being a stickler for details, and the virtual hardwood has never felt more alive. There's a more tangible difference playing with superstars like LeBron, Kevin Durant and Chris Paul because size, speed and strength matter more in "2K16" than in any previous iteration in the series.
But it's not just individual players that feel unique. "2K16" has done a masterful job recreating how teams run their individual offenses. The New York Knicks run the triangle offense, the world champion San Antonio Spurs operate their 4-out-1-in offense and the Heat will try to pick you apart with their pace-and-space set. This level of detail makes each matchup feel fresh and engaging, and at higher difficulty levels forces you to exhaust a number of defensive strategies at your disposal.
Once you pick the team you want to guide, you can choose between My League and My GM modes, which are more of the traditional yearly formats. My League is highly customizable, allowing you to decide factors such as season length, trade logic and even using customized rosters. This mode gives you more control over every team in the league, allowing you to manipulate opposing rosters to, say, match what's occurring in the upcoming season. My GM is solely focused on controlling one team and trying to build a winner both on and off the court. After each game played you earn virtual currency, which can be used to improve nearly every aspect of a franchise, like the effectiveness of your medical staff to adding a parking facility that will increase attendance.
If moving a team back to Seattle or a host of other locations is appealing, that option is available in My GM. Jerseys, courts and logos can be customized, giving you the ability to bring back the SuperSonics or move a current team to a new location.
But all these features and modes would be nothing without compelling gameplay, and "NBA 2K16" has nailed that aspect. Whether you're going to take the more traditional route of guiding an established NBA team in the hopes of becoming world champs or putting yourself in the game, the fluidity and authenticity of the gameplay and the faithful recreation of some of the game's biggest stars is unmatched. 2K Sports has raised the bar once again on the virtual hardwood. "NBA 2K16" is available Sept. 29 on PlayStation 4, PlayStation 3, Xbox One, Xbox 360 and PC.