Nationals' catcher Wilson Ramos out of playoff run with torn ACL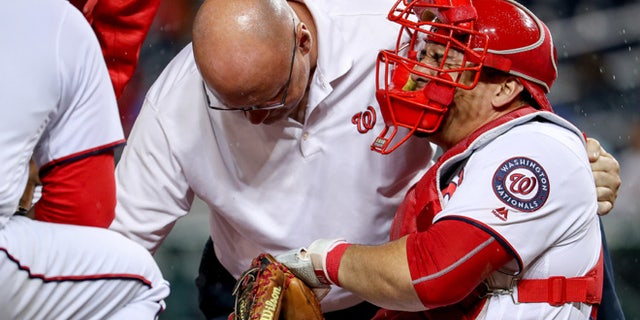 WASHINGTON (AP) – The Washington Nationals' World Series hopes took a serious blow Tuesday when All-Star catcher Wilson Ramos was diagnosed with a torn ACL in his right knee.
Ramos is out for the rest of the season, including the playoffs, taking one of the most valuable players and a consistent power bat out of Washington's lineup. He was hitting .307 with 22 home runs and 80 RBIs and was one of baseball's best offensive catchers.
"It's unfortunate," general manager Mike Rizzo said. "Wilson's having an All-Star season and really a breakout season for himself. So it's disappointing. I feel bad for him."
Manager Dusty Baker said Ramos will have surgery to repair the ligament, which he tore during an awkward landing while catching a relay throw from Ryan Zimmerman on Monday night
It's the same knee Ramos had two surgeries on in 2012 to repair a torn ACL and medial collateral ligament. The injury is a double dose of pain for Ramos given the proximity of the postseason and that he's set to become a free agent after the World Series.
"There's never an opportune time," Baker said. "This was the most inopportune time for this to happen."
The NL East champions will go with a combination of Jose Lobaton and Pedro Severino behind the plate in Ramos' absence. Lobaton is also a little banged up with an ankle injury, so the Nationals called up Spencer Kieboom as a third catcher.
Baker is confident that Severino and Lobaton can make up for Ramos' absence defensively but will count on reigning NL MVP Bryce Harper, second baseman Daniel Murphy and others to make up for the loss of a big bat.
"We'll really miss his offense," Baker said. "I told him: 'Hey man, you and Daniel Murphy, particularly you two guys, carried us to this point. Now it's up to some of the other guys to take us to the next level and then the next level after that."
Murphy is dealing with a strained glute and Harper a left thumb injury. Baker expects Harper back this week as Washington tries to shore up home-field advantage and figures Murphy will be ready by Game 1 of the NL Division Series against the Los Angeles Dodgers on Oct. 7.
Along with Ramos, Washington is unlikely to have pitcher Stephen Strasburg in the first round and potentially beyond because of a strained flexor mass in his right elbow. Rizzo said Strasburg threw from 90 feet Tuesday and is making progress, but the Nationals can't realistically expect the 15-game winner to be ready to face the Dodgers.
"I think it would be kind of pushing it," Rizzo said. "Just the calendar, it's unlikely that he'd contribute in that first series."
Baker is reluctant to use Cy Young candidate Max Scherzer on short rest in the playoffs unless it's a "dire emergency."
Not having Ramos is close to a dire emergency for the Nationals. Baker went to work immediately after a 14-4 loss to Arizona on Monday night putting together lineups without Ramos.
Ramos was having a career season going into free agency, with career highs in hits, doubles, home runs, RBIs, runs scored, batting average, slugging percentage and OPS. Baker told Ramos, who he described as "upbeat," that other athletes have come back from tearing an ACL twice in the same knee.
"I told him about (Minnesota Vikings running back) Adrian Peterson. He didn't really know who I was talking about," Baker said. "I'm positive as strong and as positive as he is and the way he works that he'll be back stronger than ever."
The timeline for recovery and rehab from ACL surgery puts Ramos' start of the 2017 season in doubt and makes his free agency a giant question mark.
"He's a big part of the team, the year he was having and him obviously not going to finish the year like he wanted to," Zimmerman said. "I feel worse for him than I do for us."
Like us on Facebook
Follow us on Twitter & Instagram