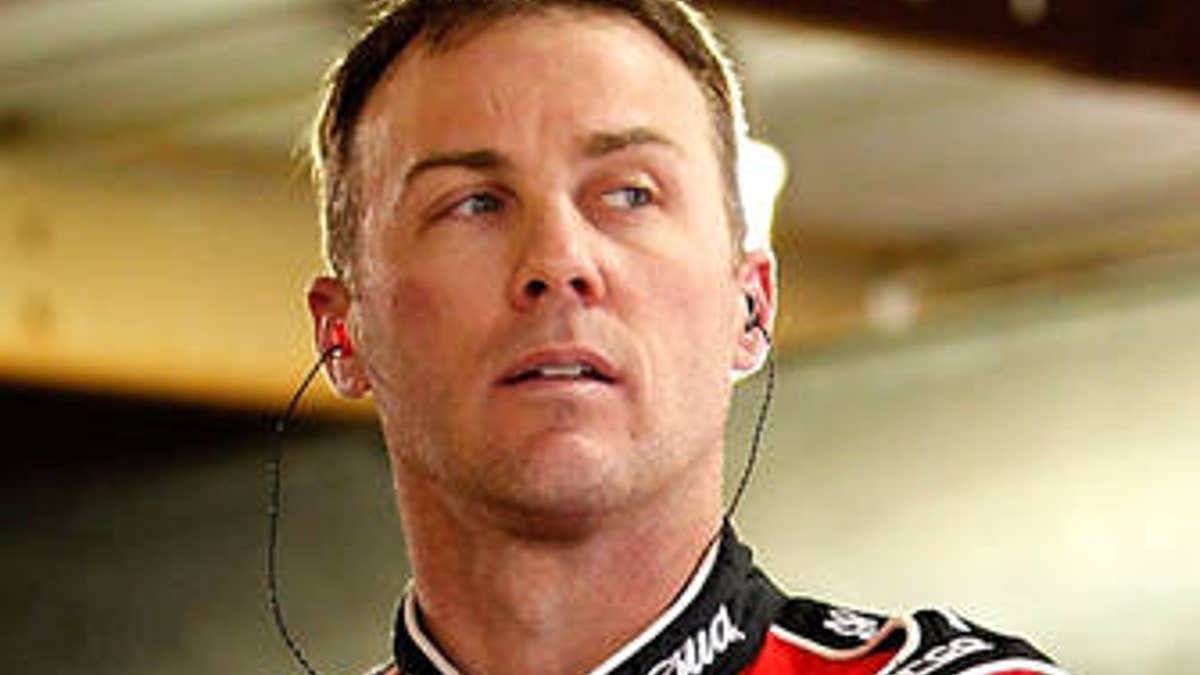 BAKERSFIELD, Calif. – NASCAR Sprint Cup Series star Kevin Harvick returned Wednesday to where his racing career began -- his hometown of Bakersfield, Calif. -- to be inducted into the Bob Elias Kern County Sports Hall of Fame.
A sold-out gathering greeted their hometown hero, who went from racing go-karts around the Bakersfield area as a 5-year-old to winning the Daytona 500 in 2007.
"It's been an honor to be selected," Harvick told the audience at his induction. "My friends and family and everybody in this town have been very supportive. From my go-kart days or my wrestling days at North High, no matter what it was, the town has been supportive. And you guys support our foundation events when we come back. It's truly an honor to see the support.
"This town has been very much a part of everything I've been able to do in my career. . . . We had a lot of help from a lot of people around here."
Harvick recalled his grandfather taking him to the racetrack as a kid and growing up around racing.
"It really helped shape my life and gave me something as a kid that I could really latch onto and really be a part of and really look forward to every week," he said.
Harvick recalled his racing days at Mesa Marin Raceway, where he competed as a 16-year-old.
"Mesa Marin Raceway is a place where I learned a lot of hard lessons and I had a lot of success," he said. "The Collins family was always very supportive of everything that we did. Mesa Marin was a huge part. It really launched my career into what it is today."
Harvick also thanked his family for their contribution to his career.
"My family has made a lot of sacrifices through the years to give me the opportunity to drive my car and do the things that I get to do today," he said. "It's fun to come back to the town they still live in and see the support that everybody gives. We all appreciate it and I really appreciate everything they have done for me through my career."
Harvick, 36, was one of four enshrined during Wednesday's ceremony. Also inducted were Olympic swimmer Gabe Woodward; Pat Skrable, an outstanding baseball and football player at Bakersfield High School; and Arnold Kirschenmann, a golfing standout from Bakersfield.
Harvick joins just three other drivers in the Hall -- four-time Indianapolis 500 winner Rick Mears, off-road champion Roger Mears and Indy 500 competitor George Snider.
The Hall is named for Bakersfield sports broadcaster Bob Elias, who, before his passing in 1965, led the effort to establish a way to honor outstanding performances by athletes and officials from Bakersfield and Kern County.
Harvick grew up racing go-karts and then competed as a teenager in late model stock cars at Mesa Marin Raceway in eastern Bakersfield. He won a championship at the high-banked, half-mile track in 1993. He graduated to the former NASCAR Southwest Tour, where he won Rookie of the Year honors in 1995, and then to the NASCAR K&N Pro Series West, where he won a championship in 1998.
Harvick's success continued as he moved to NASCAR's national level, competing in the NASCAR Camping World Truck Series and winning the Raybestos Rookie of the Year Award in the NASCAR Nationwide Series in 2000. He won the NASCAR Nationwide Series championship in 2001 and a second title in 2006. He also won the Raybestos Rookie of the Year title in the NASCAR Sprint Cup Series in 2001.
His NASCAR Sprint Cup Series accomplishments include 18 victories, highlighted by his win in the Daytona 500. Harvick finished third in the standings in each of the past two seasons.