Mystery surrounds death of Dakar Rally racer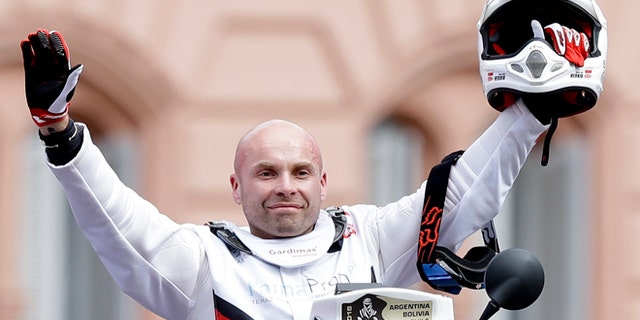 NEWYou can now listen to Fox News articles!
Mystery is surrounding the death of a competitor in the Dakar Rally race whose body and motorcycle were found without any signs of external damage.
Dakar said Tuesday on its website that Michal Hernik, 39, from Poland, died during the third stage of the race between San Juan and Chilecito, Argentina.
The circumstances of his death have not yet been determined and the "competitor did not show any external signs of an accident," Dakar said in a statement.
His death is the first in this year's Dakar rally.
When Hernik's tracking signal was lost, a search began for the rider at 3:23 p.m. local time, according to the statement. An ambulance helicopter found the rider about 325 yards from the route about 30 minutes later.
"The whole Dakar family offers its condolences to Michal's family, close friends and team," Dakar said in a statement.
It was Hernik's first time participating in the race and he was in the 84th position at the time of his death. Previously, he had completed the Abu Dhabi Desert Challenge in 2014 and the Morocco Rally in 2013.
The Associated Press contributed to this report.