Myles Garrett dismisses notion of sitting out to protect draft status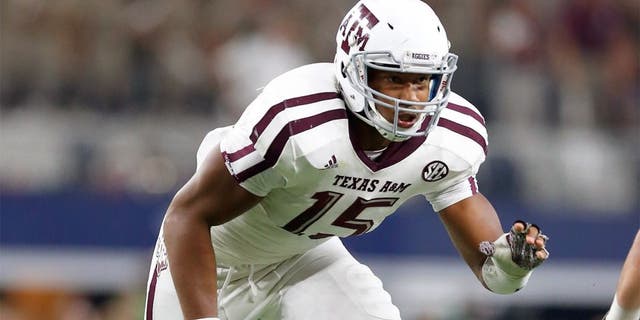 NEWYou can now listen to Fox News articles!
There's a school of thought that top college football stars might consider sitting out their final year before the NFL Draft in order to protect their status as a first-round pick.
Texas A&M defensive end Myles Garrett has heard it, but he isn't buying into it.
Garrett, who will be a junior this season, explained his reasoning Tuesday at SEC Media Days.
"I've heard it but I'm against it. I want to be one of the best that's ever come through A&M, and that would just be betraying the people I've played with and the people who have come before me, who have worked their butt off. ... to get to a place where I could just sit out and then go? I don't think I could do that," Garrett said.
"You don't disgrace the game like that and say, 'It's not worth my time and I'll be a first-round pick anyway.' You play because you love it, not because you can make money from it."
Regardless, Garrett will certainly make money from it. The 6-foot-5, 262-pound star has 22.5 sacks in his first two years with the Aggies and he forced five fumbles last season alone.
He says this season, he's looking to get 20 sacks and become the No. 1 overall pick in the draft.