Muschamp praises freshman Cowart, stays mum on strategy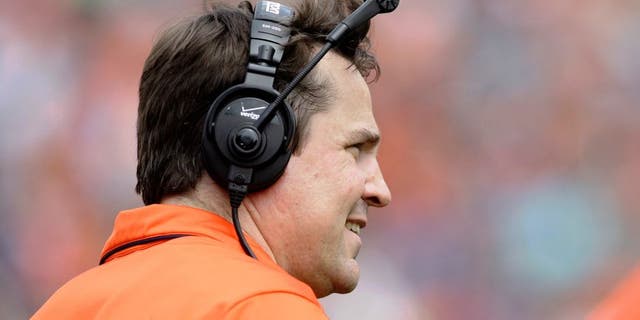 With less than a week left before Auburn's season opener against Louisville, new defensive coordinator Will Muschamp spoke to the media Sunday afternoon about his plans for the Tigers' defense.
He didn't give much away, though, in terms of strategy. Muschamp, when asked about reasonable expectations for the defense in the first game, told the media, "Let's just do what we need to do to win the game."
He also declined to identify his starting linebackers, according to AL.com, and said that all four of the players competing for the inside linebacker spots likely will see time.
"That decision won't be made until later in the week," Muschamp reportedly said regarding the starting linebackers. "Guys got to practice well."
That "practice well" mentality has been noticed by the players, some of whom have been pointed out in film study for mistakes.
"It's something different than what we've done in the past," Auburn cornerback Jonathan Jones told AL.com. "He shows you what you're doing and what you're not doing. ... Your stats at practice, whether you're loafing, you're not hustling, what plays you make, what plays you didn't make. ...
"I think it's just blunt, and I think it helps the guys know where they stand. You can sugarcoat guys and it's not really going to help them as much. You need to get better and learn what (coaches) tell you, and if you're doing good, he's going to tell you."
One player who apparently is doing well enough to have playing time locked up is five-star freshman defensive end Byron Cowart. Muschamp praised the talented newcomer in his press conference, according to AL.com, adding that he will not be solely a situational passs rusher.
"Byron is going to play" on all downs, Muschamp said.
That, along with the return of "buck" pass rusher Carl Lawson (who missed all of last season with an injury), should result in substantial improvement in Auburn's pass rush, which produced only 21 sacks last year, ranking 94th nationally.