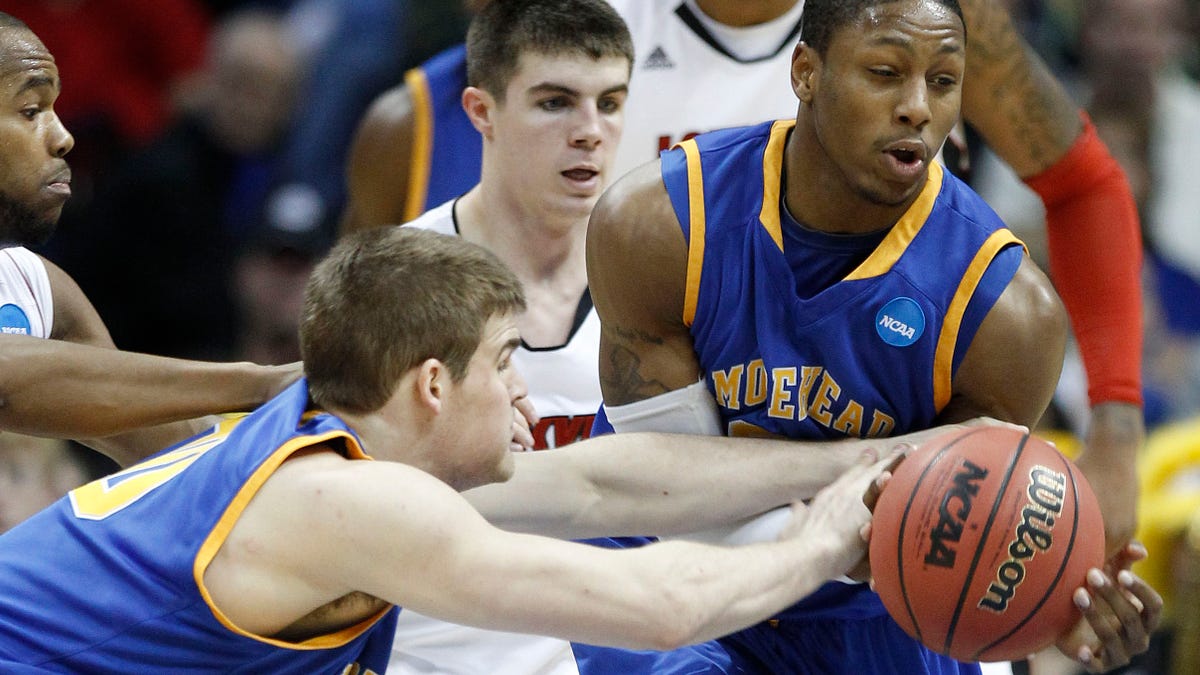 DENVER — On the verge of seeing his unheralded, 13th-seeded Morehead State program turn into something much more impressive, the coach could have called a play for his NBA-bound center or his guard who couldn't miss.
Instead, he decided to go with a dream.
Executing a play that came to his coach the night before, Morehead State's Demonte Harper dribbled patiently and watched the clock tick down. Then, he stepped up behind the 3-point line and swished the shot with 4.2 seconds left Thursday for a 62-61 victory over No. 4 Louisville and the first big upset of the NCAA tournament.
"The coach said, 'Hey, I dreamed about this last night, this exact situation,'" Harper said. "He said, 'I know exactly who I'm going to. I'm going to put it right in your hands, Demonte.' He said, 'At 6 seconds, I want you to attack and pull up and hit the shot.' I hit the shot. It feels unreal right now."
After Harper's go-ahead basket, the Cardinals (25-10) had a chance to win it, but Morehead State's best player, center Kenneth Faried, blocked Mike Marra's attempt from the corner.
And that's how little-known coach Donnie Tyndall, and not Louisville's Rick Pitino, found himself on the floor of the Pepsi Center celebrating. Morehead State of Kentucky — enrollment 9,000 at the base of the Appalachian Mountains — won its first main-draw game in the NCAA tournament since 1984 and will play No. 12 Richmond, a 69-66 upset winner over No. 5 Vanderbilt in a later Southwest region game.
"I think to be a first-round game against an in-state power, to be able to knock them off, I don't think it's ever been bigger than that in the history of our school," Tyndall said.
Chris Smith had 17 points for Louisville, which closed the year on its first two-game losing streak of the season. The Cardinals played the end of the game without their leading scorer, Preston Knowles, who needed to be helped off the court after spraining his left foot with 8:51 left.
"This is as tough a loss as I've had in coaching and I've been coaching a long time," Pitino said.
After Morehead State (25-9) called timeout for its last possession, trailing by one with 23.8 seconds left, Harper seemed an unlikely candidate to take the most important shot in the program's unspectacular history. He was 2 for 9 from the floor and hadn't hit any of his five 3-point attempts.
Meanwhile, Morehead State had the big fella, Faried, not to mention Terrance Hill, who had kept his team in the game by going 5 for 6 from 3-point range.
The Eagles, however, didn't do anything by the book in this one.
If they were going to win, it was supposed to be on the shoulders of Faried, the all-time rebounding leader in Division I. Faried pulled down 17 rebounds but had a terrible day from the field — 4 for 17 for 12 points — and wasn't the biggest factor in this game.
He'll get another chance, though. He can thank Harper — whose only shot of the second half gave him a total of eight points — and Hill, who scored a career-high 23, including 12 during a 16-4 run that turned a seven-point deficit into a 57-52 lead with 5:24 left.
"Words can't explain how proud I am of my teammates because everybody thinks, "Morehead State and Kenneth Faried,'" Faried said. "But it's Morehead State, 'The Team.' It just speaks volumes about my teammates who just stepped up."
Trailing 57-52, Louisville answered with the next nine points and the upset chances looked all but over with 1:14 left. But the Eagles worked the ball to Faried and he converted two free throws after a foul to pull within 61-59. Then, Morehead State fouled Elisha Justice, who missed the front end of a 1-and-1 to close his team's 7-for-16 day from the free-throw line.
Faried got the rebound, and Tyndall set up the play that would make Morehead State a winner.
As game-winning plays go, this one was quite simple. No picks, no passes.
Harper took the inbound pass in the backcourt, wasted a few seconds, dribbled across the line and stood there dribbling for a few more seconds. Then he improvised — a little move to the left to create some space against Peyton Siva, then a spot-up jumper that dropped in clean.
Tyndall said the play came to him during an all-but-sleepless night on the eve of the game.
"I kept saying, 'What am I going to do here?'" he said. "I just said, 'Man or zone, down one or down two, we're going for the win.' Demonte struggled from the 3-point line. But he's better at creating his own shot off the dribble than Terrance is."
Faried punctuated the win with his block on Marra, proving yet again that the natural-born rebounder doesn't have to have the ball in his hands to win games.
The prototypical NCAA celebration ensued — players pounding their chests, snapping their jerseys, sprawling on the floor. Tyndall did a quick interview on the court, then walked off — no smile, no shrug, no pointing to the small group of fans who made the trip from Kentucky. Just another scouting report to do and a game on Saturday.
Not so for Louisville, which overachieved all year long during what Pitino said would be a "bridge season" — not quite a rebuilding year, but not quite one with high expectations.
The Cardinals did better than most people figured, finishing third in the Big East, then making the final of the postseason conference tournament.
"I feel terrible for our guys because they were just a wonderful group," Pitino said.
They won all year with heart and a series of wild comebacks. But they had no single star, no one who could be depended upon to take a game over. And when they fell behind 10-0 early by missing their first nine shots — seven from the field and two from the line — it was clear they'd be in for a big day's work.
It turned out to be more than they could handle. But not too much for Morehead State — a team that wasn't plucky or lucky on this day, but rather, simply good enough to pull off the first upset of the 2011 version of March Madness.
"I don't think there was any luck involved," Tyndall said. "We were just very, very fortunate to make one more play than they did."