Monday, May 8: St. Louis Cardinals at Miami Marlins game preview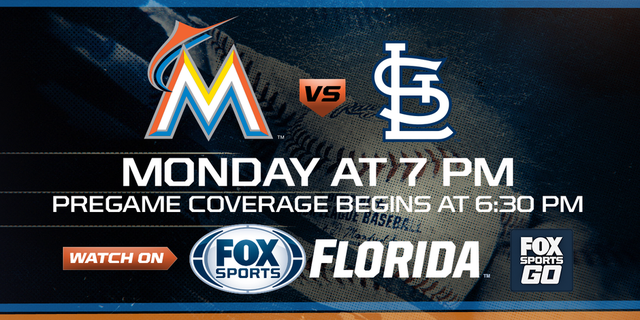 TV: FOX Sports Florida
TIME: Pregame coverage begins at 6:30 p.m.
MIAMI -- The St. Louis Cardinals are no longer the "it" team in the National League Central, having lost that title to the 2016 World Series champion Chicago Cubs.
The Cubs last year ended the Cardinals' reign of three straight division titles, and St. Louis missed the postseason for the first time since 2010. The Cardinals trailed the Cubs at the end of last year by 17 games, their largest deficit in the division in 18 years.
And while the Cubs, loaded with young talent, have been built to last, the Cardinals aren't going away so easily.
St. Louis arrives at Marlins Park for the opener of a three-game series with the Miami Marlins on Monday on a hot streak, having won 13 of the past 18 games.
Despite an alarming rash of injuries to its outfielders, St. Louis (16-14) just swept the Atlanta Braves in three games after Tommy Pham hit the tiebreaking home run in the 14th inning of a 6-4 win Sunday. Pham was recalled Friday when right fielder Stephen Piscotty was placed on the disabled list, and in the weekend series at Atlanta, he went 6-for-12 with three home runs and five RBIs.
"We're starting to put it together," Cardinals first baseman Matt Carpenter said after he homered in all three games in the Braves series. "This is the kind of team we thought we had coming out of spring training."
The Marlins, meanwhile, are 3-9 in their past 12 games despite a 7-0 win over the host New York Mets on Sunday. Miami (13-17) has lost its past five series.
"At some point, we've got to start putting games together," Miami manager Don Mattingly said. "We've been treading water, and it feels like we've been sinking a bit."
The Marlins hope that the dominating win Sunday was the start of a hot streak. Right fielder Giancarlo Stanton slugged two homers, including one that went off the glass window of a restaurant beyond left field, a blast measured at 468 feet.
Miami, though, is battling some injuries of its own. Third baseman Martin Prado re-injured his right hamstring on Sunday, an ailment that caused him to miss the start of the season.
Prado hinted that this injury is worse than the one he sustained earlier this year during the World Baseball Classic.
"That time," Prado said of the WBC injury, "I could walk normally. Now I feel it when I walk."
Teammate Miguel Rojas, who can play all four infield spots and has been red hot this year, batting .338, also left the game due to a thumb injury.
The Marlins could call up Triple-A New Orleans shortstop J.T. Riddle, who hit a walk-off homer for Miami earlier this year.
Backup infielder Derek Dietrich could be used at third base if Rojas, who has swelling in his thumb, is also unable to go. Mattingly said he believes Rojas will be able to return in a couple of days.
As for Monday's pitching matchup, the Cardinals have the advantage.
St. Louis will start right-hander Carlos Martinez (1-3, 3.75 ERA), who ranks fourth among National League starters with 10.75 strikeouts per nine innings. The Marlins will counter with left-hander Adam Conley (2-2, 6.12 ERA).
Martinez, 25, is coming off a breakout season in which he went 16-9 with a 3.04 ERA. After a slow start this season, his most recent outing was a gem: four hits and no runs in 7 1/3 innings against the Milwaukee Brewers.
With a four-seam fastball that can reach 97 mph, a wipeout slider and a back-breaking changeup, Martinez has all the pitches in his arsenal.
Martinez is 1-1 with a 5.21 ERA in three career starts against the Marlins.
Conley had a promising rookie year last season, going 8-6 with a 3.85 ERA. However, his average fastball this season is 89 mph, down from last year's velocity of 91-plus.
The Cardinals are still piecing together the lineup that will face Conley. At the start of the season, the Cards expected to have an outfield of Randal Grichuk in left, Dexter Fowler in center and Piscotty in right.
Piscotty is out until mid-May due to a hamstring injury. Fowler was unable to start the past three games due to a shoulder injury, and backup Jose Martinez pulled a groin muscle on Saturday and was placed on the disabled list.
The Cardinals made the unusual move on Sunday of calling up a player from Class A, 21-year-old center fielder Magneuris Sierra, an accomplished defensive player who figures to be overmatched on this level offensively.
Sierra went 1-for-6 on Sunday and made a stellar running catch in left-center.
Fowler, however, could be ready to reclaim his spot on Monday.