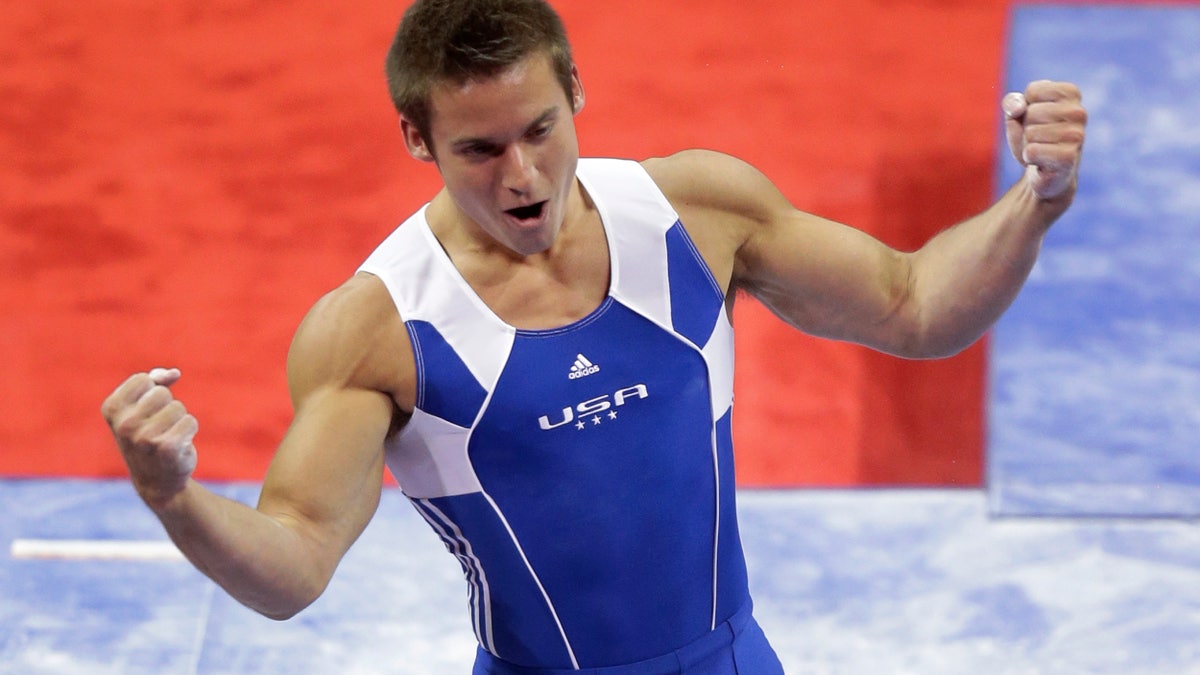 SAN JOSE, Calif. – Danell Leyva likes being right as much as he enjoys winning.
The world parallel bars champion has been saying for months there is not just one guy pushing him on the way to the London Olympics. And every competition, someone else comes along to back him up.
Leyva moved into the overall lead in the race for London on Thursday, but it was Sam Mikulak who won the first day of the Olympic trials. The 19-year-old who oozes California cool finished with 91.8 points, edging Leyva by a mere 0.1 points. John Orozco, who beat Leyva for the U.S. title earlier this month, was third.
"That's huge because I did a pretty good meet myself," Leyva said. "To know he had the highest all-around score today, that's awesome."
While individual prizes are nice, the Americans want that big shiny gold medal that goes to the best team. And for the first time since 1984, they just might have the goods to do it.
Leyva and Orozco remained in position to earn automatic spots on the five-man London squad, reserved for the top two all-arounders -- so long as they also rank among the top three in at least three of the six disciplines. At the moment, Orozco and Leyva both meet those criteria, with Mikulak closing fast.
Leyva has a total score of 276.500 going into Saturday's finals, followed by Orozco (275.550) and Mikulak (274.650). Jonathan Horton, a double Olympic medalist, is fourth, and Jake Dalton is fifth.
Chris Brooks, a former world team member, lost ground in his quest to get off the London bubble, falling on both vault and parallel bars. He is in sixth place, and is in the top five in only one event.
"I don't think anybody's out of it," Brooks said. "You've got to get your head back into the game and continue to fight."
Or, if you're Mikulak, keep doing what you're doing.
Mikulak has been one to watch since claiming the NCAA title as a freshman at Michigan. But he never had a shot at last year's world championships team after breaking both his ankles at a meet in Puerto Rico. His rehab set him back several months, and the legs remained so tender it wasn't until recently that coach Kurt Golder let his precocious star bust loose.
But look at him now. Cheered on by a raucous bunch of friends wearing "Team Sam" T-shirts -- complete with Mikulak's picture -- and moving around the arena with every event, Mikulak let everyone know from the start that he cannot be overlooked. His parallel bars routine was exquisite, filled with difficult skills and combinations but done with the precision of a Swiss watchmaker.
His handstands were so still he could have been a model for an art class, and when he hit the mat with an emphatic thump, the low-key Golder pumped his fists. His score of 15.7 included a 9.5 execution mark that would be matched by only one other person the rest of the day.
He had the crowd oohing and aahing with his acrobatic high bar routine, and he displayed cat-like reflexes on floor exercise. Looking as if he was about to go out of bounds on one of his tumbling passes, his toes almost seemed to pull back into his feet to keep him safely in bounds.
His only real "flaw" was on pommel horse, where he stalled before his dismount. But he managed to hang on, and walked off the podium with a grin.
"I was just able to zone everything out, breathe and keep control over all my skills," Mikulak said.
He was so in the zone he didn't even realize he'd finished ahead of Leyva and Orozco, the last two U.S. champions.
"What?" Mikulak said when Horton told him. "Seriously?"
"Kid's a gamer," Horton said. "He just knows how to perform. That's all there is to it. He just knows how to go out there and do his job."
Indeed, Mikulak was able to keep his cool while the high stakes seemed to get the best of his more seasoned competitors.
The dynamic Leyva was perhaps a little too amped up. Leading off on floor, he zipped through a sloppy set that included a step out of bounds, moving so quickly it appeared he'd chugged a fistful of Red Bulls during warmups.
Orozco, dubbed the "Silent Ninja" because of the way he sneaks up on the competition, stumbled a bit on pommel horse, stalling just before his dismount. Two events later he took a step back, literally on vault. He failed to get the proper height off the table and crouched while landing. His rear never hit the floor, but his hands did, and the 14.8 he received blunted his momentum.
"The only thing I would like to do is my best and show the committee I'm ready and ready to compete and represent the USA," Orozco said. "I think I didn't show enough of that tonight."
It was all the opening Leyva needed despite a somewhat ho-hum afternoon that lacked the "wow" factor that's made him perhaps the most charismatic gymnast of his generation.
But as Leyva has been telling everyone, there's plenty more where he came from.
"This is such a deep team and everybody is so good," Mikulak said. "This is such a deep USA team ... but if I keep hitting routines, and they see that I'm consistent and reliable, I think that's a good quality."