Mike Piazza didn't get my Hall of Fame vote, and here's why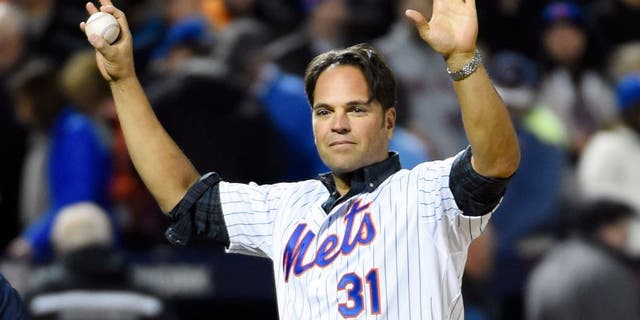 NEWYou can now listen to Fox News articles!
Mike Piazza belongs in the Baseball Hall of Fame. He'll probably gain entry when the Hall's 2016 class is announced Wednesday, according to Ryan Thibs' wonderfully comprehensive tabulation of publicly known ballots. When Piazza is elected, I'll applaud the well-deserved validation of the greatest slugging catcher in baseball history.
But I didn't vote for him.
The reason is not merit. Piazza's credentials -- 427 home runs, 12 All-Star selections, 10 Silver Slugger awards -- clearly are Cooperstown-worthy.
The reason is not morality. Some of my peers in the Baseball Writers' Association of America have withheld votes for Piazza because they believe -- without documented proof -- that he benefited from performance-enhancing drugs. I don't believe PED use, suspected or proven, is grounds for barring a player from the Hall.
So, why did I vote for Jeff Bagwell, Barry Bonds, Roger Clemens, Ken Griffey Jr., Edgar Martinez, Mike Mussina, Tim Raines, Curt Schilling, Alan Trammell and Larry Walker ... but not Piazza?
The reason is mathematics.
The Hall imposes a 10-player limit on every BBWAA ballot. The 10 names I listed above are either more deserving than Piazza or closer to the end of their time under consideration by the writers.
Trammell is in his final year on the ballot. Raines is in his next-to-last. Martinez has only three tries remaining after this year because of recent action by the Hall shortening the eligibility period from 15 years to 10.
I view Trammell, Raines and Martinez as Hall of Famers. Their cases are more urgent than Piazza's. So, I prioritized them.
Trammell -- who compares favorably to Hall of Famers Barry Larkin and Ozzie Smith -- has been overlooked by writers for far too long. His Cooperstown chances likely rest with the Veterans Committee, but there's legitimate hope for Raines and Martinez. While we'd like to think the process is more objective, the reality is that "momentum" in annual voting percentages can convince writers to give second and third looks to players near the end of their time on the ballot.
Ask Bert Blyleven, Hall of Fame Class of 2011. He was stuck at 14.1 percent after two years but eventually climbed to 79.7 percent with help from Rich Lederer's sabermetric-powered effort.
As for my other seven selections: Griffey is so automatic that ballots should've been mailed with the "X" already marked beside his name. Even the strongest Piazza supporter would struggle to argue convincingly that he's more deserving of a vote than Mussina (270 wins while pitching in the AL East through the Steroid Era) or Schilling (postseason legend and dominant peak years, as documented by Jay Jaffe's authoritative JAWS rating system).
I understand some will find fault with my choice of Walker over Piazza. Here's my thinking: Piazza (142) has only a narrow lead over Walker (141) in OPS+, which adjusts for league and ballpark factors. (In other words, it accounts for the Coors Effect during Walker's 9½ years in Denver.) Meanwhile, Walker was the far superior defender. He won seven Gold Gloves in the outfield, while Piazza was considered a liability behind the plate.
I appreciate that Piazza was remarkably durable at the more demanding position. But playing a premium position is not the same as playing it well. Walker, who also stole 230 bases, was the more impactful player in all facets of the game.
OK, on the PED issue: I don't know all the players who used steroids. You don't, either. It's not my place to impose an ambiguous ethical standard in an atmosphere of incomplete information. I can only judge players against their peers, in a sport that's been rife with cheating and inequality throughout its history.
So, Bonds and Clemens -- the best of their generation -- have my support. Bagwell does, too, despite PED suspicions harbored by some voters. Bagwell was a more well-rounded player than Piazza, a noteworthy distinction during a time in which it became easier -- though not easy -- to transform oneself into a one-dimensional slugger.
I want to add here that I see a line of demarcation in 2005 as it relates to the steroid issue. That was the first year in which Major League Baseball suspended major leaguers for PED violations. I'm inclined to withhold support for the likes of Alex Rodriguez, Manny Ramirez and Ryan Braun, because they violated doping rules after the sport collectively had been put on notice. (Rafael Palmeiro, suspended shortly after joining the 3,000-hit, 500-homer club in 2005, already has dropped off the BBWAA ballot -- an indication I'm not alone in applying this standard.)
Maybe one day I'll change my mind about A-Rod and Manny. I probably won't have that chance with Piazza. He's likely a few days from being voted into the Hall of Fame. And I'll be ecstatic for him, without having helped him get there.